Best notes app for Android
In today's busy life schedule, sometimes we forget to remember even the basic things. Many people carry a small notepad with them and write down in it whatever they want to remember. But it isn't easy to manage the paper note. Thanks to Android OS and its note-taking apps, which make this task easy.
These days you can use the skill and technique of digital note-taking. You mostly carry your Android smartphone everywhere where you go. Once you install a notepad app on your smartphone, you don't require carrying a notepad. You can write your moments of inspiration at a prime spot. To make your daily note using the Android note-taking app, you have to choose the right app according to your requirements. You can even store audio recordings or store images.
There are several note apps available for Android at the Play Store. Some apps offer to make simple notes, whereas others allow you to create powerful lists and reports. Here, we have listed some best Android note-taking apps.
---
Google Keep Notes
Google Keep Notes is one of the most popular, simple and widely used note-taking apps for Android devices. It allows taking notes in various formats such as text, handwriting, image, and even storing voice recording. The app facilitates writing notes in the form of lists, notes, and handwritten form. You can even categorize your notes in different labels such as personal, work, and other labels that you like. The app's search option saves your time so that you don't require scrolling down your list.
Google Notes app is easily synchronized with other Google services so that you can comfortably work with different devices and apps. You can also easily share your notes via text messages, email, copy them to Google Docs and send them to other apps. The app also allows quick deleting of the notes, which are no longer required.
Other features of the Google Keep Notes app
Allows adding title
Pin your note at the top
Print note
Add image
Make a drawing
Download Google Keep note app for Android.
---
ColorNote Notepad Notes
ColorNote app is a simple notepad app that provides several useful features. We can use this app for writing notes, emails, messages, memos, and to-do lists. As its name implies, you can change its background color to organize your notes. You can also keep an online backup of your notes by syncing the app. Using its calendar feature, you can easily schedule and organize your notes. You can also mark a checklist of notes when things get done. The app provides the facility to search queries over the web.
One of the other best features of the ColorNote app is its widget options, which allow you to direct note-editing access. To keep remembering important notes, you can add them to the home screen using a sticky note memo widget. To keep your notes safe from unauthorized access, you can protect them with a passcode. You can also backup your notes in SD card storage and online storage.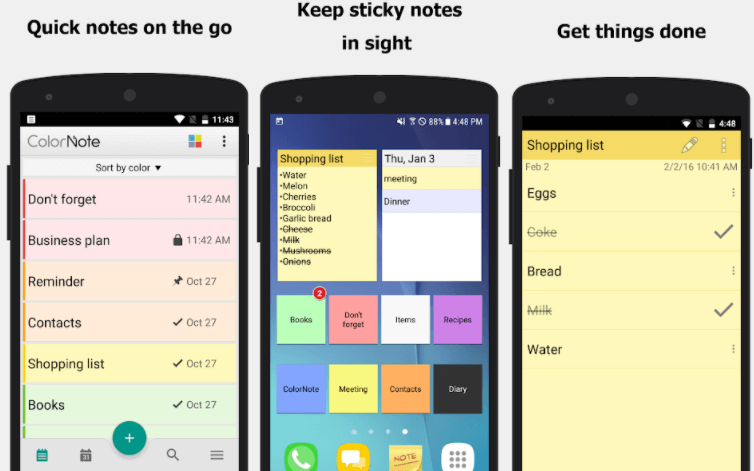 Other features of the ColorNote app
Adjust color and theme
Search for notes
List and grid views
Task reminder
Search for words in Wikipedia, StarDict dictionaries
Download the ColorNote note app from Google Play Store.
---
Evernote
Evernote is another popular and widely used note app for writing your ideas and things you want to remember. The app allows taking notes in various formats, including handwriting, text, attachments, photos, voice recording and lots more. You need to register this app using your email or Google account. As the app is cross-platform, you can sync this app to use it on your entire device.
Evernote note app gives the feature to protect your note using fingerprint lock. You can easily make reminders, set checklists, or plan events. The free version of this app is even better, which gives all the essential features. However, its paid (subscription) version provides more attractive and advanced features like presentation features, AI suggestions, cloud features, and more collaboration features.
Main features of the Evernote app
Allows the setting password to protect your notes.
You can take pictures and save them in different formats.
Save webpages by sharing them to Evernote.
The app offers to format your notes with a bullet list, upper script, highlight, and more.
Download the Evernote note app from Google Play Store.
---
Microsoft OneNote
Microsoft OneNote allows you to write your notes on your Android phone. It is a powerful tool that lets you do anything with your content. You can sync the app across your entire devices for a smooth workflow. Microsoft OneNote is a fully-feature app that gives a facility to add notes, draw, journal, add sticky notes, inserting multimedia files, create memos and more. The note's content will organize into different formats, such as bold, italics, links, lists, and photo attachments.
However, the OneNote badge facilitates to fast capture of your ideas and adds them to the home screen. You can hide a badge when you do not need it. You can use the OneNote app for your personal and professional tasks. You can even share your ideas with others and collaborate with your team members.
Download the Microsoft OneNote app for Android from Google Play Store.
---
FiiNote
FiiNote is another note-taking app for an Android device, which is similar to Evernote and Microsoft OneNote. It is a multipurpose app that supports keyboard input, handwriting notes, voice, camera, etc. It allows to add pictures and drawing between notes, reminders and location. You can also attach photos and videos from your gallery. The app comes with a grid background along with a stylus and drawing support.
The FiiNote also includes an in-built calculator so that you can make a financial report. FiiNote is a complete note app using which you can take every kind of documents. You can also synchronize this app between your smartphone and PC by registering at FiiNote's website.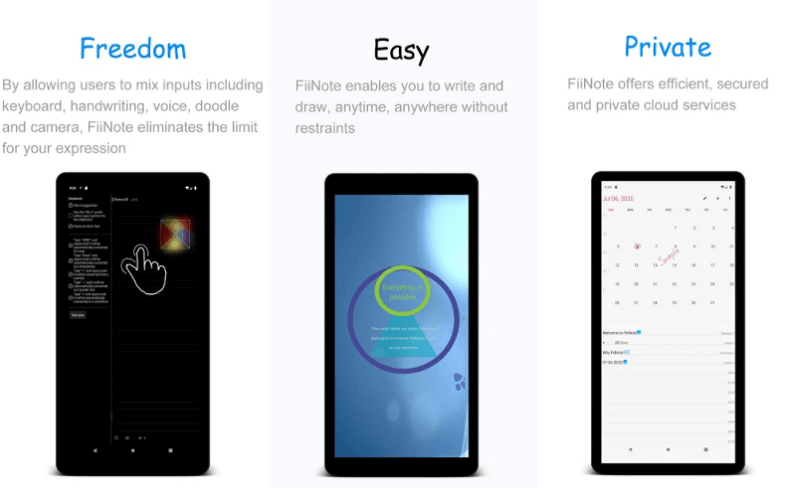 Download the FiiNote app for Android.
---
Simplenote
As the name suggests, Simplenote is a simple app used for taking notes. It is one of the lightest notes preparing the app for Android devices. If you search for a handy and transparent note app without any fancy functionalities, then Simplenote is for you. Write down your ideas and things that you want to remember in-app.
Simplenote allows you to access your notes from your other devices on the web so that you can always get closer to your ideas. Once you delete your notes, they go to trash, from where you can restore them or completely delete them forever. Simplenote note app is especially good for older smartphones with a lack of hardware to support modern feature-heavy apps. If you create a free Simplenote account, you can keep backups, synchronize, and share your notes.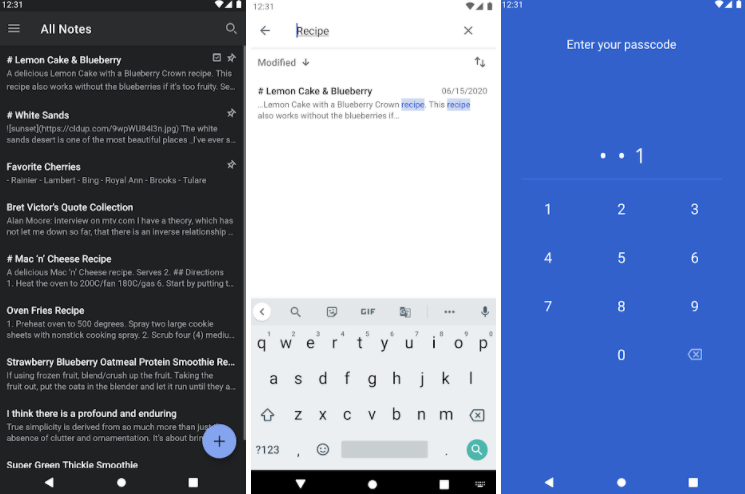 Download the Simplenote app for Android.
---
Squid
The Squid note-taking app is best for those users who prefer to write their ideas in handwriting. You can write your note using your finger, an active pen, or stylus. The app also allows importing PDFs to mark them and save them again. You even cast your notes over TV or projector via Chromecast or present ideas to team members via video conference.
Features of Squid note app
Allows inserting shapes, texts, PDF for markup.
Adjust your handwriting.
It offers infinite paper by default to write notes as long as you want.
Multiple background types and sizes.
Also allows importing, resizing, and cropping images.
It also facilitates to cut, copy, and paste items between your notes.
Download the Squid note app for Android.
---
BlackNote
BlackNote is a convenient and less feature containing note-taking app for an Android device with a black user-interface. It mostly works as other note-taking apps with standard features such as taking notes, organized, widget options. The app also allows to create categories, set a password, add sticky notes at the home screen, star notes (pinned at top), and send notes to other people and apps. BlackNote also added a feature to search notes, lock the app to protect your notes and favorite notes for easier recall.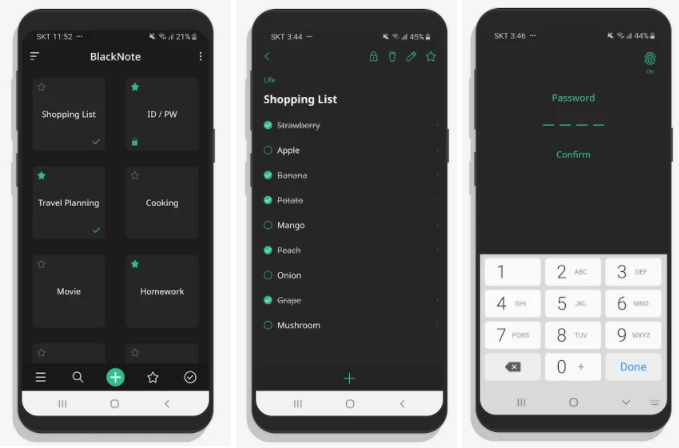 Download the BlackNote note app.
---
Dropbox Paper
Dropbox Paper is another note-taking app for Android smartphones. It also acts as a file-sharing platform, which makes it a great note-taking app for teams. You can use this app as a collective workspace for creating, sharing, and growing ideas. The Dropbox Paper keeps a dedicated balance between appearance, usability, collaboration, and performance. It also allows taking notes of everything you want, such as images, video, code, and voice.
Dropbox Paper allows team members to collaborate directly in the docs, post comments and replies, mention people using @[member] and resolve problems together. It is most suitable for team workers who share their ideas in real-time.
Dropbox Paper stores your entire notes on the cloud in your Dropbox account, which means you can access your notes from any device, anywhere, if you have an internet connection. You can even edit your notes offline, and the changes are sync when you back online.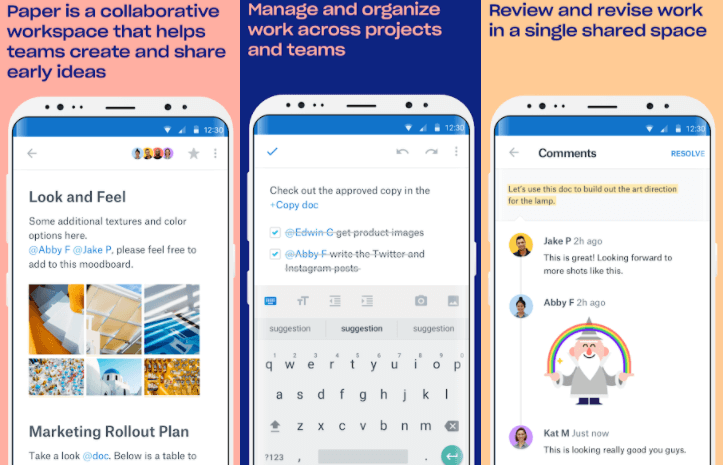 Download the Dropbox Paper from Google Play Store.
---
Omni Notes
Omni Notes is another simple but not minimal note-taking app for Android devices. Its user-interface is designed using Material Design. This app included all the essential features which you expect from a note-taking app. In this app, you can merge and sort your notes, search for better organization and discovery, perform color coding, draw your notes. Omni Notes also included Google Assistant, which allows writing your notes by saying "write a note [text]". It is a solid note-taking app within a budget as well. The app is lightweight that works quickly and fast, but it is open-source, which is a big draw for some users.
Basic features of Omni Notes
It has a Material Design user-interface.
Contains features to add, archive, modify, trash and delete your notes.
You can even share, merge and search notes.
It also allows attaching images, audio, and generic files.
Etc.
Download the Omni Notes app from Google Play Store.
---