What is a cache in Android?
Cache (or cache data) is information that comes from an app or website which is stored on your phone. It makes a fast browsing speed. Cache data is saved at the period loading app or website on a device. The cache fills the storage space on your device. So sometimes, you need to clear cache data regularly from your Android device and personal computer.
Cache data are the combination of scripts, files, and images that automatically stored on your device at the time of browsing the internet. The cache data helps you to speed-up your browsing because the scripts, files, and images are loaded from the cache, which is stored in the device for a particular website.
Is it ok to clear cached data on Android?
There is no bad impact of deleting the cache data from your Android device. As it takes space in a storage area, regularly deleting cache keeps the valuable storage free. But for some website, you require to re-enter the name and password information as they are cleaned from the cache. The process of cleaning cache data from the device varies from device to device.
How do you clear an app cache?
There are two ways to clean cache from the Android device: cleaning a per-app basis or cleaning all at once. Cleaning "all" at once includes all apps and web browser cache. The steps of cleaning cache data vary from device to device.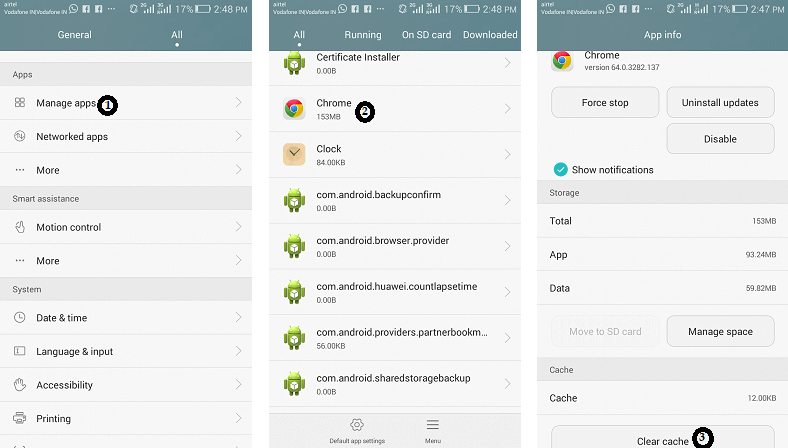 Cleaning cache per-app basis on Android
You can clean cache from each app, such as a web browser or game one by one on your Android device. To clean cache as per-app basis, follow the below mentioned steps:
Open the device Settings.
Tap on Storage Memory or Storage (the word may differ from device to device).
Tap on Cached data that display the total amount of cache data of your device.
A pop-up will appear that asks whether you want to Clear cache data. Click OK to clean all the cache of the device.
Cleaning cache data on iPhone
The process of cleaning cache data from the iPhone is similar to the process of cleaning cache from an Android device. There is no universal way to clean all cache data at once in the iPhone, so you need to go app to app.
The process of cleaning cache data in an iPhone starts from Safari (the majority of users use Safari as compared to another browser). Click the Settings app, go to Safari, and navigate to Clear History and Website data. Tap on "Clear History and Data".
To delete the cache data of other apps in the iPhone, go to Settings > General > iPhone Storage. Here you will found a list of apps to choose. Click on anyone, and go to "Documents and Data". If the app uses more data, then you need to delete and reinstall it.
What is the benefit of cleaning the cache from the device?
A question arises here if the device's cache helps in fast web browsing and app's data loading, why you need to clean cache data from time to time?
The main reason behind the cleaning device's cache is when you face specific issues with an app or website. Maybe the images are not displaying well, or you are having a problem to login.
Cleaning the cache will help you to regain the valuable space on your Android device. If you never clean the device cache, your device occupies GBs of storage space.
If an app or web browser doesn't load the latest version of a page, cleaning cache data can force to update it.
What's about cache cleaner apps?
There are several cache cleaner apps available on Google Play Store that promise to clean cache, unused photos and videos from your phone quickly and safely. However, there are several reasons about not to use these apps:
Sometimes, they make false claims, like cleaning cache data will adequately increase your phone's speed.
The app occupies more space on your phone storage and even slow down performance as they continuously run in the background.
Display ads in-app purchases.
If possible, avoid the third-party app. Remember that your phone already contains a good cleaning system. So, there is no requirement of any third-party apps for this purpose.
---