Cloud Computing Jobs
Cloud computing touches many aspects of modern life, and there is a great need for cloud professionals. Learn about the skills and education required for a cloud computing career.
Cloud professionals are in high demand, and as the reliance on remote access continues to grow, so are talented IT professionals.
Cloud computing is a system of databases and software, typically operating in data centers and warehouses. This enables users and businesses to access digital information over the Internet from anywhere, rather than having physical servers in a network closet in the back office. Cloud computing businesses need less IT provides. Overhead costs, especially for small businesses and startups that may not have the capital to invest in extensive on-premises I.T. Department.
Interacting with cloud technology is involved in almost every aspect of modern life, whether as a consumer or in an IT environment.
On the consumer side, the lack of physical media such as CDs, DVDs and video games has led to the rise of on-demand streaming services. This requires remote storage options that can support delivering large amounts of data accurately and quickly. in I.T. In the field, advances in artificial intelligence, machine learning and IoT compatibility have driven enterprises to seek the agility and flexibility of the cloud.
Such a complex system requires specific knowledge and skills, requiring specific training and requirements.
Cloud computing career requirements
Regardless of what stage of your career you're in, the skills required for cloud computing are the same. You'll need a solid foundation in:
Programming languages. Specific languages include Java, JavaScript, and Python.
Database management and programming. Those familiar with SQL, NoSQL, and Linux will have the advantage.
Artificial intelligence and machine learning. These two technologies aid businesses' agility and efficiency by processing and analyzing patterns, making insights based on that data and facilitating faster, more accurate decision-making.
Understanding and experience with cloud technologies and providers. These vendors include Amazon Web Services (AWS), Google Cloud Platform, Microsoft Azure, and Oracle.
As with any I.T. specialty, you also need to be curious, analytical, and willing to stay on top of rapidly changing user needs that drive technological innovation.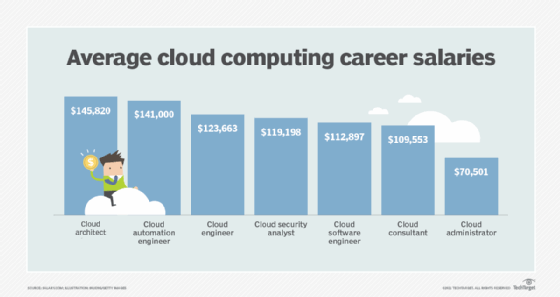 Top cloud computing careers
While companies may vary in their job descriptions for particular cloud computing roles and their specific requirements, the information here applies broadly throughout the U.S.
You can find the salaries below, along with other cloud computing careers, here.
1. Cloud administrator
These experts manage a company's cloud presence and infrastructure. They develop, enforce and update policies for how employees and users access cloud services, establish security protocols and policies, monitor and ensure uptime, and assess the need for technology updates.
Education requirements: Bachelor's degree in computer science, management information systems (MIS), or related field; plus three to five years' experience in systems or I.T. administration.
Average salary: $70,501
2. Cloud architect
Think of cloud architecture as the framework within which all other cloud technologies operate. This is the "house" frame, and all the cloud-specific subspecialties like flooring, plumbing, drywall, and finishing. A cloud architect is a general contractor who designs and implements a company's cloud computing strategies. They ensure that everything stays on track and on budget and that the company smoothly transitions to cloud operations.
Education requirements: Bachelor's degree or higher in computer science, information systems, or a related field. Some companies require or give preference to those holding a master's degree or MBA.
Average salary: $145,820
3. Cloud automation engineer
As the world becomes increasingly automated, cloud automation engineers must build, implement and maintain this automation technology as it migrates to the cloud. This automation frees up human workers from repetitive tasks.
Education requirements: Bachelor's degree in computer science or information technology, specializing in artificial intelligence and machine learning.
Average salary: $141,000
4. Cloud consultant
A cloud consultant has extensive knowledge of cloud technologies and guides companies looking for cloud-based tools. Typically, this specialist will assess the needs of the company and suggest the best software and tools to meet that company's technical and budgetary needs. The consultant can help with the transition to the cloud by designing migration policies and selecting the appropriate platform. Consultants may sometimes be asked to help optimize a company's cloud presence, so they should have a general and in-depth knowledge of the major cloud platforms.
Education Requirements: Bachelor's degree in Computer Science or Information Technology. Since managerial skills are often required for this position, an MBA can lead to additional clients.
Average salary: $109,553
5. Cloud engineer
Cloud engineers are responsible for the managerial aspects of a company's cloud strategies. Engineers often work with architects to implement a company's cloud strategies. Still, they also perform the administrative task of negotiating with customers and vendors to keep everyone on task and within budget.
Education Requirements: Bachelor's degree or higher in computer science, information systems, or related field; Also, experience with programming languages such as Java and Python.
Average salary: $123,663
6. Cloud security analyst
Cloud security analysts have a responsibility to ensure the integrity and security of a company's cloud presence. They do this by assessing threats and strengthening defenses against them, preventing data breaches, securing data, and closing security gaps when breaches do occur.
Education Requirements: A bachelor's degree in cyber security, systems analysis, computer science, or information technology specializing in security analysis.
Average salary: $119,198
7. Cloud software engineer
Cloud software engineers work with programmers and related computer scientists to develop software that works in the cloud. These individuals are also typically responsible for upgrading, repairing, and maintaining the software they develop and the databases they operate.
Education Requirements: Bachelor's degree or higher in software engineering, computer science, information systems, or related field; As well as experience with programming languages such as Java and Python.
Average salary: $112,897
Tips to jump-start a cloud computing career
Now that you know about the available roles in cloud computing, it's time to pursue a career where you can put those skills into practice. Here are some tips to help you along the way:
1. Get a computer science or I.T. degree
It is important to understand that many companies do not require higher education. If you can prove that you understand and can meet the requirements of the job, you have a good chance of getting hired. However, if you have any prior I.T. Experience, a formal program can provide you with a solid foundation for adding skills and specialized knowledge. Listing a degree on your resume also shows employers that you have that foundation and can be committed to long-term projects.
2. Get additional training related to cloud computing
If a college degree isn't right for you, or if you already have an I.T. and want to shift to cloud-focused careers, there are countless options online for continuing education and training, including in-person classes and multi-part certification courses. In addition to learning the in-depth topics you'll need as a cloud specialist, these courses will show potential employers – or current ones if you want to move to a different position within your company – that you are dedicated to your craft and the ever-changing technological landscape.
3. Get certified
Vendors such as Amazon, Microsoft, and Google have certification programs to teach you the knowledge and skills needed for various cloud technologies. Earning a cloud certification will enable you to demonstrate to employers and clients that you understand the demands of cloud computing and have the knowledge and talent to meet them. It can also give you a bump in salary.
4. Get hands-on experience
Whether you go through a formal four-year college program or just take a class or two, nothing beats hands-on experience. If you're just starting to explore your options, sign up for an account with a cloud server — such as AWS or Azure — and experiment to get a solid grasp of the technology. If you already have I.T. area, see if you can get involved in more cloud-based projects to improve your existing cloud computing skills and develop new ones.
5. Build your portfolio
Once you have a few projects under your belt, even if you've completed them as samples and not for paying clients, put together a site to serve as your portfolio. This should include links to your various cloud projects and a summary of your education and experience. If you have testimonials from customers, be sure to include those as well.
6. Gather good references
When putting together your references, be selective. If you're starting out, consider adding one or two computer science or information technology professors who are familiar with your performance. If you have more experience, include former employers, coworkers, and clients who speak positively about your work.
7. Network
Whether you're actively looking for a job or just keeping an eye open for opportunities, there's no better way to get your next job than by networking. Attend business events and conferences, especially those focused on cloud computing and where the companies you are most interested in have a strong presence. Tell others in your professional circle that you are exploring career options and ask if they will take you into consideration to see if they know of a suitable opening for you.
---