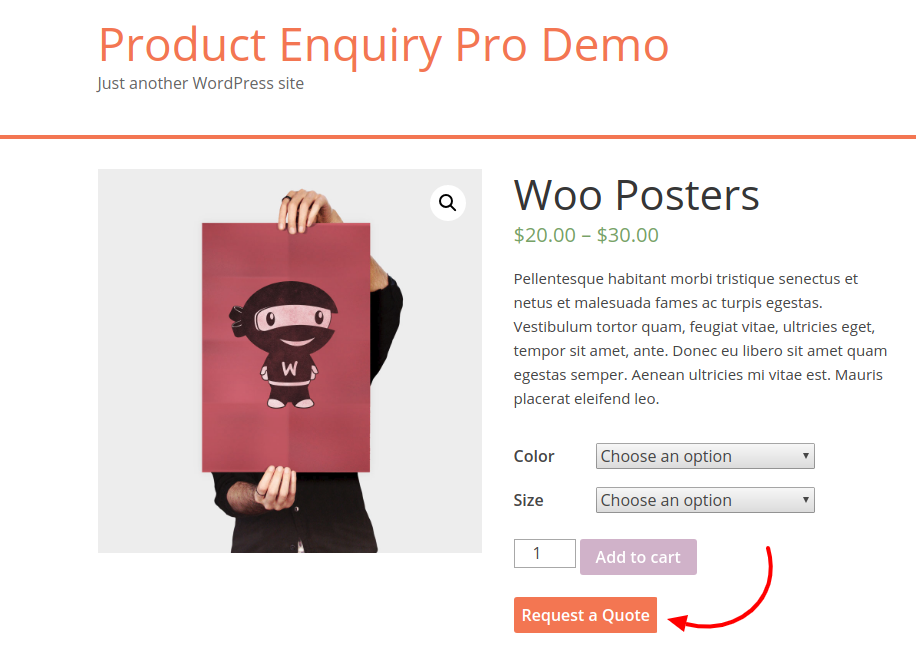 This is a guest post by Saket Paliwal of Wisdmlabs – if you like the article, make sure to thank him in the comments!
Quality leads are tough to capture in any business. If you think getting traffic is the hardest part, converting it into sales is a whole other challenge. It's difficult to identify why a lead might not make a purchase – they might not find what they're looking for, your product might be too expensive or certain items could be out of stock – you'd never know the exact reason until you hear it from the customers themselves.
In a retail store, here's where a salesperson would come into the picture. If a customer had a question, they'd just walk up to the salesperson and ask their questions.
On a WooCommerce website, however, you have to make use of contact forms or live chat to "talk" to prospective customers like an in-store salesperson would. These pre-sale questions are barriers to sales. You need to make sure every customer query is resolved if you wish to increase the chances of a purchase.
Product Enquiry Pro: Your WooCommerce Salesperson
Customer questions can surface from any direction. But when users are on the WooCommerce single product page, an inquiry plugin can help immensely – such as Product Enquiry Pro by WisdmLabs (here's the full list of "request a quote" snippets and plugins: https://businessbloomer.com/enable-woocommerce-customers-request-quote/).
Product Enquiry Pro is a comprehensive inquiry and quotation request plugin for WooCommerce. It all begins with a simple, user-friendly inquiry button on every WooCommerce product page and/or the shop page under every product.
Customers can inquire about a single or multiple products; and you can reply to them to close a sale.
What are the features of Product Enquiry Pro?
As expected from an inquiry system, Product Enquiry Pro makes it effortless for a customer to get in touch with you. Unlike a "Contact Us" page that requires a customer to take an extra step (leave the product and navigate to a different page) to ask you a question, the inquiry form can be placed on the product page itself, that opens on the click of a button.
Here's how it looks on the Shop / Category / Tag / Loop pages: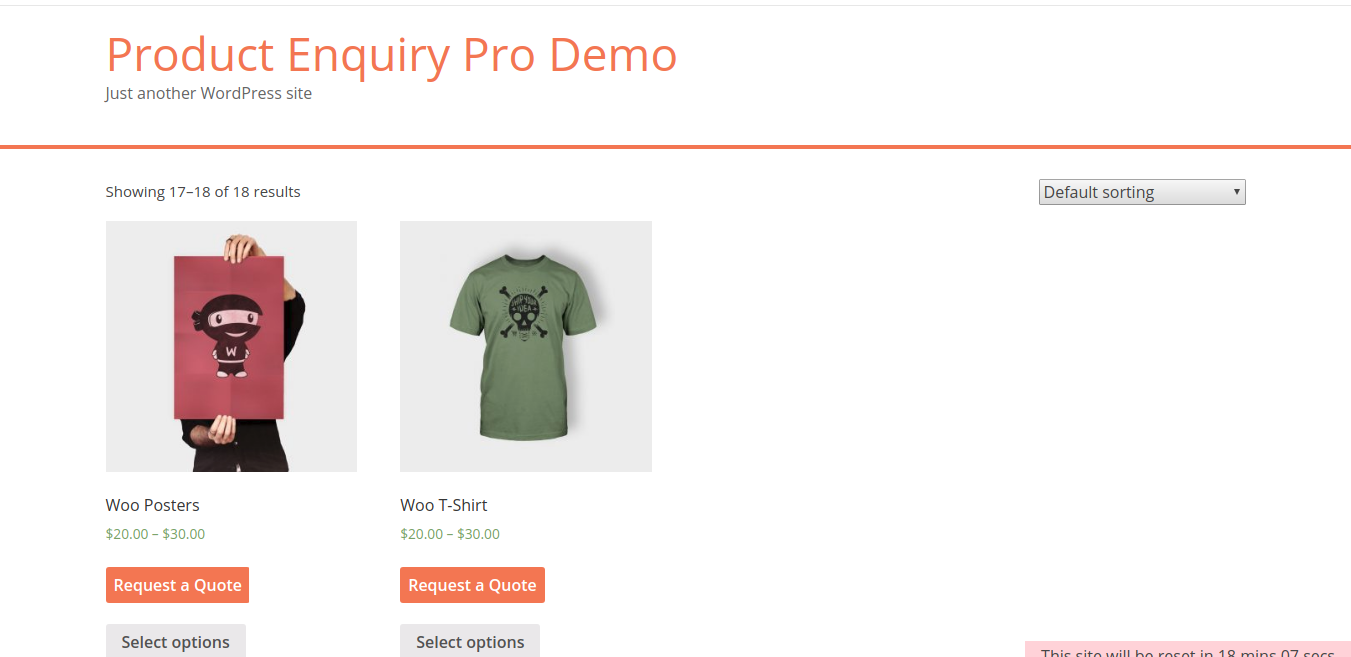 And this is the display on the WooCommerce Single Product pages: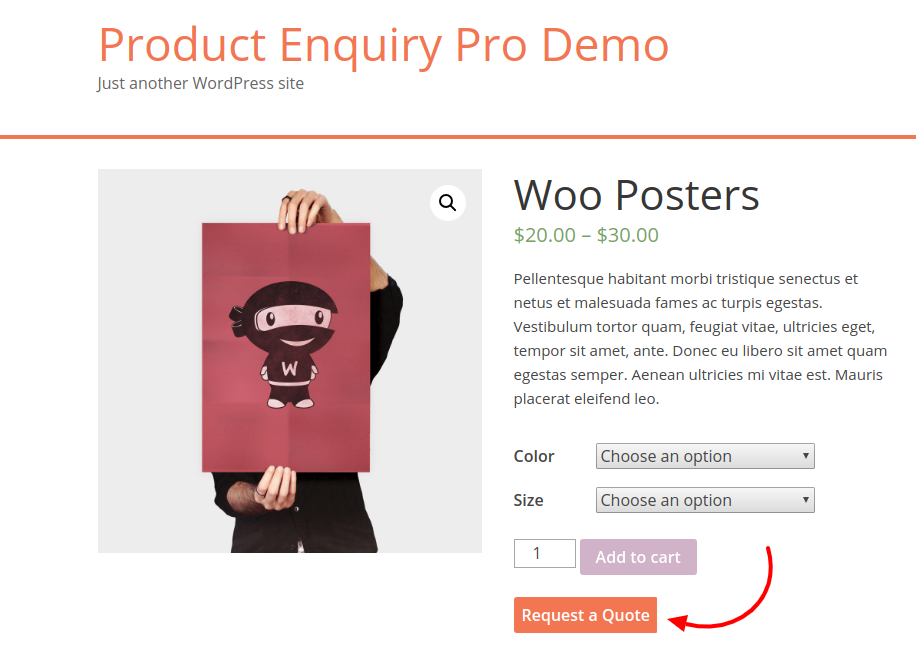 For logged in customers, user details are filled in automatically to save time. As an admin, you can choose the contact form fields you need, with a drag-and-drop functionality. An inquiry form allows you to collect specific lead data – an advantage over a live chat option.
Potential customers can add multiple products along with purchase quantities and then send across a single inquiry or quote-request for these products.
These inquiries are sent via email to the admin or other email contacts (as specified in the email settings). They are also saved in the dashboard for easy access. Besides, store-owners can create quotes and email them to specific customers from the dashboard itself. Customers can choose to accept or reject the quotes, and a store-owner can edit and resend quotes, making Product Enquiry Pro a complete quote-negotiation platform.
Product Enquiry Pro can also be used on a multi-vendor WooCommerce site, as it automatically sends a customer inquiry to the product owner along with the store-admin.
Store-owner can control the visibility of the enquiry button and place it on all products or only on out-of-stock products. Also, the purchase button ("Add to Cart" or "Buy Now") and product price could be hidden or replaced by the enquiry button, to prevent certain products from being purchased directly or to convert your entire store into a catalog-only store.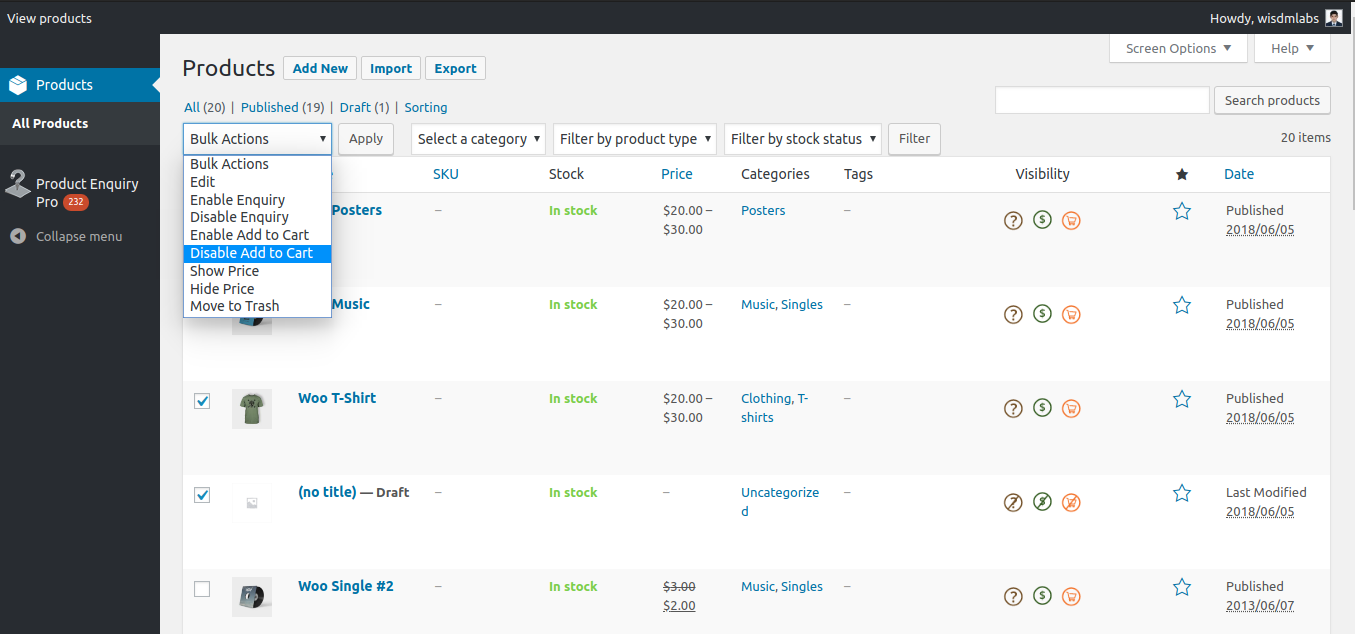 Full list of features:
Option to Display Enquiry/Quote Request Button on Product Page, Shop, Product Archive Pages
Enable/Disable Enquiry button, Add to Cart Button, and Price for products individually or for multiple products using Bulk Actions
Option to enable Enquiry/Quote Request Button Only on 'Out of Stock' Products
Option for Customers to Send a Single Enquiry for Multiple Products
Enquiries/Quote Requests Saved in Dashboard and Received via Email
Enquiry Reply Option from Dashboard
Product Owner is Auto-Informed about Enquiry
Auto-Generate & Email Quote PDF from Admin Panel
Option for Customers to Send a Copy of the enquiry email to themselves
Add Multiple Recipients for incoming Enquiry Emails
Personalize and style Enquiry Dialog, Enquiry Buttons and their location
Drag and Drop Form Builder with field validation
Filter and Export Enquiry and Quotation Records
Support for Variable Products
WPML Compatible, Translation Ready, and Responsive
Who is Product Enquiry Pro for?
Product Enquiry Pro is an inquiry and request-a-quote plugin – which means it can be used for multiple scenarios, such as:
Complicated products – buyers have questions about products which are not easy-to-understand, are new, or are complex to operate. Product Enquiry Pro can help you address pre-sales questions effectively.
Wholesale buyers – Bulk buyers are often looking for a good deal when making a purchase. Product Enquiry Pro can offer a medium for negotiation, with a hassle-free quote creation option.
Products with a long sales cycle – Expensive products, investment products or services often have a lengthy pre-sales cycle. During this process communication is of prime importance. Product Enquiry Pro is a user-friendly way of filling the communication gap.
Products without a fixed price – Product Enquiry Pro is ideal for WooCommerce store owners looking to sell products that don't always have a fixed price and depend on customer requirements. Customers can use the quote request option to send across their requirements and ask service providers for quotes.
Lead capture – Product Enquiry Pro is ideal for anyone looking to capture leads. The customizable inquiry form can be used to capture telephone number, Skype id, address, etc, along with name and email.
Out of stock products – The option to add an inquiry button on products that are out of stock can definitely increase your sales and decrease your website abandonment rate.
How do I use Product Enquiry Pro?
Product Enquiry Pro is a WooCommerce plugin and has to be installed and activated like any other WordPress plugin. You have to have a valid license key to use the plugin options.
There are several customization options to style the look of the enquiry button and form. And the drag-and-drop form builder can be used to add custom fields on top of the default ones.
General settings include options to control the visibility of the enquiry button, and to enable the multi-product enquiry cart, button label, etc. Settings for visibility of inquiry button, price and 'Add to Cart' are available on a per-product basis as well.
Under email settings, you can define your email recipients (an important setting you need to know about).
If the quotation option is enabled, quotation settings allow you to set your company name, address and logo to help personalize the quote PDF.
Inquiry Workflow
When customers have an inquiry, they can simply click the button.
A pop-up form is displayed asking them for details.
Customers can fill the form and click 'Send'.
The inquiry is sent to the store admin and product owner via email and saved in the dashboard.
A reply can be sent from the dashboard to convert the lead.
How can I get Product Enquiry Pro?
Product Enquiry Pro can be purchased on WisdmLabs website. The single site yearly subscription is $69, 2 sites yearly subscription is $79 and the lifetime is $199 – the price of the product is the price of the support license that comes along with it. A license is active for one year and has to be renewed at a discounted price if you need support and updates.
The single site license costs $49, 2-site license costs $69. There's also a lifetime license available (which can be activated on two sites) for $179.
Final Thoughts
An inquiry channel is an unobtrusive and trustworthy way to capture leads and generate more sales. In the plethora of plugins available, Product Enquiry Pro is possibly one of the best out there.
Created by Woocommerce experts, it has every possible feature you need to capture lead details, engage them, and analyse inquiries to improve your product offering and boost sales. The price is competitive and includes support and updates from a skilled team, well known in the WooCommerce environment.
You can try out the plugin in action or take a look at the detailed product page before making a purchase here. Best of luck!