Ensuring a positive customer experience has become the top priority of eCommerce businesses in 2022 – even overtaking product price and quality as a key brand differentiator according to some analysts.
And one of the most important factors that ensure a positive customer experience is intuitive and seamless website navigation. According to Top Design Firm's 2021 findings, 38% of customers look for the page's navigational links and layout when visiting the site for the first time.   
So, if your WooCommerce store has a confusing layout or difficult-to-find navigation links and menus, visitors may abandon your store even if you have exactly what they are looking for.
This is when breadcrumbs come into play. Breadcrumbs are website navigational links that appear at the top of your WooCommerce store, product pages, and blog posts. Enabling breadcrumbs makes it easier and quicker for your customers to move around and navigate through your WooCommerce store and find the page or products they're looking for. 
This article shares how you can add breadcrumbs to your WooCommerce store. But before getting into it, let's see how your store can benefit by adding breadcrumbs. 
How Can Adding Breadcrumbs Help Your WooCommerce Store?
Here's a quick look at how breadcrumbs can benefit your WooCommerce store. 
Improves customer experience: Customers hate being lost on a website – with no clue where to find a relevant product or which page to navigate. Breadcrumbs reduce friction and user anxiety – making it easier for customers to understand which page they're on and click on the product attributes to navigate to the desired page. 
Boosts SEO as Google loves them: Breadcrumb navigation makes your store more crawlable for the search engine bots and enables Google to figure out the structure of your store more effectively. Moreover, it also enhances the chances of your store appearing on the search results – enticing customers and making your store stand out. 
Reduces bounce rates: Breadcrumbs lower bounce rates as they encourage customers to explore and navigate through your different pages on your store when they see an entire trail of the pages. If customers find it difficult to find a relevant page on your store, it forces them to abandon your site and switch back to Google searches. 
There's no good reason not to use them: Breadcrumbs take up very little space of your WooCommerce store and provide an affordable and convenient solution to improve customer experience and boost your store's integrity and reliability.  
Thus, if you want to lower bounce rates, ensure a quality user experience, and boost SEO performance, here are the six best plugins which facilitate adding breadcrumbs to your WooCommerce store. 
WooCommerce Plugins to Add Breadcrumbs To Your Store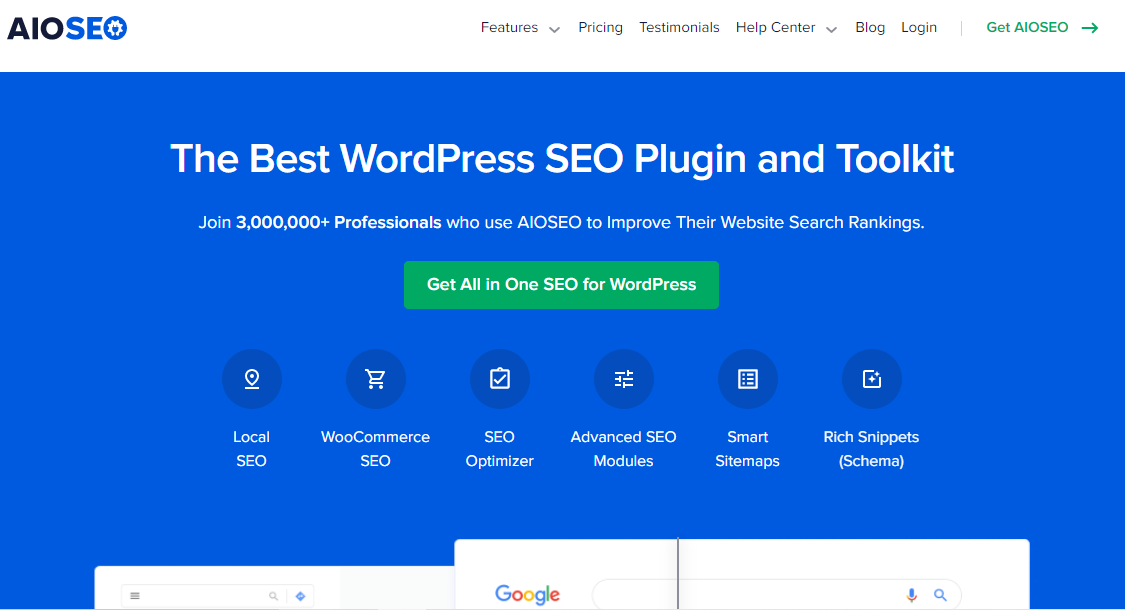 AIOSEO is one of the most robust and powerful plugins, which simplifies adding and setting up breadcrumbs on your WooCommerce store. 
It's important to note that unlike other plugins mentioned in this article, AIOSEO is a comprehensive SEO plugin that offers setting up breadcrumbs as one of the features besides several other features, and not a standalone breadcrumb plugin. 
You can display breadcrumbs wherever you want in your store and improve the user experience. Overall, it's a one-stop plugin for all your SEO setup and onsite optimization needs – including breadcrumbs, sitemaps, and rich snippet schema. 
Top feature: It provides seamless integration with different social media platforms, Google AMP, Google Search Console, and popular WordPress plugins. 
Pricing: It offers four pricing plans – including Basic, Plus, Pro, and Elite, which costs $49.50, $99.50, $199.50, and $299.50 per year, respectively. 
WooCommerce Breadcrumbs is a simple yet excellent plugin that helps restyle and customize breadcrumbs on your store. 
Using this plugin you can easily modify the HTML surrounding your store's breadcrumbs to leverage different options to style the breadcrumbs in unique ways. For instance, while the default breadcrumbs show links with a separator character – WooCommerce Breadcrumbs lets you change the breadcrumbs and display them as an unsorted list of links. 
It also lets you customize the HTML tag to wrap before and after individual breadcrumbs and all the breadcrumbs. Moreover, customizing the text and URL of the 'Home' breadcrumb is also possible with this plugin. 
Overall, it's an SEO-friendly plugin with a clean interface that lets you use simple, customizable breadcrumb options. 
Top feature: You can choose from different breadcrumb separator options to customize the breadcrumb style. 
Pricing: Free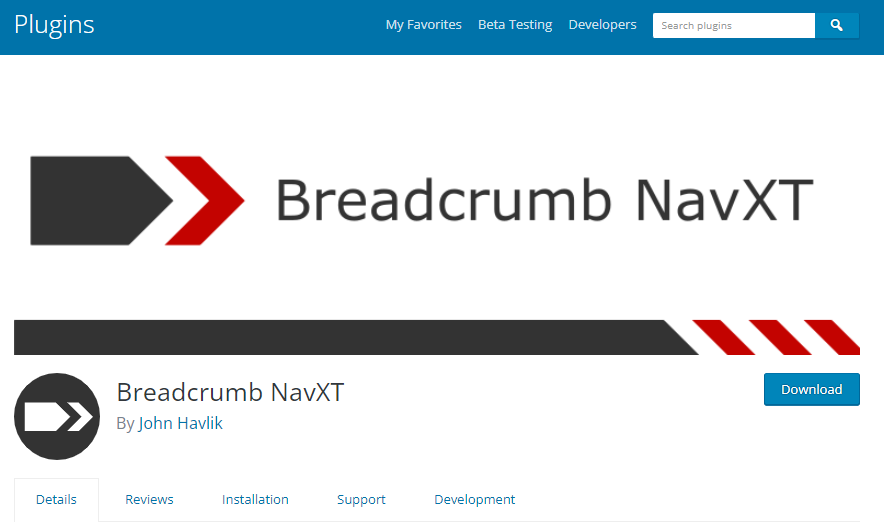 Breadcrumb NavXT is a user-friendly plugin that lets you generate and customize locational breadcrumb trails for your WooCommerce store. 
This plugin comes with an administrative interface to make the setting up of the breadcrumbs a breeze. However, its direct class access provides more functionalities to style the breadcrumb per your needs – especially if you're a web or theme developer. 
It lets you easily manage and customize breadcrumb settings for all your store pages on the Network admin settings page. Moreover, it's a highly compatible plugin – compatible with WPML, bbPress, Polylang, and BuddyPress. 
Overall, it's an easy-to-use, compatible, and customizable plugin that keeps frequently updating to provide unique features to set up breadcrumbs on your WooCommerce store. 
Top feature: Helps generate breadcrumbs compatible with the RDFa format Schema.org BreadcrumbList. 
Pricing: Free
Breadcrumbs is an intuitive and lightweight plugin that makes it easy to set up, customize, and style breadcrumbs on your WooCommerce store. 
Using this plugin – you can easily display custom breadcrumb prefix text, limit work or character count on the link text, customize font size for link text, and set custom separator text that matches your store's theme. 
Besides these features – you can also customize the padding and margin of your breadcrumb container, set custom text and background color for a link, link text, and separator, and choose to hide or display the 'Home' elements on the breadcrumb. 
Overall, Breadcrumb is an easy-to-use, efficient, multilingual, and feature-packed plugin to add breadcrumbs on your store pages. 
You can also choose the premium version to leverage additional features like hiding breadcrumbs on archives, hiding by post types, and post IDs.
Top feature: This plugin lets you rewrite and edit the plugins using filter hook and action hook – without touching the plugin code, and display breadcrumbs anywhere on your WooCommerce store using shortcodes. 
Pricing: Free, but the premium version costs $9, $39, and $69 for 1, 10, and unlimited sites, respectively.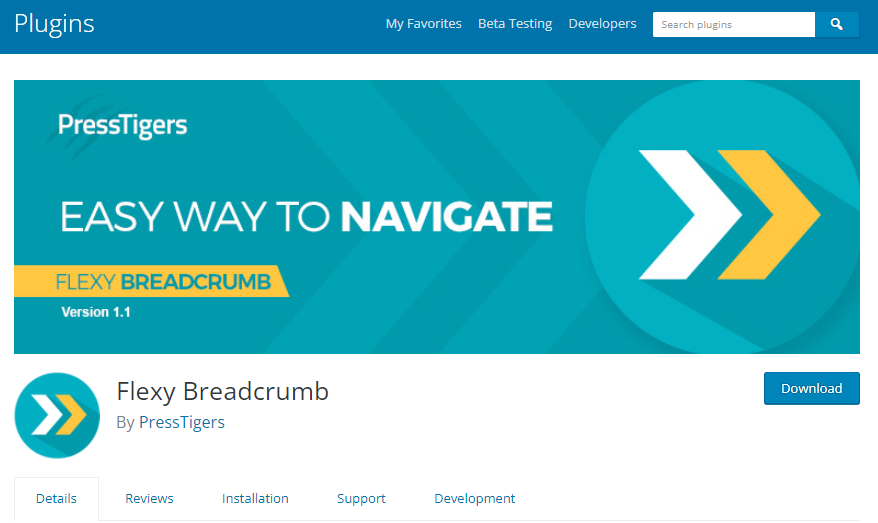 Flexy Breadcrumb is a simple, lightweight, and robust plugin that provides a shortcode (flexy_breadcrumb) to display breadcrumb navigation anywhere on your WooCommerce store and different pages. 
This plugin makes it easy to format and style the text, links, and separators of the breadcrumbs on your store. Besides these features, you can also set the character and word count limit for the navigation menu, home text and breadcrumb end text, font size of the breadcrumb trail, and color options for link, text, separator, and background through global settings. 
Overall, Flexy Breadcrumb is a flexible and mobile-friendly plugin that makes it easy to add breadcrumb trails anywhere on your WooCommerce store with ease. 
Top feature: It's one of the most SEO-friendly plugins that's integrated with Google Fonts and schema structure – allowing you to fit the breadcrumb trail seamlessly on your WooCommerce store. 
Pricing: Free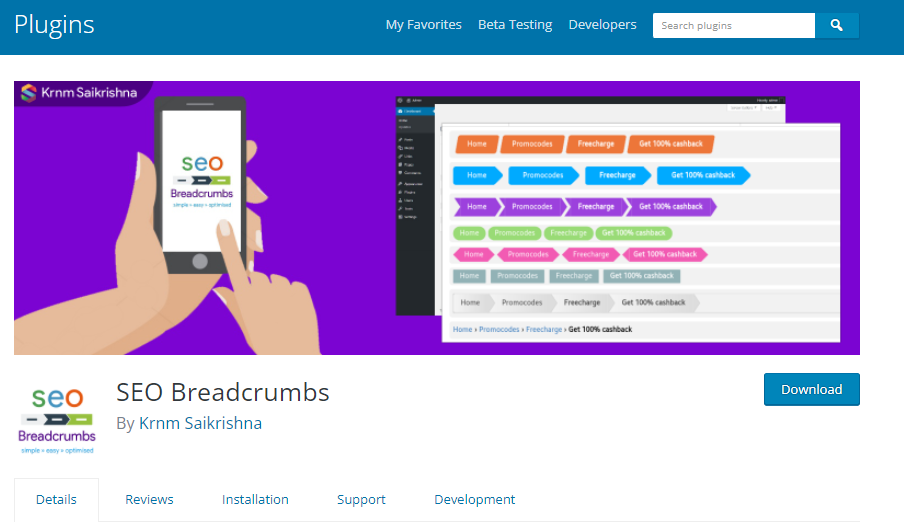 SEO Breadcrumbs is a powerful and easy-to-use plugin that allows you to include five different types of breadcrumb trails and navigation on your WooCommerce store. 
You can display breadcrumb trails on different pages – including archives, post pages, taxonomies, attachments, and search results. It consists of five different types of in-built styling features and provides the ability to add different styling effects and color combinations to style the breadcrumbs per your store's requirements. 
Overall, it's a highly flexible and responsive plugin with mobile and touch device support and offers default style for smaller device screens. 
Top feature: It supports schema specifications for search engines like Google's rich snippet markup – making it easy for the search engines to identify breadcrumbs and display them on the Search Engine Results Page (SERP). This feature makes this plugin support 100% SEO navigation markup. 
Pricing: Free
Conclusion 
Adding breadcrumb trails to your WooCommerce store facilitates website navigation for visitors and boosts SEO performance, increasing the visibility of your store on the search engine results and enhancing your credibility on the web.
The wide range of breadcrumb plugins for WooCommerce makes it easier and quicker to create, set up, and modify custom breadcrumb trails – without learning or writing even a single line of code. You can easily set up plugins using shortcodes and style, customize, and format the breadcrumb trails using the plugin's simple interface. 
Thus, if you run a WooCommerce store and need a simple way to add and manage breadcrumb trails to improve your store's customer experience and SEO results – check out the highly flexible, customizable, responsive, and responsive SEO-friendly plugins mentioned above. 
You can also check out these valuable posts to learn how to rename your breadcrumb item or remove breadcrumbs from your WooCommerce store. 
So, analyze your store's needs and requirements and choose the free or premium plugin that best suits your budget and store requirements.