The dropshipping industry is expected to rise by almost $557 billion by 2025. So, if there's a time to kickstart your dropshipping journey, it's today.
Apart from being one of the most profitable business models today, dropshipping also has a low entry barrier. You can easily create a dropshipping store with WooCommerce in a few clicks. 
However, managing and running an online dropshipping business is much more than just building a store. Luckily, you can use many plugins and extensions with your WooCommerce store to make your processes and operations more efficient.
If you want to take your dropshipping store to the next level and butter-smooth everything from inventory management and listing to product and supplier selection with plugins – this article is for you. Enjoy!
One of the most popular WooCommerce plugins, AliDropship Woo, is a dropshipping plugin for the retail giant, AliExpress which helps automate all significant business operations like order fulfilment inventory updates and product listings.
With a lot of customization and flexibility options, it's a smart move to allow dropshipping businesses to add a host of AliExpress products to their own store with this plugin. 
It's fast, light on the website and offers live statistics for reports and analysis—a one-stop destination for putting your dropshipping business on auto-pilot after the initial setup.
Top feature: Built-in editing software to remove watermarks from product images so you can brand them for your own store.
Pricing: $89 one-time payment
This free WooCommerce plugin enables you to choose from over 50,000 products from AliExpress and directly add them to your dropshipping store along with the descriptions. DropshipMe is a convenient plugin with interesting features like automatic inventory updates and order fulfilment.
What's even better is the plugin provides a curated list of suppliers you can choose from—since it's a vetted list, they're high on reliability and save hours finding trusted ones for your dropshipping business.
The plugin allows for a hassle-free process and minimizes the time between listing and selling since everything is one click away. Even though the plugin is free, you will have to pay a one-time package fee beyond 50 products—based on the number of items you plan to sell. 
Top feature: Their handpicked product and supplier lists provide a gateway for scaling your dropshipping store. With the unlimited package, you can add unlimited products to your store, which also have high selling potential.
Pricing: Starts at $29 for 100 imports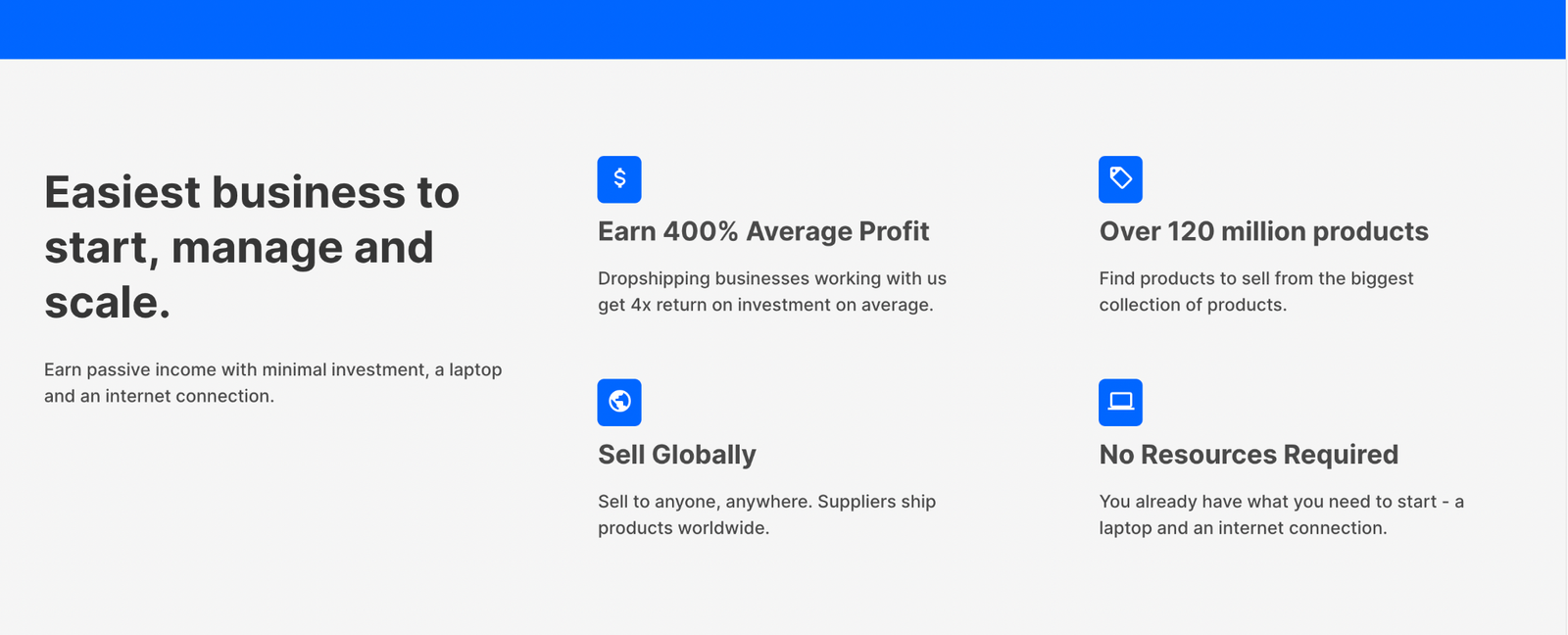 This plugin also works with AliExpress, but is super smooth with its process—you download the chrome extension and keep adding the products while you browse through the AliExpress website. It's one of the quickest ways to add products to your store while ensuring you're adding only quality and relevant ones.
With features like automatic updates when products go out of stock or change in prices along with front-end customization, WooDropship is a popular choice among dropshipping stores. Its one-click integrations and setups further contribute to its popularity.
Top feature:You have complete control over how the products are displayed on your website with image and product description customizations. With front end themes, you can also align your product displays with brand colors and other elements. 
Pricing: 7-day trial, then $199 one-time fee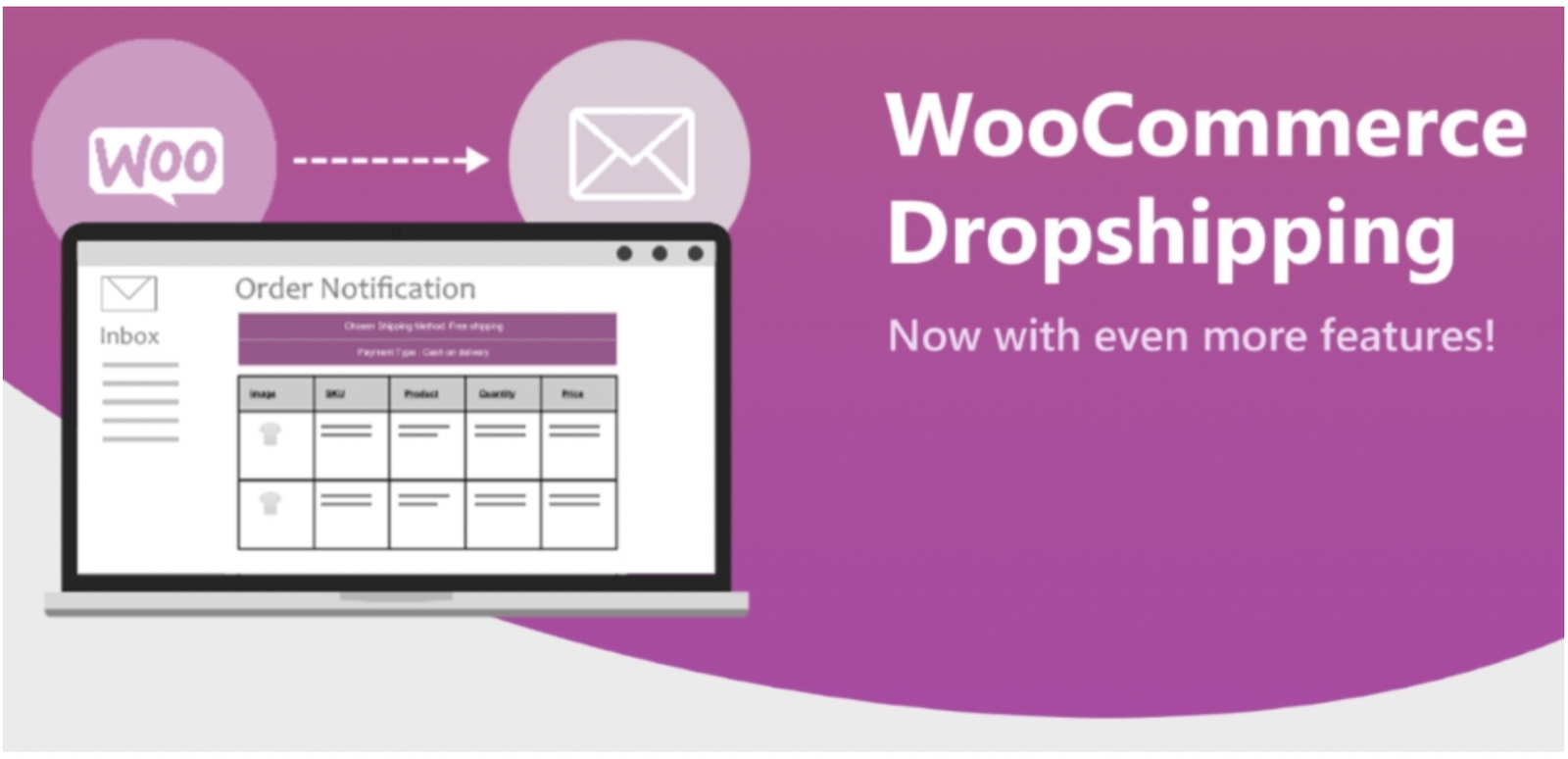 A diverse dropshipping plugin, WooCommerce Dropshipping works with Amazon, AliExpress and other dropshippers, giving you a wide range of products to choose from and list on your store. 
It's a seamless process—sign up, choose products, import images and descriptions, set profit margins and start selling. It cannot get easier than this.
What's better is you can import these products in multiple ways—plugin, Chrome extension, or through a CSV file.
Top feature: After purchase, the plugin automatically sends a notification to the supplier to package and ship the product to the customer.
Pricing: $49 one-time payment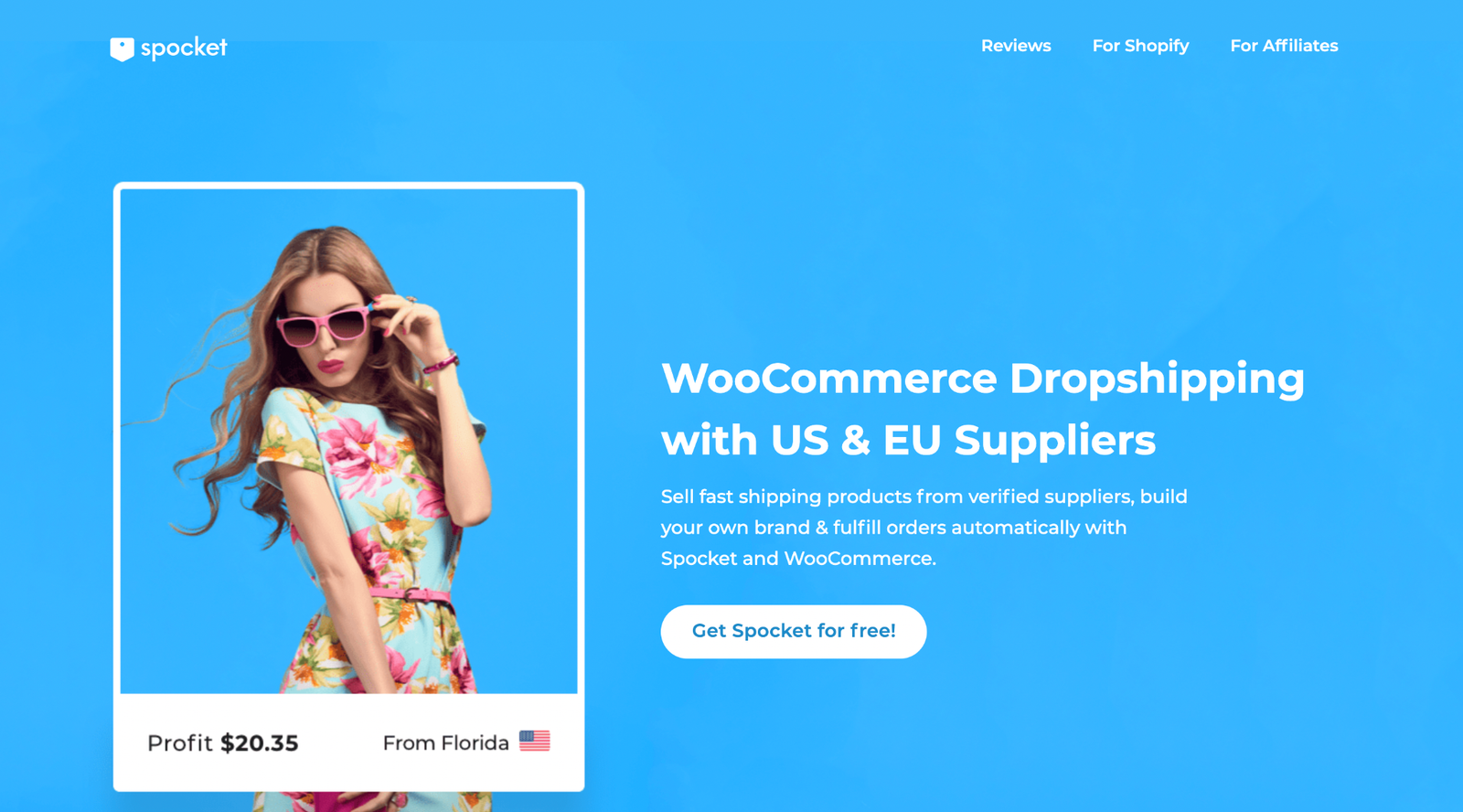 If you're looking for reliable artisans and businesses as suppliers for your dropshipping store products, Spocket dropshipping plugin is for you. It displays a quick-shopping list of suppliers in the US and Europe who are committed to delivering high-quality products, that too with speed.
You can customize your products and invoices, add images and descriptions and style your display the way you want—it's a win-win with a premium store look and fast order fulfilment. 
Top feature: You get wholesale rates with upto 75% off on selective products allowing you to make high profits while serving quality products to your customers. 
Pricing: 14-day free trial, then starts from $12 per month.
This dropshipping + affiliate plugin is exclusive to importing products from Amazon. You can easily browse through the millions of products on the platform and display the ones you like on your WooCommerce store.
The process is pretty straightforward—once you've imported products on your WooCommerce dropshipping store, the affiliate ID is added to the products, and you get a commission for every sale while Amazon delivers the product to your customers.
Top feature: Amazon's well-connected network of products and suppliers allows quality product inclusions with reliable suppliers. Moreover, Amazon has a track record of fast deliveries—a cherry on top.
Pricing: Starts at $59 for a single site.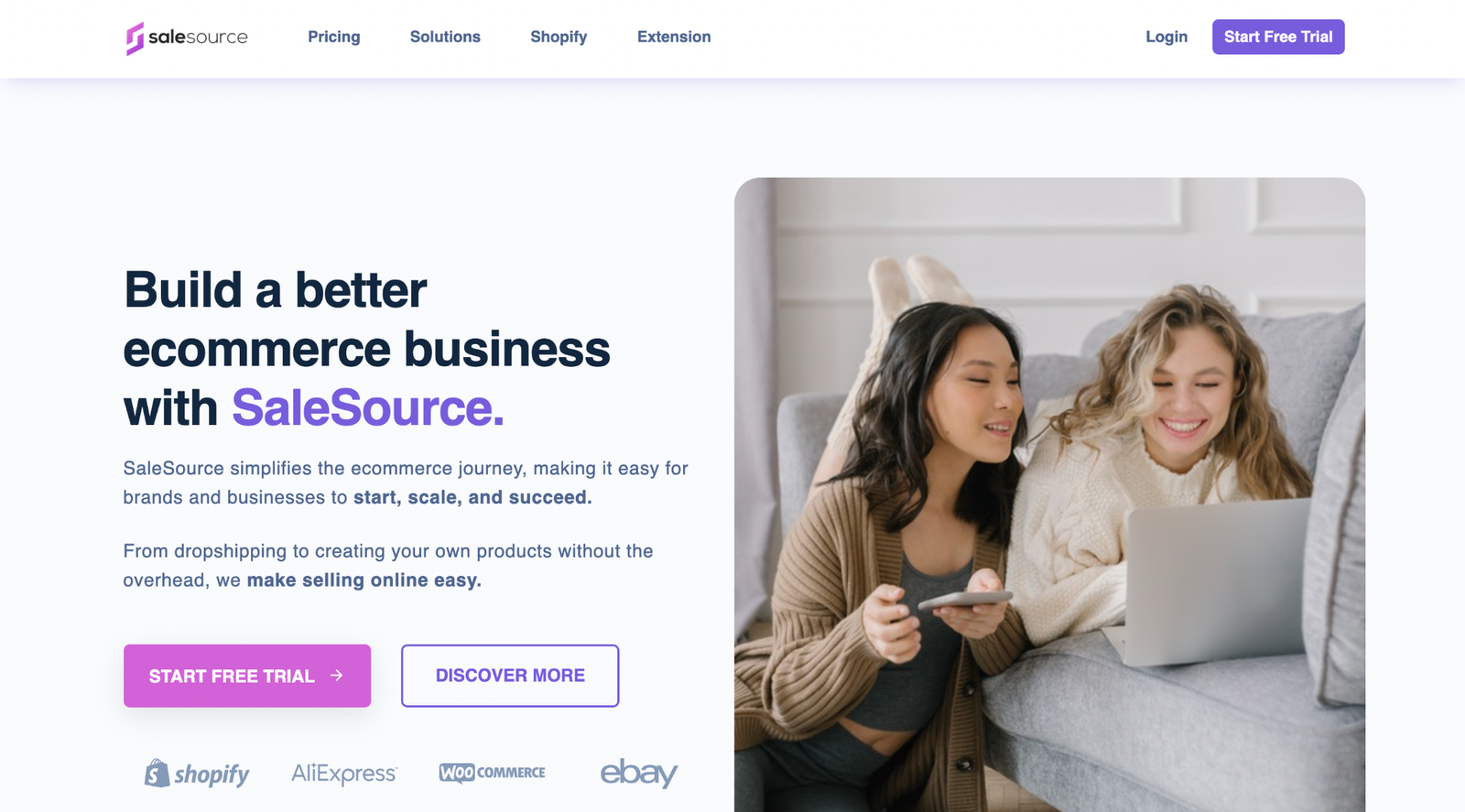 This plugin can convert your WordPress website into a fully-functional WooCommerce dropshipping store and help you import products directly from AliExpress.
No external hassles and integrations—the plugin simplifies the process so you can focus on marketing your dropshipping store while the operations are handled by one of the best dropshipping solution providers. 
SaleSource gives you complete control and access over your store so you can customize, organize and brand it the way you want.
Top feature: After the purchase, the plugin initiates automatic emails to send customer addresses to the supplier for quick order fulfilment.
Pricing: 7-day free trial then starts at $13 per month.
Final thoughts: Best WooCommerce Dropshipping Plugins for 2021
Dropshipping is profitable, but it's not a cakewalk. While it may seem simple since you're not taking care of inventory or shipping, it takes a good amount of effort and time to make a dropshipping store successful with recurring orders and satisfied customers.
Among other things, you don't want to go running behind manual product selection, individual product listings and missed product or supplier updates leading to shipping delays. You can easily manage all of this with dropshipping plugins specially designed for WooCommerce stores.
Make your pick, and choose the plugin that would best support your dropshipping store, and take it to the next level with increased conversions and rising revenue graphs.