WooCommerce is a free WordPress plugin that allows WordPress users to sell products or services from their website.
It is one of the best WordPress eCommerce plugin for building and growing an online business. Upon launching it became hugely popular due to its flexibility and simplicity.
It is a dominating force in the global eCommerce platform and accounts for 42% of the total market share. That means over 42% of all online shop uses WooCommerce to run their business.
Who Owns WooCommerce?
WooCommerce is developed by South Africa based WordPress theme shop WooThemes. Who hired Mike Jolley and James Koster to work on a fork of Open source WordPress plugin Jigoshop, which they later re-branded as WooCommerce.
Due to its tremendous success, WooCommerce was later acquired by Automattic, parent organization of WordPress, for $30 million.
Progression of WooCommerce:
September 27, 2011: WooCommerce Launched
June 17, 2013: 1 Million WooCommerce Downloads
August 6, 2014: 4 Million WooCommerce Downloads
May 19, 2015: WooCommerce Acquired by Automattic
January, 2016: 6 Million WooCommerce Downloads
April, 2016: 7 Million WooCommerce Downloads
December, 2020: 5 Million Active Installations and 119 Million All Time Downloads
What Can You Do With Woocommerce?
TLDR: Sell products and services using your WordPress website.
It became widely popular among WordPress users because it requires minimum input to process orders, cart, inventory, taking payments, sort taxes & shipping.
One of the major upsides of running an online store using WooCommerce is having a wide variety of useful extensions, plugins or add-ons at your disposal.
Whenever you need an extra functionality you can just browse the directory, as most probably the solution (extension) to your problem is already there.
Websites built with WooCommerce
Check this article of mine and see what are the top websites powered by WooCommerce:
How Does WooCommerce Work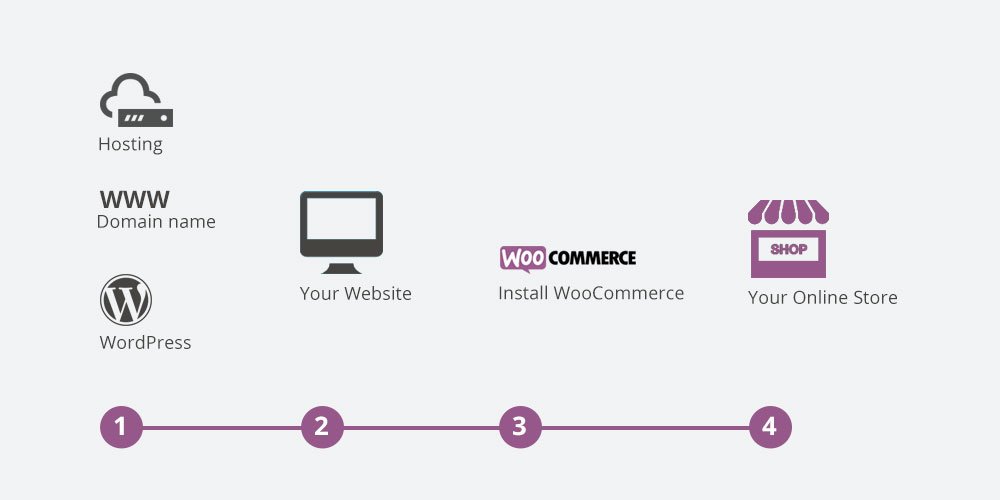 All you need to run a WooCommerce store is the following:
Domain name
Web Hosting
WordPress
WooCommerce plugin
WooCommerce theme
WooCommerce Pros and Cons
If you dig deep, WooCommerce has obvious advantages over other platforms when it comes to setting it up and long term maintainability. To add the eCommerce functionality to your website you just have to install a WordPress plugin.
But like everything in life there is a always a strength and weakness. And WooCommerce is not exempt from that. Here are the benefits and drawbacks of using WooCommerce to run your online store:
Benefits of WooCommerce:
It's Free
Simple, easy to use
Huge Flexibility
Lots of customization options
Wide variety of themes & extensions
Security
Large developer community
Comprehensive Analytics
Complete control over website data
Gazillions of tutorials
Cons:
Maintenance is the responsibility of the store owner
Paid add-ons are costly
WooCommerce Community & Product Support
Due to its huge global adoption rate, you will always find available developers, community members and 3rd party products to help you customize WooCommerce according to your needs.
Important Links:
What are the WooCommerce Alternatives
| | | |
| --- | --- | --- |
| Platform | Market Share | Requirements |
| WooCommerce | 42% | Domain name, Web hosting, WordPress |
| Shopify | 6% | Domain name |
| Magento | 5% | Domain name, Web hosting, Magento |
| BigCommerce | 1% | Domain name |
| Volusion | 1% | Domain name |
| Other | 45% |   |
Source: BuiltWith Trends
After all the analysis it all depends on you what platform you want to use to run your online store. Efficient decision would be to choose a platform that's simple, has low learning curve and requires low upfront costs & maintenance costs.
My opinion would be to choose WooCommerce. It will be the best option for anyone looking to build an ecommerce without the hassle.