Azure Mobile App
We can deploy our mobile backend services on Azure using Azure Mobile apps. By implementing our mobile backend service on Azure, our mobile backend will be able to communicate with different Azure services. We can able to take advantage of various features that are provided by Azure Mobile Apps.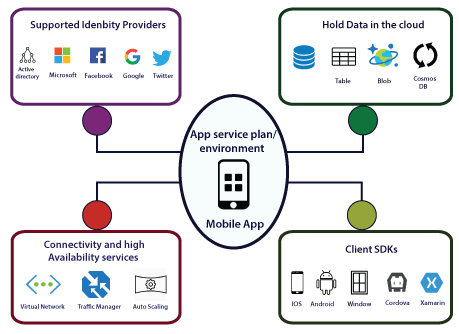 Features and services
Data Storage: Our mobile backend can be able to store the data or access the data of Azure SQL database Azure table storage, Azure Blob storage, and Cosmos DB. And also, we can add offline sync features to our mobile app.
Client-Side development: Once we host our mobile backend services on Azure, there must be a way to consume those services. For that purpose, Microsoft provided several client SDK's depending upon the platform.
Authentication and Authorization: We can integrate our mobile app with different authentication providers. So we can integrate with Azure active directory, Microsoft, Facebook, Google, and Twitter. We can integrate this service without any code.
Connectivity: In terms of connectivity to apps that are hosted in a virtual network. Our mobile app will be able to connect to a virtual network either using point to site VPN or by hosting our mobile app backend service into an app service environment, which will automatically get connected to the virtual network.
Availability Service: We can use the traffic manager to provide higher resilience even during the data center failures. We can also use auto-scaling to scale our mobile backend services as more number of users are about to start using our app.
Notification Hub: Using the notification hub, we can enable push notifications to different platforms, and also we can use mobile engagement using which we can understand what exactly the user is doing with our app.
How to create Mobile apps backend development
Step 1: Log in to the Azure portal and create a new Azure mobile app backend.
Step 2: Configure the mobile app backend.
Step 3: Define a table controller.
Step 4: Create the Data Transfer Object (DTO) class.
Step 5: Configure a table reference in the Mobile DbContext class.
Step 6: Create a table controller.
Step 7: Define a custom API controller.
Mobile Client-side development
Step 1: Based on mobile OS, download the client-side SDK.
Step 2: Reference the MicrosoftAzureMobile (IOS) in your client code.
Step 3: Create MSClient (IOS) reference and start accessing data from tables.
Step 4: For Custom API's, use MSClient.invokeAPI to call custom API.
Mobile offline data sync
Mobile offline data sync is a client and server SDK feature of Azure Mobile Apps that makes it possible to create apps that work without a network connection.
Sync Table
To access the "/tables" endpoint, Azure Mobile client SDKs provide an interface such as MSTable. However, this will fail if the client devices do not have a network connection.
To support offline use, our app should instead use the sync table APIs such as MSSyncTable. All the CRUD operations will happen at a local store.
The local store is the data persistence layer on the client device (Windows, Xamarin, and Android). It is based on SQLite, whereas on iOS, it is based on core data. In offline synchronization, the sync can be a push, pull, implicit pushes, or Incremental sync.
---