xVideoServiceThief Ubuntu Linux Free
Introduction to xVideoServiceThief
The xVideoServiceThief can be described as a tool for downloading several video clips using various websites of videos. Also, this tool provides us an opportunity to transform the videos to the most famous formats such as MP3, 3GP, MP4, WMV, MPEG2, MPEG1, and AVI file formats.
The Desktop image of xVideoServiceThief Ubuntu enables us to try Ubuntu without modifying our system and permanently install it later. Most people wish to use this kind of image. We will require at least 384 MB space of RAM for installing this image.
This program always permits us to download videos using distinct video hosting websites like Youtube, Vimeo, Dailymotion, and many others to our personal library for further view.
This tool is available for Linux, Mac, and Windows. It is an open software tool using a general public license. It is easy to use and we can download the videos using xVideoServiceThief software.
It can handle more than one download and ignores bugs or interruptions, unlike other tools.
Developer: XESC & Technology
Language: English
Version: 2.5.1
License: Freeware
Update: 5/03/2019
Size: 10.5MB
Compatibility: Windows 8/ Windows 7/ Windows 10/ Mac/ Linux
Systems: Linux
XvideoServiceThief Features
Some of the important features of the xVideoServiceThief tool are listed and explained below:
It is cross-platform (Mac OS X, Linux, and Windows).
Various services are supported by xVideoServiceThief tools like Google Videos, Youtube, etc.
This tool works on the basis of plug-ins.
It can convert any video to famous formats.
It is a straightforward and simple interface.
It works with huge types of websites where we can download several videos free of cost.
This tool can be used for converting formats like MP3, 3GP, MP4, WMV, MPEG2, MPEG1, and AVI.
It provides us super-fast speed facility at the time of downloading process as one file can be downloaded on more than one connection.
We can continue with incomplete downloads without an issue.
An option for blocking or unblocking adult videos and websites is included as well.
It is used to download the video materials using 70+ sites.
It is used to download more than one file simultaneously. It saves our time by downloading more than one video at a time.
The xVideoServiceThief tool uses the drop and drag method.
It provides its support for proxy and works in the background.
It can plan a downloading schedule.
It can search multiple files within the network.
It can resume or stop the downloading process.
It provides its support for RTMP and HTTP protocols. The xVideoServiceThief software downloads almost every video through the Internet using RTMP and HTTP protocols.
Most importantly, it can protect children from using pornography sites.
Importance of xVideoServiceThief
Para Ubuntu 14.04 version of the xVideoServiceThief computer software permits us to download using websites like Youtube. It downloads videos using several web video services such as Metacafe, Google video, Yahoo, Youtube, etc.
The schedule structure of the xVideoServiceThief computer software configures our download schedule to enable xVST to download the videos if we are not using our computer.
The plugin-based core of the xVideoServiceThief computer software can extend an xVST copy with our JavaScript plugin.
The Pause and resume feature of the xVideoServiceThief computer software is also available, If w need other connections to implement other essential operations, then we can cancel, resume, or pause the download.
The automatic updating feature of the xVideoServiceThief computer software can automatically update the copy of our xVST so we do not need to be worried about new releases.
The Bug Report feature of the xVideoServiceThief computer software allows us to use a bug tracker for sending reports to improve future releases.
The Tray icon function of the xVideoServiceThief computer software can run the xVST in the mode of the background.
The Customizable website feature of this computer software can choose the websites we wish to permit and the websites we have to block.
The Download log of this software can save every download in the history file so we can check the downloaded videos anytime.
The Session manager of the xVideoServiceThief computer software can automatically restore and save download lists.
The Multilingual feature of the xVideoServiceThief software uses xVideoService in our language. XVST currently supports 14+ distinct languages.
With the Language manager of the xVideoServiceThief computer software, we do not need for installing and uninstalling the languages and download and install the newer languages manually.
The xVideoServiceThief computer software can protect us from viruses.
The interface of this tool is easy and simple.
Easily we can resume downloads that are incomplete.
Working of xVideoServiceThief
We do not need a degree, guidance, or instructions in computer technology for learning how to download a video using this tool. It is simple and could be used similarly to other tools of this type.
Some of the steps for using the xVideoServiceThief program are mentioned below:
Step 1:
We will see the box at the interface bottom once we execute the program where we can configure the folder of the download for storing our audio and videos.
Step 2:
We will find an option, i.e., Add Video on the interface right side. A window would open prompting us to paste the related URL when we click on it.
Step 3:
Click on the Accept option and patiently wait for our video to download (the period depends on the server and our connection).
In More Options, we will exactly find these extra options for configuring the result format, audio quality, resolution, download schedules, languages, etc.
Compiling xVideoServiceThief
The STATIC_BUILD (a compiler directive) must be divided on the off chance that we need for getting an authorized xVST compilation.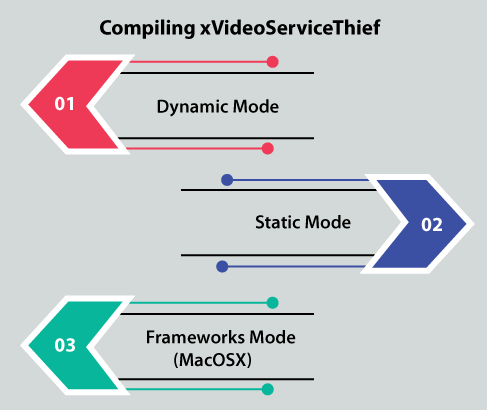 Dynamic Mode:
If we wish to compile this software in Dynamic mode, we should implement: > qmake-set build_mode dynamic_build > qmake > make
Static Mode:
If we wish to compile this software in STATIC mode, we should implement: qmake-set build_mode static_build > qmake > make
Frameworks Mode (MacOSX):
If we wish to compile this software in FRAMEWORKS mode, we should implement: qmake-set build_mode frameworks_build > qmake > make
If we are using Windows operating system, then we can use some automated scripts for compiling the xVideoServiceThief software:
> compile-tools/compile-vc++.bat(static + VC++2010) > compile-tools/compile-mingw.bat(dynamic + mingw)
Downloading and Installing xVideoServiceThief
We need to consider some steps for downloading the xVideoServiceThief software in our system. These steps are listed as follows:
First of all, we need to extract our system with the help of the -xvf xVST_2_5_1_x64-linux-dynamic.tar command.
After using the above command, we will be asked to type the cd xVST_2_5_1_x64-linux-dynamic command.
Then, add the chmod +x install.sh command and permits the process of installation to start.
Begin the process of installation by adding the ./install.sh command.
It will begin the process of installation.
How to Download Videos using xVideoServiceThief?
We need to follow the below steps for downloading the videos with the xVideoServiceThief app:
We need to open the xVST app after downloading it. We have fixed up our download location. We can do it inside the bottom left side of the window of this app.
After that, we need to choose the 'Add Video' option inside the top right side of the app.
We need to input the video's URL that we wish to download in the next tab. Automatically, the xVideoServiceThief app will recognize the site of that video from which we are downloading the video from.
Then, click on the 'OK' option and the video will simply start to download. If we want, we can select not to begin the video automatically by unchecking an option, i.e., 'Download Videos Automatically'.
Compatibility of xVideoServiceThief
Precisely, the main power of the xVideoServiceThief app is the wide variety of web services. It will permit us to get hold of every video sort. This and some other aspects make it one of the most favorite and popular video downloaders for many users.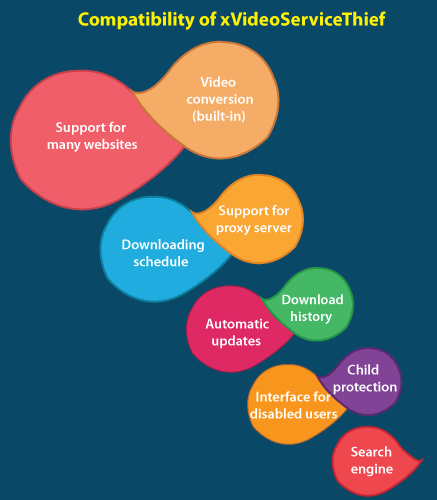 Support for Many Websites
The xVideoServiceThief software was compatible with 90+ web services after its current update (but a few of them might have closed), including websites of common contents like Metacafe, LiveLeak, Vimeo, and Youtube.
Video Conversion (Built-in)
It includes a converter so that we can convert the videos to other famous formats that are compatible with the iPhone or Android device.
Downloading Schedule
This compatibility aspect provides a function for scheduling the downloads so that we can use the bandwidth of our Internet when we are not on our system.
Search Engine (Built-in)
The xVideoServiceThief software is compatible with a search engine (built-in). It enables us to start the downloading process or play it simply in the program.
Automatic Updates
It provides automatic updates for all new releases (if we authorize them on our firewall).
Support for Proxy Server
The xVideoServiceThief software is compatible with the proxy server. It provides support for many connections with proxy servers. However, it is a function at a beta stage.
Interface for Disabled Users
This computer software provides an interface that is prepared for all disabled users.
Child Protection
It protects the children from using wrong content so that our kids do not download improper content like Justin Bieber videos or Arsenal matches.
Download History
The xVideoServiceThief tool enables us to see and check the history of our downloads.
Also, this famous download manager has landed in other environments such as macOS and Linux, although for time being, there is no APK existed for Android devices. Probably, our best option is downloading Tubemate as an alternative for smartphones and tablets, since it does not look like there would ever be a release for mobile devices.
Source Code of xVideoServiceThief
We can download the source code of the xVideoServiceThief computer software using GitHub.com.
Every file moved its source code to the GitHub website because we wish to facilitate the community the chance for collaborating more interactively and directly. GitHub is one of the best options for this purpose.
---