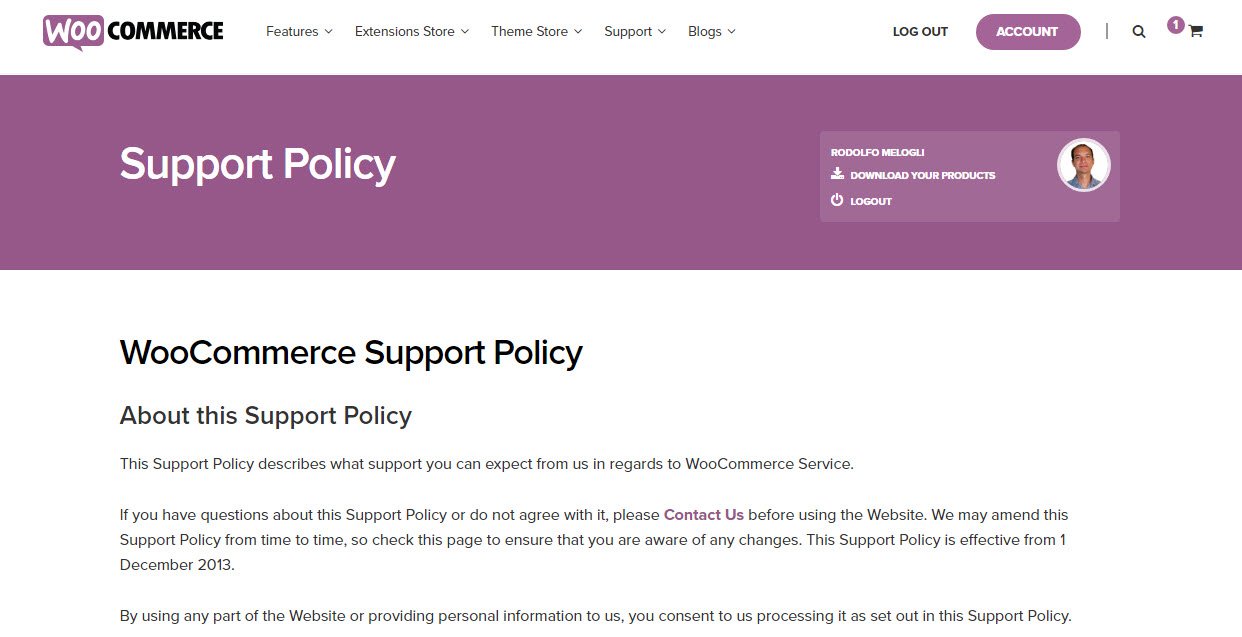 WooCommerce.com is dropping its 50% extension renewals, and moving to a 100% renewal business model.
I found this out at WCEU 2017 and then via WP Tavern. Unfortunately, this announcement is not on WooCommerce blog, on its social media channels or even Automattic.
And yes, this is retroactive – we are now all paying 100% renewals. So, let's see what I think about this "still not official" news.
The news
WooCommerce.com has already dropped its 50% off renewal subscription pricing policy for extensions and plugins since a few weeks ago. It's now 100%.
This has been announced indirectly at WCEU Paris 2017, at minute 32:20 of Marina Pape's wonderful presentation. Marina said "in my honest opinion, I think it's healthy to renew products at 100%".
WP Tavern published a short blog on the topic a few days later and the news spread out on social media pretty fast.
This is all we know so far – no announcement has been featured on WooCommerce blog or their social media accounts.
On changing pricing strategy
WooCommerce/Automattic run a business like we do. We've increased our rates, doubled them, tripled them without ever communicating this to the world. Changing business model and pricing strategy are, in fact, totally normal.
It would have been great to hear this from WooCommerce/Automattic first and not via a Q&A session at WCEU. Surely this will be announced in the next few days, and will finally clarify all the details 🙂
On changing pricing strategy for existing customers
The real problem here is retroactivity.
Existing WooCommerce.com customers purchased a product knowing it renews at 50% as long as you don't let the subscription expire. Now, their automatic subscriptions renew at 100%. For millions of customers, this is a substantial change.
While it's ok to change pricing strategy, existing customers should not be affected – or you risk to dramatically increase your churn rate.
On WooCommerce.com FAQ, Support Policy, Cart & Checkout Pages
As an announcement has not yet been done, I spent some time looking at the FAQ and policies on WooCommerce.com. Needless to say (and I'm not sure if these have been updated since the pricing strategy decision), there are a lot of grey areas.
But let's start with the "single product page". In here I'm willing to purchase the Product Add-Ons Plugin, a very useful piece of software that almost any WooCommerce site will need at some stage.
It clearly states "A subscription entitles you to 1 year of updates and support from the date of purchase", which is pretty standard for premium WordPress plugins. No mention is given in regard to year 2 renewal.
If I click on the "Support Policy" link, I find this 2 paragraphs within the document:
——
How Do I Renew My Subscription?
If auto-renew is enabled, your subscription renews on the due date and your card is charged. An email notification and receipt are sent to confirm you paid for another year.
You are sent a renewal reminder email 60, 7 and 2 days prior to the subscription renewal date. You can also find a renewal information at My Subscriptions. These emails are also sent if auto-renew is disabled.
How Much Does It Cost To Renew My Subscription?
Subscriptions are billed annually. Coupon codes or other promotional discounts do not apply to renewals.
——
No mention of the renewal amount there. However, the renewal reminder email 60, 7 and 2 days is a great feature, and I wonder if any of you got already one of these with the 100% renewal notice.
Anyway, let's proceed to Cart: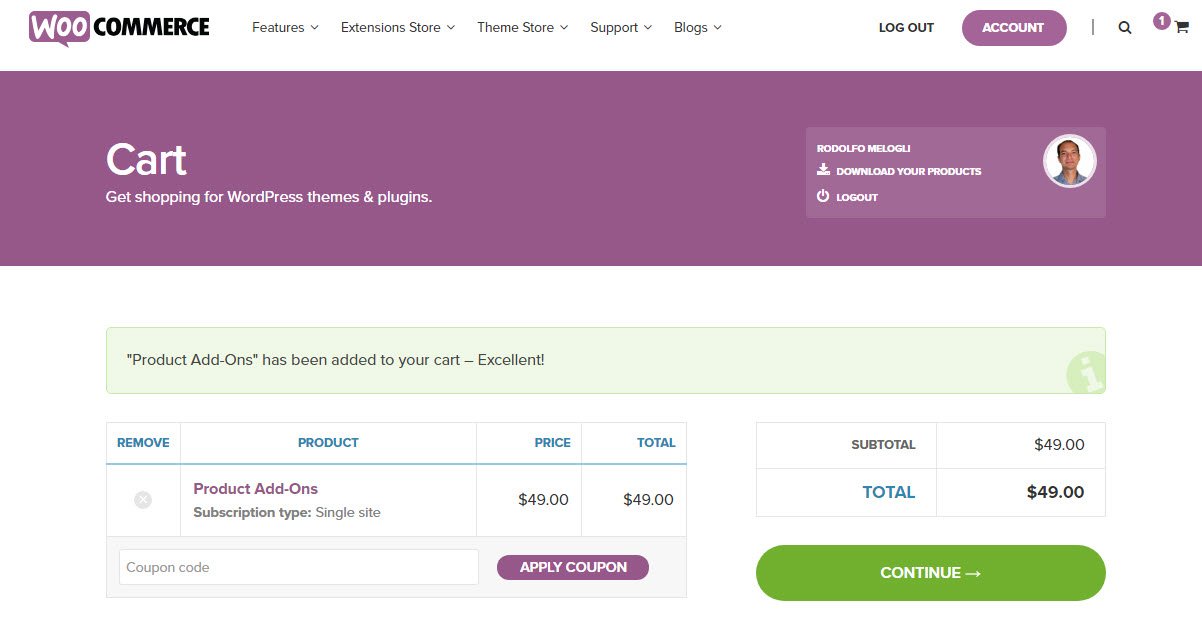 No mention of yearly subscription here. So, let's proceed to checkout:
No mention of yearly subscription here either. If you purchased "WooCommerce Subscriptions" plugin in the past, you know it adds very nice order table rows that say something along the line "Pay $___ Now" and "Renews at $___ Every Year". I wonder why this does not show on WooCommerce.com checkout page?
Conclusion: a lot of work is needed to make the add to cart / view cart / view checkout / view policy process more transparent, no matter if the renewal is at 50% or 100%.
On WooCommerce support efforts
I can see the support team has dramatically grown in the last years. WooCommerce has actively sponsored and attended WordCamps, has put its face in front of their existing and potential users.
The support ticketing response time has gone down and day after day I feel much happier with the level of support received for a premium extension.
Maybe you disagree, but I've seen an incredible step forward here. And for sure the new pricing strategy is to consolidate this – when you purchase a premium plugin, how much do you value support?
On WooCommerce.com future
More transparency is needed. We users and resellers (we indirectly sell WooCommerce.com plugins to our clients, don't we?) need to be aware of the roadmap. We need to know when anything small changes, go figure why we still don't know about this pricing strategy revolution.
Inevitably, this business plan change will affect many existing customers (and will upset many). A big churn is expected. Of course, brand new customers won't be affected and will purchase extensions at 100% renewal as long as the Cart/Checkout process is transparent.
If I were WooCommerce.com…
I believe feedback should come with a list of suggestions. I don't like to say "I don't like this". I prefer to say "I don't like this. And this is what I would do if I were you: ___"
If I were WooCommerce.com, this is what I would do today:
announce the pricing strategy ASAP
existing customers – let them renew at 50% lifetime to avoid churn. This is vital
new customers – get the Cart/Checkout/Policy process right and transparent to avoid upset
make sure news like this don't leak in the future, or at least be quick with an official statement
never launch a new feature on WooCommerce.com unless it's been announced and feedback has been gathered
keep working as you've been doing recently. Support quality matters, response time is vital, plugin reliability needs to justify the product price
Now it's your turn.
What do you think about this, based on whether you're an existing customer or not?