What is AWS Console?
For a long time, application scientists have looked for various ways to build and deploy sophisticated infrastructure or applications that provide highly scalable, all-web-based services. And to a large extent, they have successfully created web-based services like Amazon Web Services and Microsoft Azure.
However, since we're interested in discussing the AWS console, we won't dive into Azure. Worldwide, AWS is trending, and a key driver for this popularity is that nearly 80 percent of Fortune 500 companies have, in one way or another, implemented Amazon Web Services in their network business solutions and digital transformation strategies.
AWS is a global cloud platform that allows users to host and manage web services over the Internet in real-time and at a reasonable cost.
So since we have been able to gather some essential information about AWS, let's look at the program here.
What is AWS Console?
Let's look at it this way, imagine you want to access all the features of your Facebook account; You will need an interface where you can input your username and password to gain access. You can then navigate your updates, messages, and other account information. Similarly, the AWS console works the same way. AWS Console is a web application that allows users to access Amazon Web Services. The console can be considered the backbone or basic web infrastructure through which Amazon Web Services can be accessed. Without the console presented so that users can easily navigate to every Amazon web service, it won't be easy to have centralized access to all the Amazon web services.
The console provides an inbuilt interface for users to perform tasks like provisioning resources, lets you launch instances, and works with Amazon S3 buckets. We'll learn more about features and discover significant other configurations as we move forward.
Getting started with AWS Console
In addition to accessing the AWS console through a web browser to access it through the mobile app version. If you are using a mobile phone, click here to get started on the mobile app.
You need to have an AWS account and a web browser installed on your compute to get started.
To open the AWS console, you need to do the following:
Open a web browser
Enter the URL http://aws.amazon.com/console/ to access the AWS Management Console.
Create a new account if you do not have an account through this link: Create a new account.
Click Sign In and enter your login email and password to access your AWS services from your console.
Turning off the console is simple,
Click on your name link in the top right corner of the page.
A drop-down menu appears where you click "Sign Out".
You will be redirected to the console home page.
Close the browser and you're done.
Discover its features
You can access AWS services on the console in two ways: through the Search tab or by using the Services menu. A user not only makes use of these services but can also manage their monthly billing and expenses. Existing services can also be updated, new ones can be subscribed to, and urgent tasks can be managed.
With AWS Console, you will be able to manage AWS accounts, learn more about AWS, and work with tag editors. You can also manage AWS from your mobile device. It is important to note that AWS Console supports Microsoft Edge, Firefox, Chrome, Internet Explorer and Safari browsers.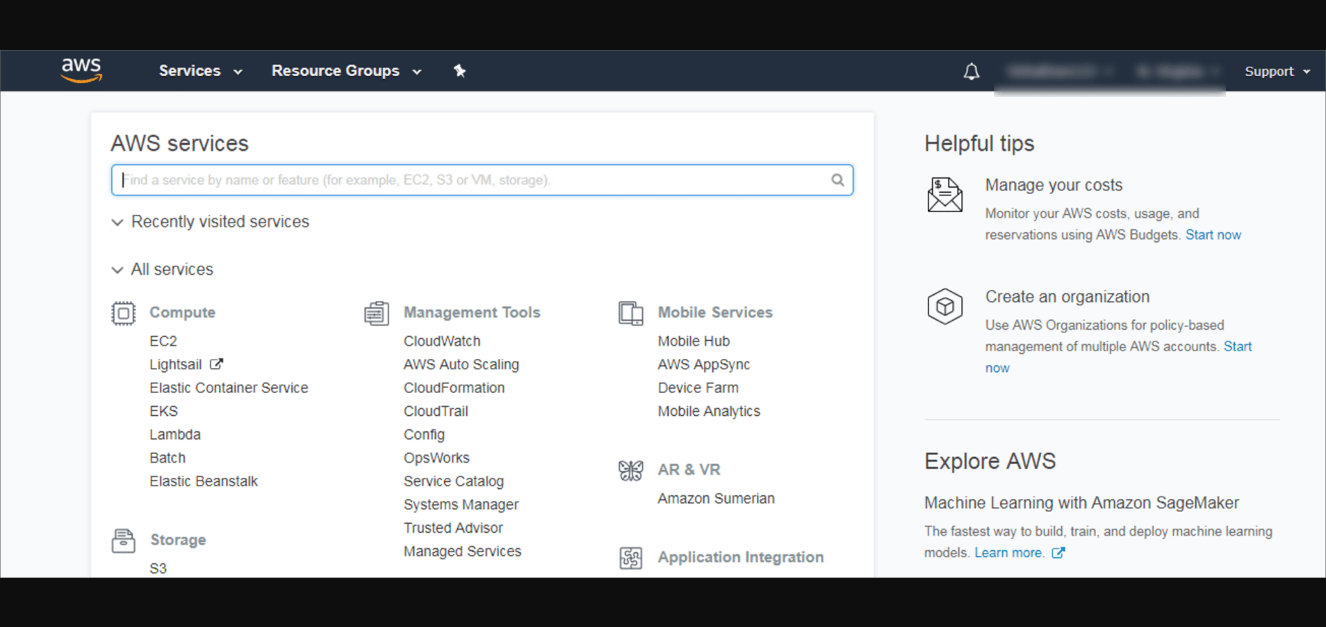 The future of AWS Console
Consoles have been used to control IT technology interfaces for many years. The first AWS consoles were launched in the 1990s. If we compare it now, we'll all say it's slow and ugly: Netscape is built with an interface.
Recently, the new interface was launched, and it is more straightforward with an excellent user experience. Navigation is fast, and you have quick access to all the services you want.
This transition shows that change is inevitable, and it cuts through every technical aspect, bringing every old technology platform to its knees. We wouldn't be surprised if we had a console that could talk to us in the form of a fully digitized web application in the years to come.
What is Amazon AWS Management Console?
AWS is recognized as one of the leading cloud service providers. One of the major reasons why AWS stands on top of AWS for Cloud Computing Platform is that it provides an easy and interactive way to access and manage Amazon Web Services through the AWS Management Console. In this blog on Amazon AWS Management Console, you will go through all the steps to understand how you can manage and use Amazon Web Services using AWS Console.
AWS provides around 70 different services classified under different domains such as compute, storage, database, networking, etc. Using these services, you can transform your applications to be highly scalable and easily deploy them in the cloud. To use and manage Amazon Web Services, you have to have the AWS Management Console. AWS Management Console is a web application that allows users to access and manage any resource/services running on the AWS infrastructure. It also provides information related to billing and more.
The following is a list of some of the actions that you can perform using the AWS Management Console:
Finding and Accessing Services
Creating and deleting service shortcuts
Select areas for region-specific services
get billing information
This blog will learn how to use the AWS Management Console to perform all the tasks mentioned above. But, before you start using the AWS Management Console and explore the endless possibilities of Amazon Web Services, you need to create an account on AWS. So, first of all, get started with creating an account on AWS.
Creating an AWS Account
You can create a fully functional AWS account that is free for one year. You can visit the official AWS site and click on Create an AWS Account. Below are the steps to follow when creating your AWS account to start with Amazon Management Console.
Step 1: This link will take you to the page shown in the following screenshot. If you already have an account, you can sign in. If not, fill in the details and click on continue.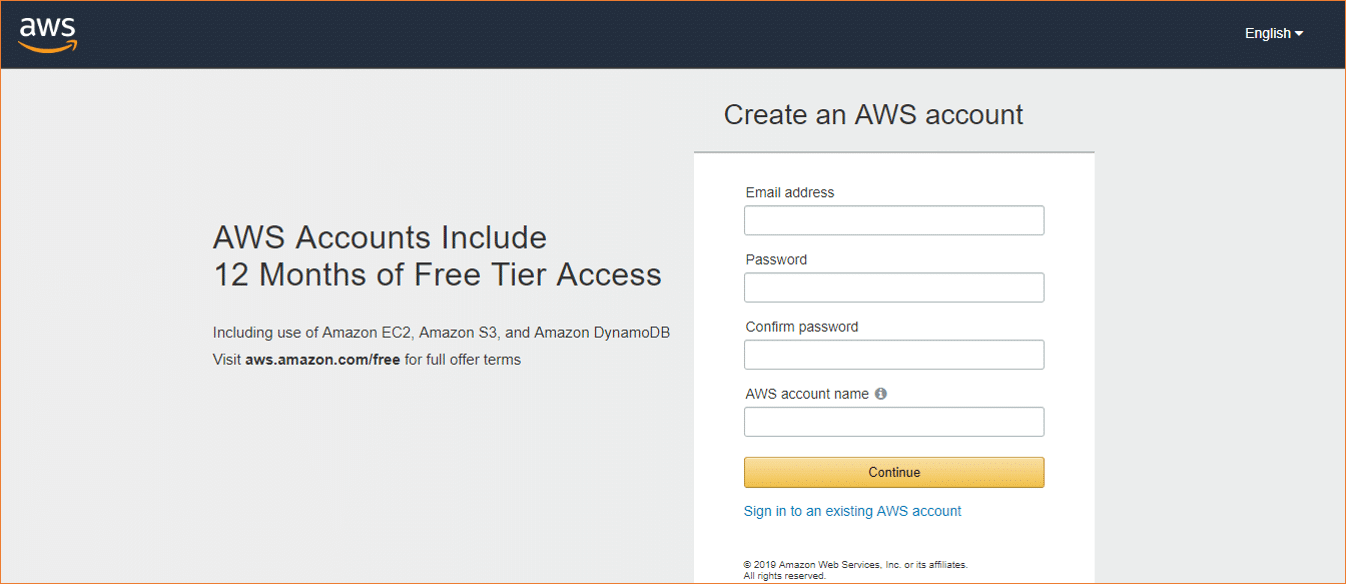 Step 2: Further follow the online instructions. You will need to provide your credit/debit card details to create an account. Amazon will deduct a small transaction fee against the card to verify if the card is valid. The amount will be minimal and variable according to different regions and refunded within 2-3 days. After that, you will not be charged for using the free-tier services during the free subscription period (one year).
Step 3: Next comes identity verification. You will be given the option to receive a verification SMS or an automated call from Amazon.
Step 4: After successful verification, you have to choose a support plan. You can choose between a Basic plan, a Developer plan, and a Business plan. The basic plan is free and provides limited access to resources. If you want to get a free subscription, choose a Basic plan.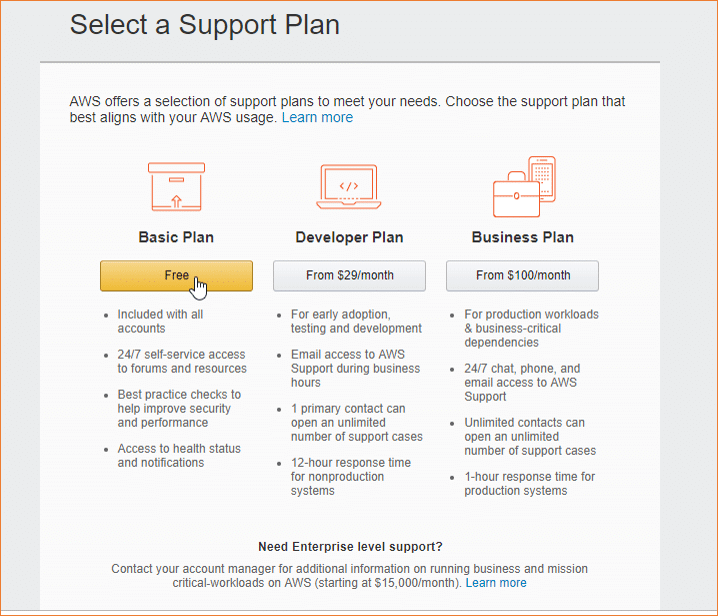 Step 5: Now, you need to sign in to the console again, and your account is good to go. Your AWS Management Console will look like the following screenshot: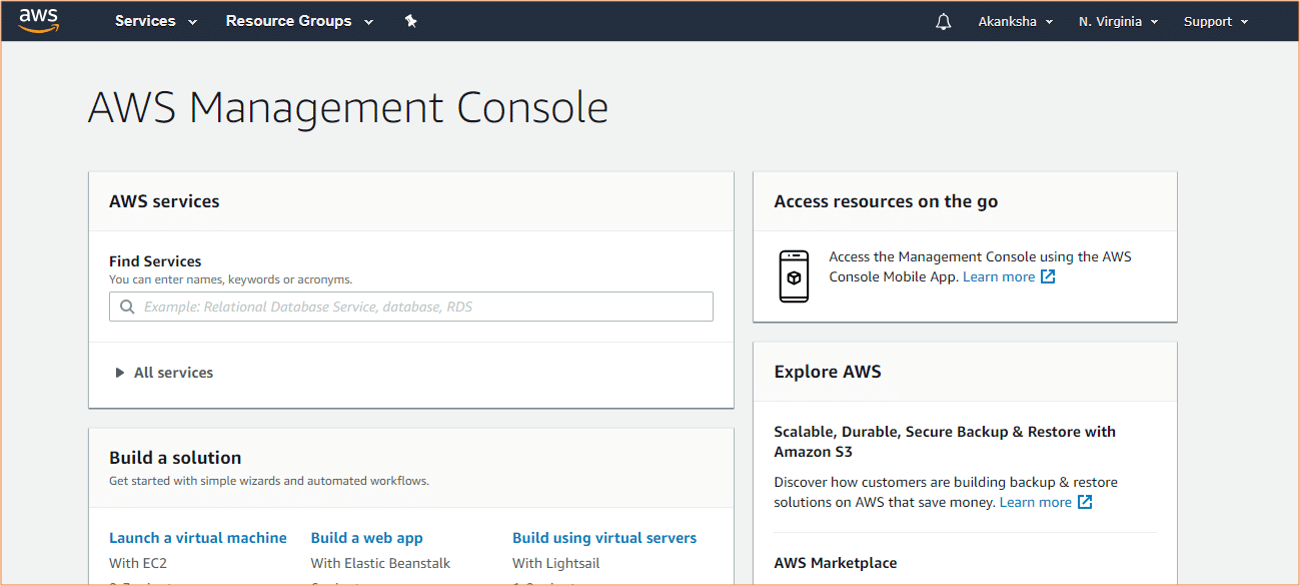 Getting started with AWS Management Console
Now that your AWS account is created, you can log into the Amazon Management Console and start performing tasks such as finding and accessing AWS services, creating service shortcuts, etc. Now, let's start accessing Amazon Web Services using the AWS Management Console.
Accessing Amazon Web Services
You can either search for the service you are looking for by using the search bar or click on the Available Services tab on the top-left corner of the console, as shown in the following screenshot: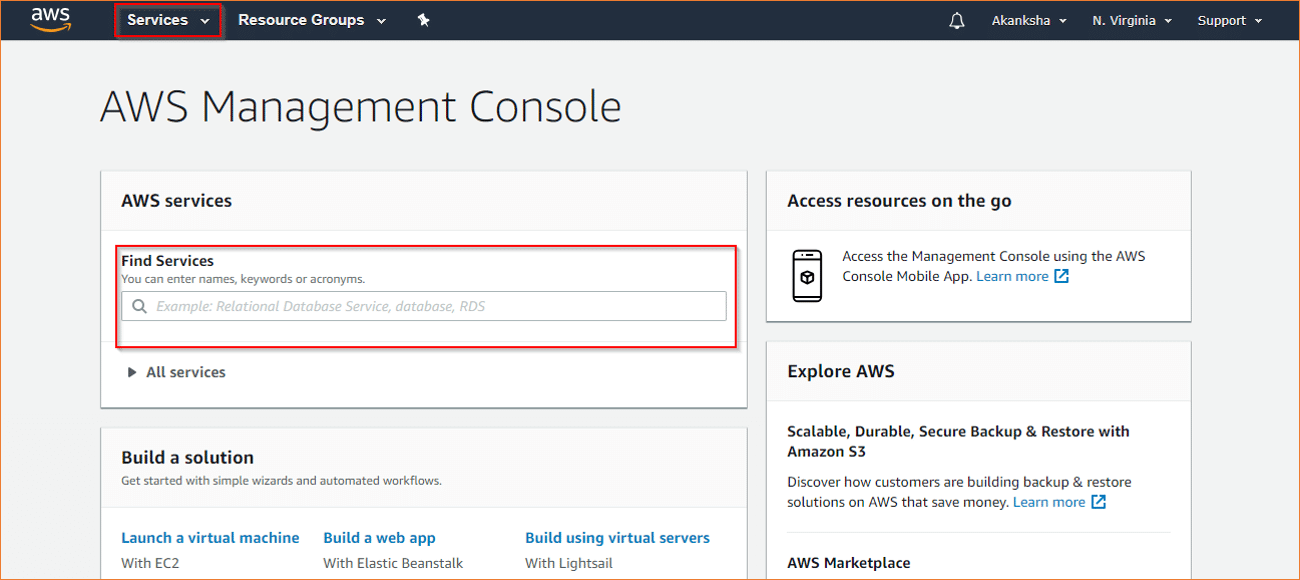 Creating Service Shortcuts on AWS Console
You can create a shortcut to access frequently used services by pinning them to the console. To do this, click on the pin icon on the console. It will open a list of all services. See the following screenshot: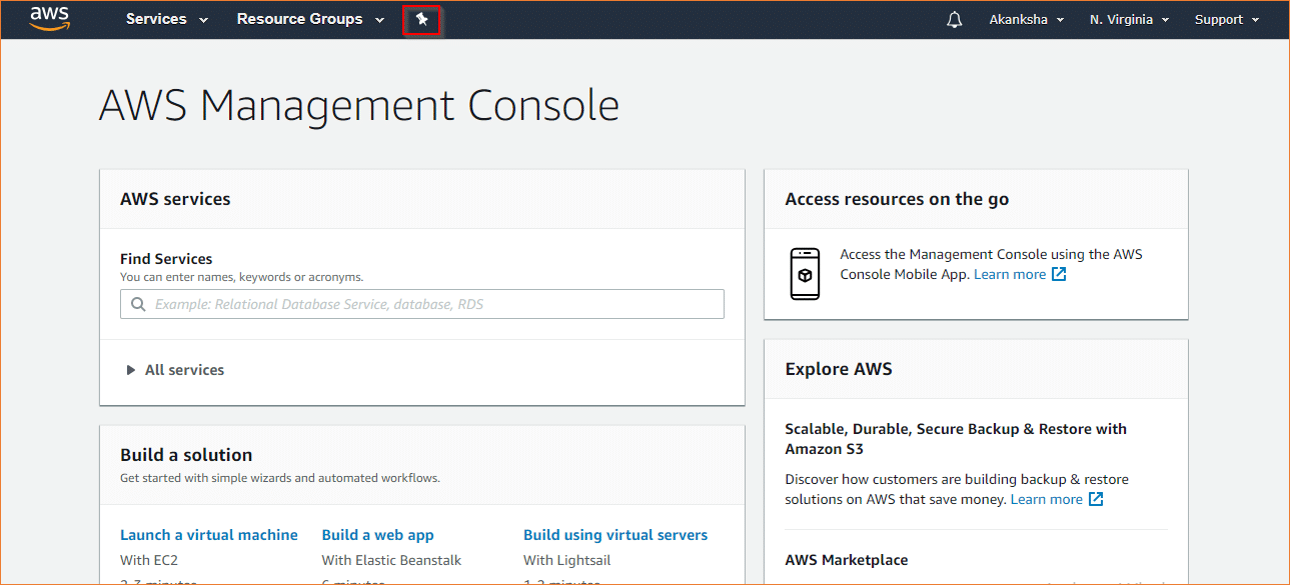 When the list is displayed, click and hold on the service you want to pin to the console and drag it to the top on the main menu bar, as shown in the screenshot below: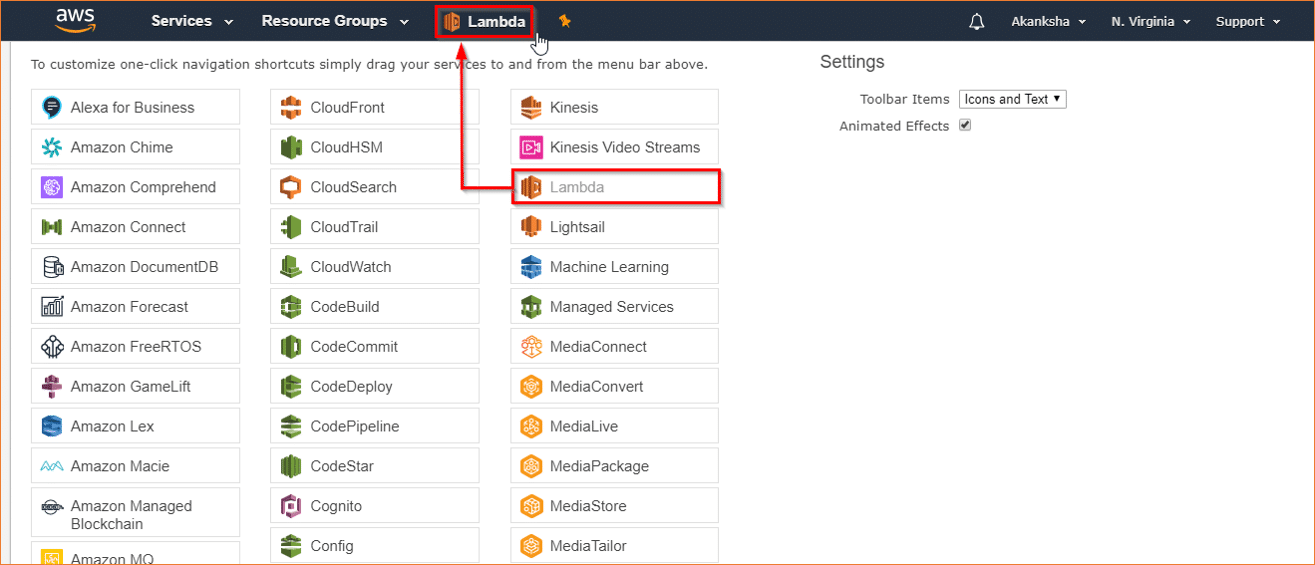 You can add multiple services to the menu bar and arrange them in any order.
Removing Service Shortcuts from AWS Console
To remove or remove pinned services from the menu bar, click the pin icon and, when the list of services opens, drag the service from the menu bar to the list of services and drop it anywhere. This way, the shortcut will be removed.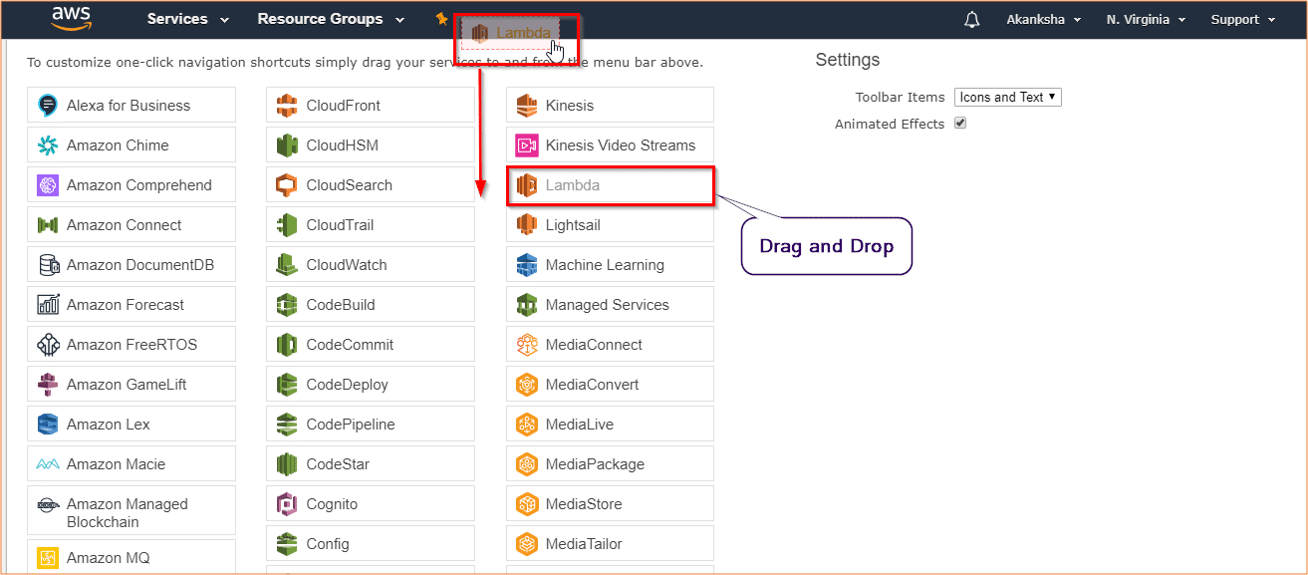 Selecting AWS Regions
Since some AWS services are region-specific, you must select a region to access and manage services within that region. Next to your name on the top right corner is the Regions tab. When you click on it, a drop-down list of different fields will be displayed. You can choose any region based on your needs.
Change Amazon Account Password
Using the AWS Management Console, you can view your billing information or account details, change passwords, etc. To change the password, click on the tab named after your account. Once you have done this, a drop-down list with various options will be displayed from which choose My Security Credentials as shown in the screenshot below: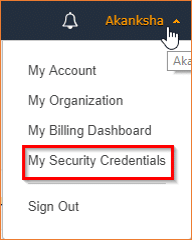 A new page will open up where you can change the account password by following the online instructions. You will be asked to log in again for authentication purposes.
---