Shopify and WooCommerce are top of mind for any business owner considering ecommerce for the first time. These ecommerce platforms are convenient and easy to use; however, each comes with its own pros and cons.  
While Shopify offers ecommerce infrastructure as a service, powering 1% of all websites, WooCommerce is open-source and grants users more flexibility, powering 4.9% of all websites. 
So, while each platform comes with its own strengths and limitations, choosing the one that suits your needs and provides the features you require is important. Here are some of the key factors you need to consider when determining the right platform for your business: 
Ease of use 
Budget
Payment methods & checkout experience
Scalability 
Integration options
In this article, we'll cover the essential factors mentioned above to help you determine which ecommerce solution is best suited for your business requirements. But first, let's begin with a quick overview of both ecommerce platforms.
Shopify Overview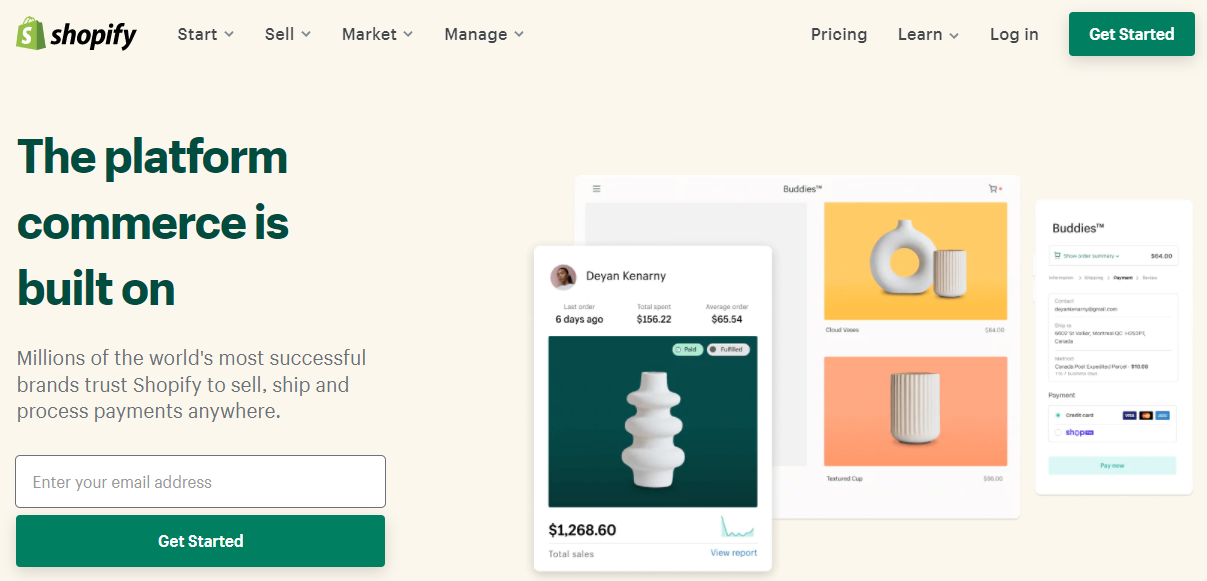 Shopify is an all-in-one ecommerce solution that replaces the complications and technical aspects of managing an online business with easy-to-use tools – allowing you to set up and run your Shopify store in a matter of a few minutes. 
It provides a single platform to run your business, manage inventory, and accept payments – eliminating the stress of technical aspects like web hosting, caching, and security. 
However, this ease and simplicity come at the cost of lacking both granular control and flexibility when managing your ecommerce store.
WooCommerce Overview
WooCommerce sits on top of the most powerful Content Management System (WordPress CMS), and it's an open-source platform, providing a lot of freedom, flexibility, and control over your store. 
It lets you customize every facet of your ecommerce store and build custom extensions to enhance your store's functionalities. 
With that basic introduction, let's look at the top ten features that make Shopify and WooCommerce distinct from one another. 
Shopify vs. WooCommerce: 10 factors to consider while making a choice
Ease of use 
Shopify is a subscription-based online platform – which is its biggest strength as all you need to do is sign up to your account, go through the setup wizard, and you're done. 
Since it's fully hosted, you need not install, update, or manage any software or worry about security, performance, and backups – as it takes care of the majority of the technical side of operating an online store. 
Once you sign up, you can choose from a selection of Shopify themes, add products, and customize your store with its intuitive drag-and-drop interface. 
On the other hand, WooCommerce requires some legwork like managing security and sourcing your own web hosting. However, it's not as difficult as people make it out to be. Its open-source nature requires you to manage updates, install the WooCommerce plugin, take regular backups, and ensure online security. 
However, the upside is that there are plenty of free and paid plugins to manage these tasks – making WooCommerce flexible when it comes to customizations. 
So, between Shopify and WooCommerce – Shopify offers more ease of use experience, while WooCommerce requires hands-on experience and comes with more of a learning curve. 
Themes and designs
Both Shopify and WooCommerce provide plenty of stylish themes and templates to enhance your store's look and feel and create a great first impression on your customers. 
WooCommerce allows you to choose from more than 1400 themes and provides premium WooCommerce themes in third-party marketplaces like ThemeForest, TemplateMonster and independent theme developers. Thus, you get a diverse range of options for branding and designing your website to suit your store aesthetic.
However, Shopify offers a smaller selection of themes with 73 template options – 9 of which are free. Moreover, each of these Shopify themes offers specific variations – offering over 100 different designs in total. 
Thus, while Shopify offers limited yet curated free and premium themes – WooCommerce offers a plethora of fantastic themes and provides various options to make your store more vibrant. 
Payment gateways
The more payment options you offer to your customers – the better. 
Shopify offers over 100 payment gateways – however, it requires you to pay a transaction fee of 0.5-3% based on the monthly plan you choose. So, for instance, the higher the plan, the lower the transaction fee. 
It also provides its payment processor Shopify Payments and Shop Pay to speed up the checkout process.
Shop Pay offers a simple, time-efficient, and one-click checkout solution for your customers – allowing them to save their checkout details – including shipping and billing address, mobile phone number, and credit card details. 
It lets your customers save up to 5 credit cards and shipping addresses – helping you earn repeat customers and improve conversions and sales. 
When it comes to WooCommerce, it offers default Stripe and PayPal Payment Gateways; however, you can also use third-party payment providers through the WooCommerce add-ons and its richer plugin ecosystem. 
One of the biggest merits of WooCommerce is that it doesn't charge any transaction fee for third-party payment gateways – unlike Shopify. 
While Shopify has Shop Pay, WooCommerce has PeachPay, a one-stop-shop plugin for all of a merchant's checkout and payment needs.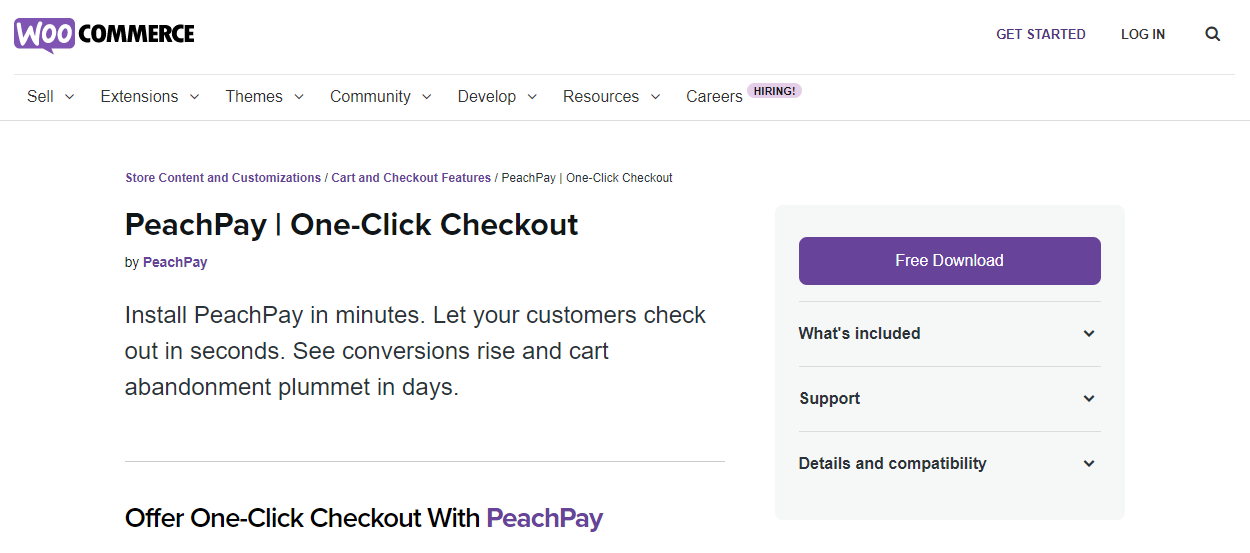 PeachPay's fully customizable checkout window increases conversions and even average order value through easily configurable product recommendations. Plus, returning users get access to one-click checkout.  
Shop Pay falls short when it comes to checkout customizability. By contrast, PeachPay is a very flexible solution, letting you add, remove, and modify checkout fields on top of everything else.
Pricing 
While WooCommerce itself is completely free – you need to consider other costs, including hosting needs ($5-$100), the domain name (upto $12/year), extras like plugins and extensions (from $25 each), themes (starting from $59), and developer fees. 
So, WooCommerce pricing varies per your specific store's needs and requirements. 
On the other hand, Shopify offers fixed pricing plans – including the Basic, Shopify, and Advanced plans that cost $29, $79, and $299/month, respectively. 
Inventory management 
WooCommerce provides an exceptional degree of flexibility with inventory management – allowing you to create inventory reports, upload new products, change product attributes, with no limitations to the number of variable products you can create or manage. 
While Shopify also allows you to track products, generate reports, access stock alerts, and automate purchase orders, WooCommerce provides a significant edge with its product variations – making it easy to add product attributes to a particular product. 
For instance, if you sell trousers, you can sell them in different sizes and colors (product attributes) and add custom specifications to specific products using product variation plugins.   
Dropshipping 
WooCommerce is the most favorable choice for businesses for dropshipping as it provides multiple flexible dropshipping extensions to import products and complete website orders. It also allows you to create a marketplace similar to eBay – allowing vendors to sell on your online store. 
One popular WooCommerce application is SaleSource which stands out from the crowd and lets you import dropshipping products hassle-free. 
On the other hand, Shopify provides apps integration for many popular marketplaces like AliExpress, Printify, and Oberlo. However, these marketplaces come with membership fees and shipping – making WooCommerce a better and more convenient solution for dropshipping. 
Control and flexibility
If greater website control and high flexibility is your biggest requirement – WooCommerce is the right solution. 
WooCommerce offers more flexibility because of its large extensions library – providing everything you require to build a functioning ecommerce store. One of its core functionality is its extensibility – allowing you to extend and customize the core WooCommerce platform through additional software and extensions. 
With customers abandoning around 70% of shopping carts – you can reduce cart abandonment using WooCommerce plugins. Thus, from product variations to optimized checkout and ensuring a quality customer experience – WooCommerce has a solution for everything. 
While Shopify also provides a selection of Shopify apps – it restricts you to using just Shopify software and add-ons that Shopify permits, which isn't the case with WooCommerce. 
SEO
Search Engine Optimization (SEO) is a decisive and crucial factor that impacts your online store's bottom line – as over 40% of ecommerce revenue comes from organic traffic. 
WooCommerce comes with an SEO-optimized code and allows you to customize your URLs and page elements like meta titles, alt tags, and meta descriptions – maximizing your store's chances of appearing on the top search engine results. 
Moreover, WooCommerce's powerful plugins and software like The SEO Framework and Yoast SEO help improve and take more control over your store's on-page SEO. 
On the contrary, Shopify comes with SEO limitations – making it difficult to fully customize store URLs as it comes with a rigid URL structure. 
However, even if it lacks SEO customizability – Shopify provides useful and simple SEO plugins like SEO Booster in the Shopify App Store.  
Add-ons, apps, and plugins 
WooCommerce beats Shopify for plugins, apps, and integrations as it heavily relies on plugins – being an open-source platform. 
It provides over 58,000 free and paid plugin options for all your technical, SEO, shipping, marketing, and logistical needs. Besides plugins, it also offers around 592 extensions – designed specifically for ecommerce to support your online store and drive more sales and traffic. 
On the other hand, Shopify offers around 5899 extensions and apps divided into different categories like orders & shipping, inventory management, and sales & conversions. 
Support
Shopify provides excellent customer support with 24/7 phone, email, and live chat options – being a fully hosted platform. Besides, it also has Shopify Forums, a large database of FAQs, and a dedicated help center packed with tutorials, articles, and step-by-step guides. 
On the other hand, WooCommerce doesn't support phone or live chat options being an open-source solution. However, it provides an impressive collection and range of self-help resources, including: 
WooCommerce blog with plenty of technical posts, advice running an online store, and informative articles. 
Pro tip: Since WooCommerce doesn't offer live support – it's recommended to choose a web hosting provider that provides 24/7 support whenever you encounter issues with your WooCommerce store. 
How to migrate between Shopify and WooCommerce easily?
Migrating between ecommerce platforms comes with data loss, website downtimes, negative customer experience, and missing orders. 
Fortunately, you can avoid all these risks and ensure a seamless and frictionless migration using tools like Cart2Cart and LitExtention. These tools ensure secure and reliable full data migration – while ensuring high uptime and availability of your store to sustain the brand image. 
Check out our complete Shopify to WooCommerce migration guide for more options and information. 
Conclusion
It's easy to get overwhelmed with all the competing features Shopify and WooCommerce offer, but it's an important decision as the wrong option can cripple your ecommerce operations. 
However, determining the best ecommerce platform for your business – all boils down to your skills, expertise, and business needs. 
Shopify requires no technical skills, is much easier to use, and provides sleek templates for your ecommerce needs. However, it comes with transaction fees and offers less control and customization options. So, if you're new to the ecommerce world and require a simple and hassle-free solution – Shopify is the way to go. 
On the other hand, WooCommerce is a powerful ecommerce platform that gives complete control over your store. It doesn't come with transaction fees and is perfect if you have an affinity for open-source platforms and need to customize every aspect of your online store. 
So, make sure to consider the factors mentioned above to choose and determine the right ecommerce platform per your specific business requirements and budget.