You know word-of-mouth is hands down the most cost-effective, lucrative, and fastest way to convert prospects into customers. You have repeat customers that seem to love you, but they hardly engage or spread the good word around. Your mailing list isn't growing, your products have a negligible number of reviews, your referrals are a bust. 
You want to drive traffic and hope to establish strong sustainable word-of-mouth channels to find new customers – but nothing you have tried so far has worked as well as it should have. 
If this sounds like you – you're at the right place. This article will look at some of the key aspects of sharing that help promote word-of-mouth sales and how your store can optimize these to scale your business easily and convert your prospects faster.
What Generates Word-of-Mouth?
There is a variety of sharing options to regularly generate word-of-mouth: product reviews, social media sharing buttons, gift cards, referrals, wishlists – the list goes on. 
But while most of us have these set up and incorporated onto our WooCommerce websites – the results rarely ever impress. This is because most ecommerce stores overlook the 1 aspect of word-of-mouth marketing that is critical to its success – the customer experience. 
It's important to understand that the only reason customers talk about a brand publicly is to share an experience that has gone beyond their standard expectations.
So while you may offer the best rewards for your customers' review, referral or shout-out – it's often the very basics of human interaction and communication that pushes the envelope forward. 
Sharing Optimizations that Directly Impact Word-of-Mouth Sales
Here are some of the key reasons why your word-of-mouth is currently suffering and what you can do about it.
1. Replace Your Mailto Links With A Contact Picker
Word-of-mouth starts where the purchase process ends. When redirected to a page where customers can refer, enroll, or share about your business – they are often met with an interface that looks like this: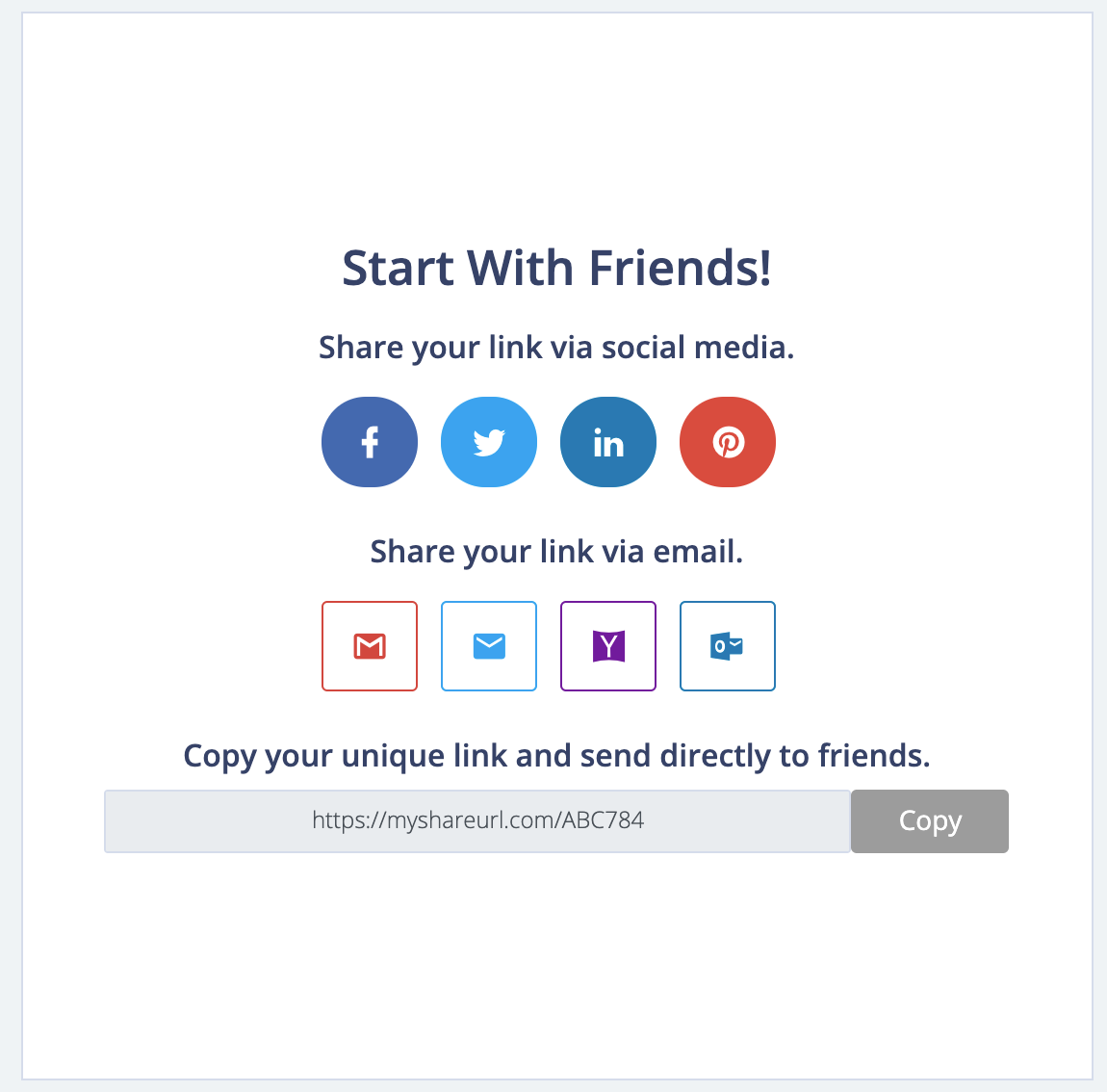 You are expecting your customers to either input email addresses into a form field separated by commas. Or worse – use a 'mailto' link that not only takes them away from your website but also combines all the people they wish to share it with into a single generic email. An email with lots of recipients not only tends to be flagged for spam but also comes across as impersonal with an implication of a privacy violation. 
You can also never be sure if your customer completed the sharing process since it happens on an external website and there is no way for you to track their actions. This is abysmal. Your customers are motivated to refer to you – but the process is so tedious and flawed that it's destined to fail.
A contact picker fixes this permanently.
Rather than making your customers do all the hard work – make your sharing process a joy to engage with and watch those referrals skyrocket.
A contact picker is an intuitive, self-sufficient, one-time WooCommerce plugin that allows your customers to select their desired contacts directly from an email address book of their choice – all without ever needing to type down a single letter into the input field. 
This not only keeps your users stationed on your ecommerce site for the entirety of the referral process but also gives you complete control over the message, presentation and frequency of the emails being sent out. This is a game-changing implementation that simplifies the process of sharing so much that customers end up referring nearly 3 times more when using a contact picker, than they would have otherwise. 
An additional benefit of using a contact picker is that it allows you to extract important information like the sender's and recipients name to personalise your message and improve open rates of your referral emails. The whole process is simple, efficient and productive. And it deeply enriches the customer experience to promote word-of-mouth by eliminating all possible barriers to the process.  
2. Let Your Customers Take Center Stage
Brands expect and want their customers to talk about them while rarely ever making the effort to do the same for the customers, themselves. The effort and recognition are equally valuable both ways – so why is the generous action only expected from the customer?
If your argument is having given them a good shopping experience in exchange for their word-of-mouth marketing, then let's set this straight. A standard purchase process includes a smooth checkout process, successful and secure transactions, and the seller's gratitude for making a purchase. So if you're not doing anything beyond this – then you're not really doing anything to compel your customers to talk about you.
Thousands of unsolicited marketing emails are sent every day. When your message seems vague, generic and impersonal to the reader – you not only become a part of the thousand but also fail to attract the attention of your readers. In turn, failing to establish a connection that your customers value enough to talk about it to their friends and family.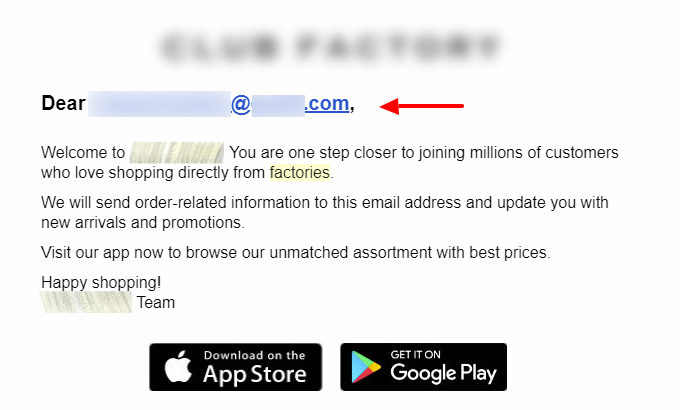 Here's a great example of an email you should never send out. An email that addresses the recipient with their email id, provides little to no information and does nothing to entice the reader to engage or look forward to shopping with the brand.
And while it could be exciting to join a million other people – your customers would much rather feel singled out and special, in their customer journey when shopping with you. 
3. Personalize your Marketing Outreach
Shift the focus of your messaging from brand promotions to content that's personal and useful for your readers. Let your customer take centre stage.
Study and enroll each of your customers into segmented mailing lists based on their shopping habits and purchase history. Have your referrals/sign-ups choose topics/categories of interest that are available on your website.
Tailoring your strategy around elevating the customer journey and post-purchase experience by bringing readers content, offers and updates relevant to their activity and interests can reportedly lead to 40% higher open rates.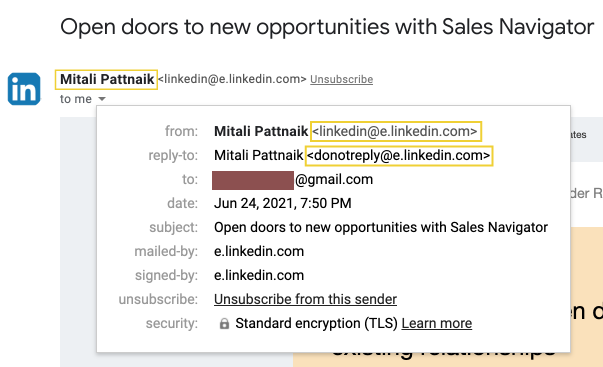 Personalizing the sender, salutations and subject lines is another critical factor since 92% people trust a referral/recommendation that comes directly from friends or family.
The email above is a great example of personalizing each email from the very start. It uses the name of the actual sender, even though the email is coming from the brand's email address. You should also address the recipient with their actual first or last name as it not only implies that you're directly speaking to the recipient but that the message is specifically curated to their interests.
A milestone programme is also a great way to push your word-of-mouth marketing. It's a tiered approach to rewards that unlock increasingly valuable benefits, discounts, and goodies as more and more referrals are made by your customer. Milestone referrals can be utilised to grow your newsletter mailing list, a product, or even a classic refer-a-friend program. Encourage and celebrate your best performing brand advocates with surprise discounts, shout-outs and mentions across your email blasts to acknowledge their efforts and motivate others to follow suit. 
4. Use Data To Make Informed Decisions
We are all too obsessed with tracking and measuring incoming traffic and likes to our website and socials. And don't get me wrong – it's great to have an influx of traffic and likes both. But neither of those 2 will directly tell you anything about how well your word-of-mouth acquisition channel can be performing. 
Word-of-mouth marketing is a more intimate affair than broad conversion metrics. For it to truly work – you have to understand the capacity, capability, and willingness of your customers to refer your business to their friends, family, or colleagues.
This is also important to continue providing your customers with the best experience possible. And not bog down or turn off genuine brand advocates with an unnecessary push for more referrals and seeming focussed on promotions. 
Metrics such as how many users engaged with your sharing features and how many actually completed the sharing process gives you a fair idea of where you're losing potential referrals. The total capacity of sharing vs the average number of shares per customer lends insight to how well your sharing campaigns are performing.
Metrics from multiple campaigns can help you identify and fine-tune your messaging to be more enticing and welcoming for your customers. While also offering a tangible value to your word-of-mouth marketing efforts. 
Just as the buyer's journey – the sharing process is also spread across various stages from its inception until the completion of a share. And just like with nurturing your leads to convert into customers – you need to carefully curate your messaging to motivate and push your customers into making sizeable referrals to your business. Sharing metrics enable you to take better cognizance of your customer base's motivation for advocacy and can help to identify improvements that ensure a smooth, barrier-free sharing experience.
Wrapping Up
And there you have it. Some key optimizations to how you should approach word-of-mouth marketing, along with its benefits and implications for your business.
If you're just about to take notice of your word-of-mouth marketing efforts – then this 3 step workbook can help you do a self-analysis of your website's current sharing interface. It's quick, easy and absolutely free.
For any questions or additional suggestions on word-of-mouth marketing – sound off in the comments below.