Look around you.
The world we live in is a thoroughly globalized and interconnected one. Limiting factors such as space and time have been compressed by intercontinental supply chains and information technology. In short, we have inherited a smaller world. So I implore you, merchants of WooCommerce, to take your inheritance in hand and make the world your oyster. Begin selling your goods and services to an international audience as swiftly as you can. 
One of the first things you will require is a multi-currency plugin because, despite the fact that WooCommerce lets you choose between 100+ currencies, you can only enable one base currency at a time. To sell to an international audience successfully, you will need to do better than this. You will need to display the appropriate currency based on who is looking at your products or where they are looking at your products from. Multi-currency plugins, some of which are referred to as currency switchers, let you do that. 
So without further ado, let's take a look at our top picks for multi-currency plugins.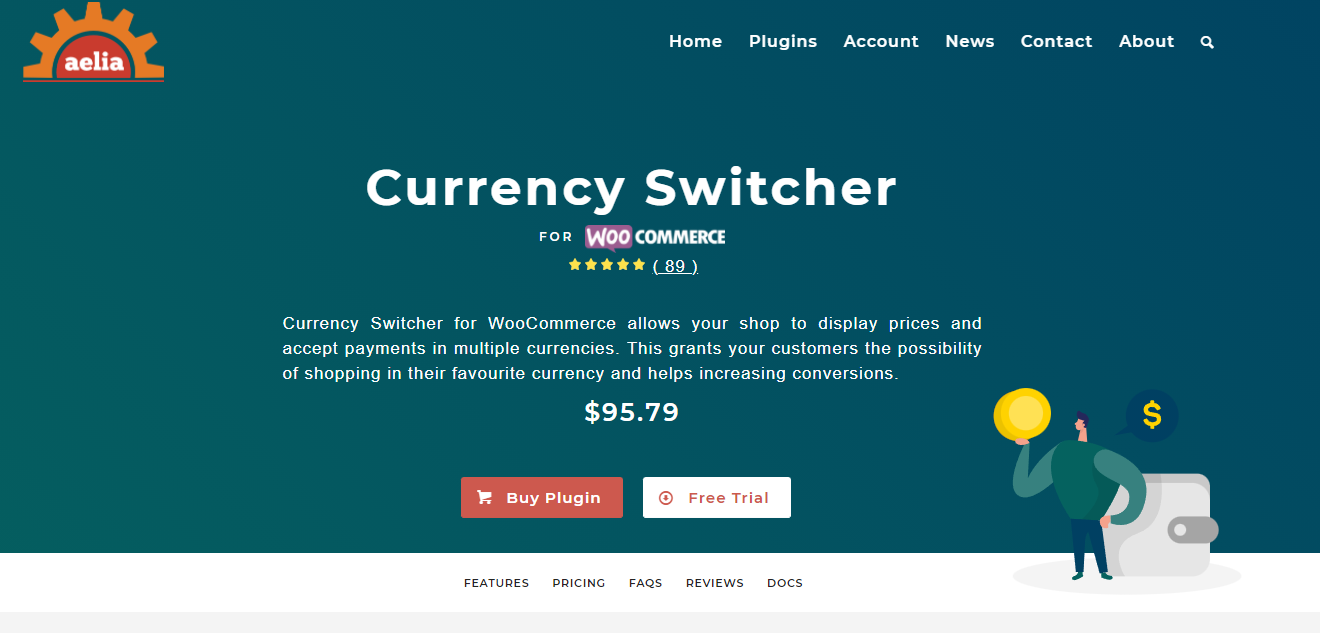 It's premium, yes, but there are several good reasons for why this plugin is a favorite of ours and the focus of a previous Business Bloomer post.
As expected, this plugin makes it very easy to select which currencies you would like to offer, but it also filters payment methods based on currency. Furthermore, in addition to facilitating reliable automatic currency conversions, it lets you select different prices for each currency. It's geolocation-based but also lets customers choose between different currencies. Once a customer has made their currency preference known, it is automatically active the next time they visit.
But what sets this plugin apart from the others on this list isn't so much some vast difference in user experience or functionality as it is a difference in flexibility and customer support. The WooCommerce superstar behind this plugin is none other than Diego Zanella, from whom you can expect the very best in terms of support and code quality. 
Chances are this plugin already plays well with the other plugins you are using, but rest assured that, whether you are a developer or a merchant, Zanella will respond to your query thoroughly and swiftly. I personally had one experience reporting a compatibility issue to Zanella (it was an edge-case scenario that could not be foreseen by either party) and it prompted a 2,000-word collection of email replies from him. Trust me when I say that you simply don't see this kind of support from 99.9% of plugin developers. 
Pricing: €79 per site on an annual basis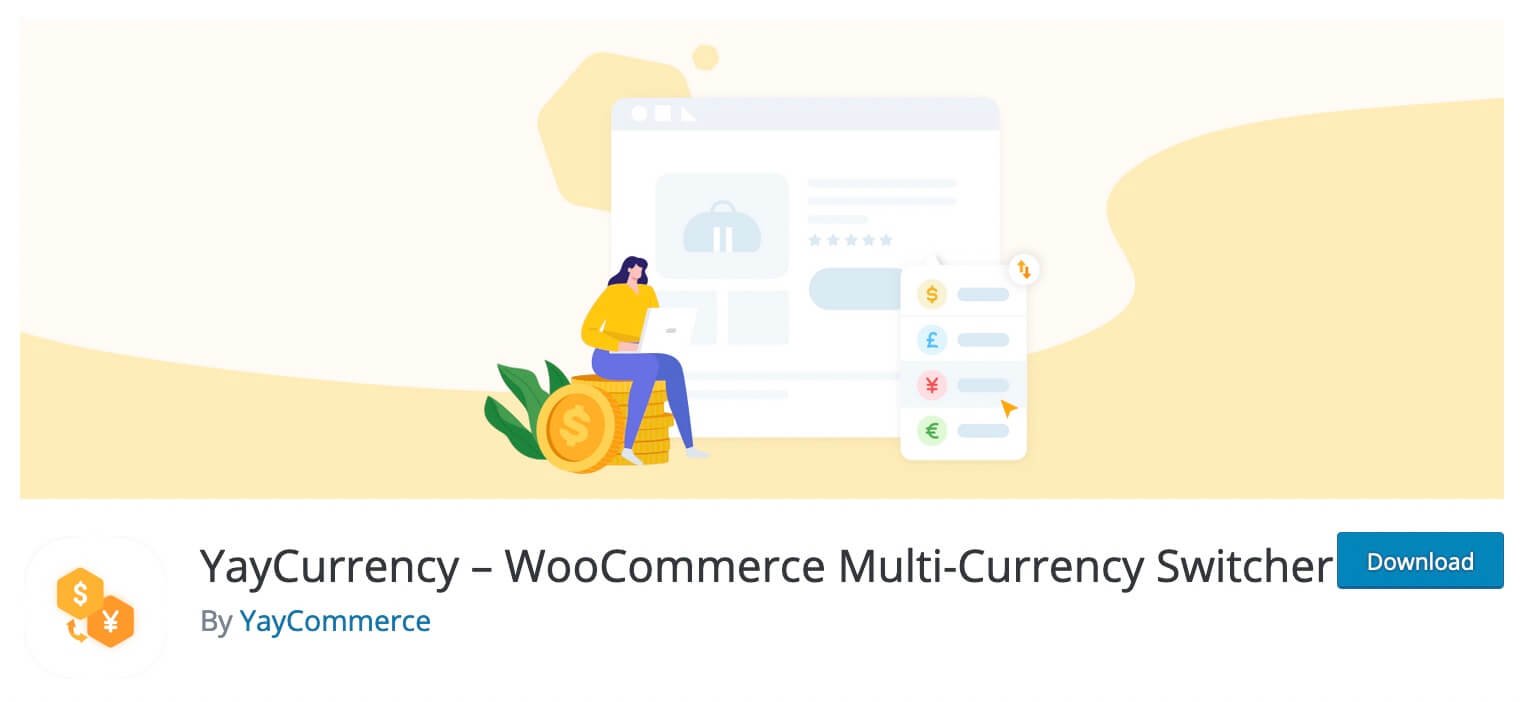 This WooCommerce Multi-Currency plugin offers a dynamic currency switcher that you can show on the product details page, WooCommerce sidebar, header and footer. You can also allow checkout in different currencies based on the selected payment method. Exchange rates are automatically updated and you can even add a conversion fee to cover for the cash loss.
YayCurrency is vital for efficient sales management of medium to large eCommerce stores. It allows you to view sales reports based on currency!
Although WooCommerce has a lot of different reporting capabilities under its Analytics menu, you may want to run reports with your own metrics. For instance, if you want to know how many of a specific product is sold in a particular currency, or which category sells fast in which currency, you will be able to do that with YayCurrency.
While most of the available currency switcher plugins are not free, YayCurrency comes with a lite version to allow you to enable multi-currency at ease thanks to its simplified user interface.
If you wish to have extended capabilities, upgrading to the premium version is worth it.
Features:
Unlimited Currencies: Choose from 160+ national currencies
Price Based on Country: Automatically display pricing based on visitor's IP address
Auto-Update Exchange Rate: Set a fixed time frame to get the latest rates
Checkout Permissions: Select which payment methods are allowed in a specific currency
Pricing: $49 per site on an annual basis
Also premium, geolocation-based but customer selection adaptable, widgetizable, and highly customizable. We like that this plugin is explicitly clear about its compatibility & integrations.
In fact, this is a well-documented plugin in general, with diligently captured GIFs making the preliminary research process less intimidating and instantly more comprehensible. 
Pricing: $79 per site on an annual basis
Not a plugin but a built-in feature of WooCommerce Payments, developed by the WooCommerce team itself. And free! This one wins on legitimacy and convenience, but admittedly only if you are a WooCommerce Payments user.
The main reason this product is not higher on the list is because the majority of merchants out there are not yet able to use WooCommerce Payments in the first place. Furthermore, for an optimal experience with this product, you should be using the Storefront theme (or some child variant).
If none of these limitations are problematic to you, then this WooCommerce Payments feature does everything you need it to do, giving you full control over exchange rates, formatting rules, and everything else you would expect.
The settings also helpfully include preview mode as well as analytics, which are handled well enough, although it would be great to see individual breakdowns based on different currencies. 
Pricing: Free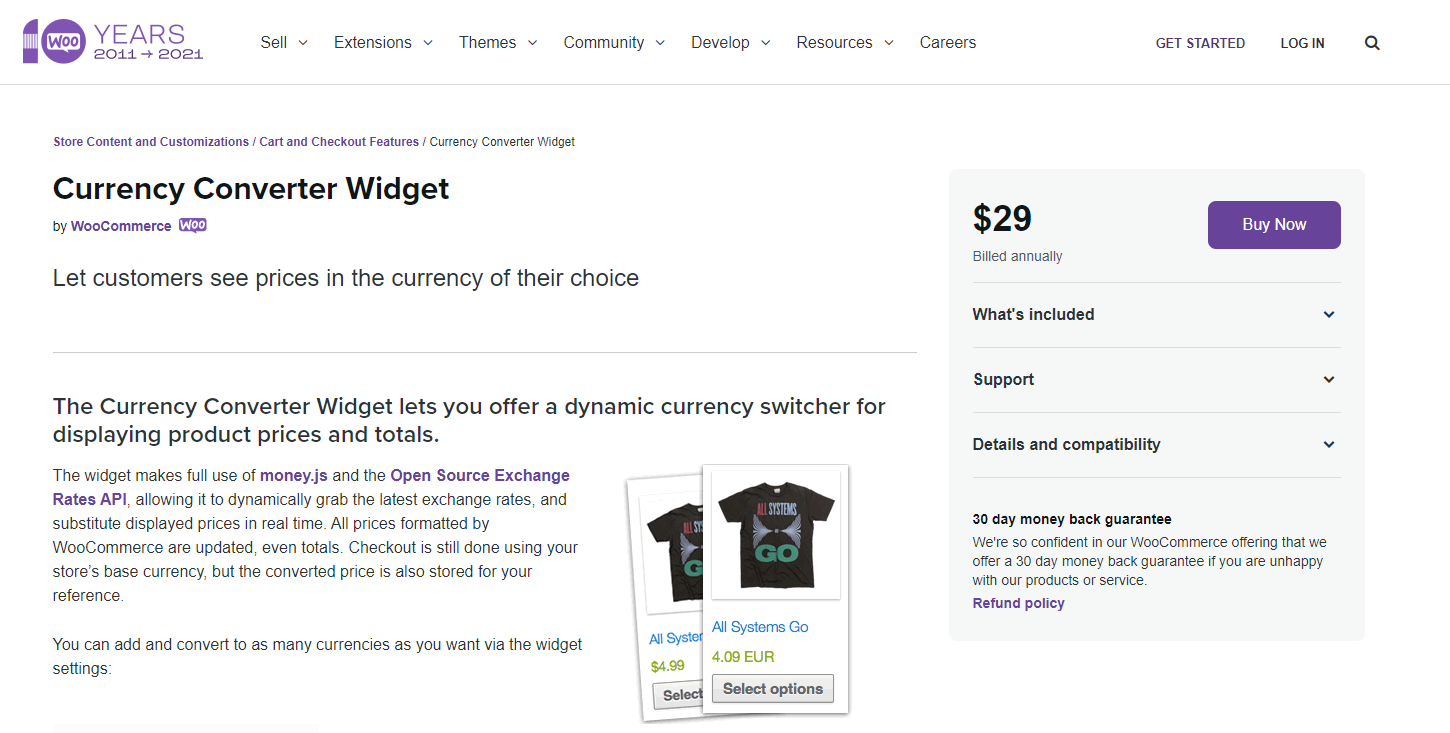 Another premium plugin but a very affordable one, and the second product on this list to have been developed by the WooCommerce team itself.
This plugin is a simple one, making it easy-to-use but less robust than some of the other options on this list. It lets you change the displayed price based on currency but does not actually facilitate currency conversion.
That means the customer is charged the base currency and is subject to international fees and the relevant conversion rate, although they are informed of this when completing the transaction. Certainly a recipe for simplifying backend store management but not necessarily maximizing customer satisfaction. 
Pricing: $29 per site on an annual basis
For a plugin primarily focused on helping merchants build a multilingual WordPress site, it works surprisingly well for this use case. In truth, the need for multiple languages goes hand-in-hand with the need for multiple currencies. Both needs reflect the desire to go global and service an international audience.
This is a plugin that delivers despite its comparatively broad scope. Seriously, we're talking about quite a bit of value given the price. 
Pricing: $99 for 1 site on an annual basis, $299 for 3 sites on an annual basis, $599 for 9 sites on an annual basis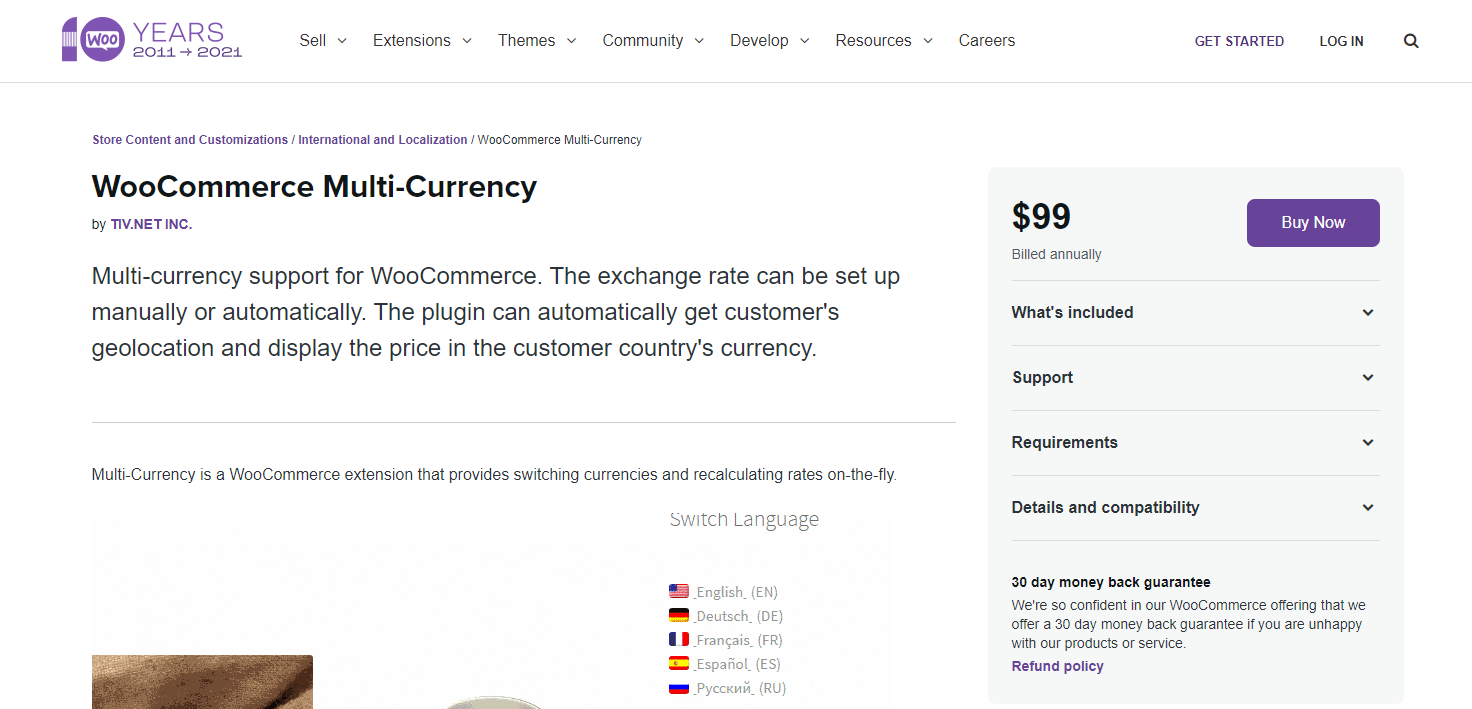 This is a premium plugin that is also not limited to a currency-exchange rate-based price conversion. It delivers the same base functionality as most of the other plugins on this list.
The plugin grabs the customer's geolocation and lets the customer pay in the selected currency. It's a product that is easily configurable, getting the job done after minimal set-up.
Pricing: $99 per site on an annual basis