Best Open-source Paint Tool for Kali Linux
In the Linux ecosystem, there are a plethora of open-source drawing tools with unexpectedly appealing capabilities. When it comes to drawing applications with a user-friendly interface and photo editing features, Linux users have a lot of choices.
We may also make online rooms where numerous people can sketch at the same time. If some of these features excite us, and we believe we can unleash our creativity using these free-to-download software, then jump on board for a once-in-a-lifetime voyage.
Consider these seven open-source paint apps for Kali Linux users, each with its own features and capabilities.
1. Pinta

Pinta is an open-source drawing application that includes a number of useful drawing tools. However, it stands out from other paint applications because of its built-in image editing capabilities. Because it includes features like image resizing, brightness, flashy effects, and quality adjustments, this tool is a terrific on-the-go photo editor.
Pinta's capabilities can also be enhanced by installing add-ons. WebP image support is a fantastic add-on that allows us to modify WebP photos anytime and anywhere we want.
Its purpose is to give users on Linux. Windows and Mac a simple but powerful way to create and manipulate images. Although it has fewer functionality than Photoshop, it has additional digital creation elements, including multiple layers, workspaces, 35+ effects and changes for editing photos, full history, and easy-to-use drawing tools like ellipses, rectangles, and freehand.
Features of Pinta
The following are the features of Pinta:
Customizable workspace
Multiple language support
Multiple operating system support (Linux, Windows, and Mac OS X)
It contains over 35 adjustments and effects for editing images
Add-ins capability (i.e., can write a custom brush)
Users can explore with full history because they can always utilize the undo tool to simply undo changes and actions
Layering (most simple bitmap editors do not support this). Although this capability is present in programs such as Photoshop and GIMP, Pinta's method is more user-friendly for users of all skill levels. For easier editing, layers help separate and group aspects of an image.
2. Krita
Krita is a free and open-source professional painting program for beginner, intermediate, and expert creators. It comes with several features such as an intuitive, non-intrusive UI, a customizable palette for brushes and colours, stabilizers for working with brushes, 9 unique engines for brush customization, a resource manager for managing imports & exports, etc.
The Krita project aims to provide all of the tools needed to create beautiful, high-quality artwork available to anyone, whether they are illustrators, texture and matte painters, or creators of comics and concept art. It's available for Linux, Windows, and Mac, and there are various tutorials to help us get started.
For example, if we have a shaky hand, we can quickly stabilize the brush strokes. We can also use the built-in vector tools to make comic panels and other cool stuff.
Krita should be our first pick if we need comprehensive colour management, drawing assistant, and layer management.
Features of Krita
The following are the features of Krita:
HDR support
Color Palette
Selections
OpenGL Enhanced
Transform tools
Mirroring tools
Training resources
Drawing Assistants
Brush Engines/Types
Layer Management
Drawing Assistants
PSD Support
Krita Benefits
Krita's key advantages are its flexible brushes, layer management tools, and the fact that it's free. Krita's nine brush engines provide artists with an abundance of brush options, allowing them to work with the most familiar ones. Users can create their own brushes and tag them with Krita's unique tagging system in addition to these nine brushes that cater to various needs.
Some of Krita's essential brushes contain the Ink Ballpen, Fill Brush block, fill Brush Circle, Bristles Texture, Airbrush Pressure, and Bristles Wet.
The Ink Ballpen is the finest choice for artists who enjoy sketching and scribbling. As the name suggests, it's a type of brush that looks like a ballpoint pen.
Meanwhile, the Fill Brush Circe and Fill Brush Block are useful for working with silhouettes. Both brushes have pressure-size properties and are always at 100% opacity. Users who wish to vary the size of their graphics tablet merely need to adjust the pressure they apply.
The Bristles Wet Brush can be used for smudging and blending, and for creating a smoother texture.
Users can also use layer management tools to organize their drawings more easily and they can use these tools to join or merge two separate drawings on distinct levels. They can also remove parts of a drawing using layer visibility choices.
Krita's educational and instructional tools are also accessible to amateur artists. Users can quickly master the program's fundamental and advanced functionality by utilising training resources created by the Krita Foundation.
3. MyPaint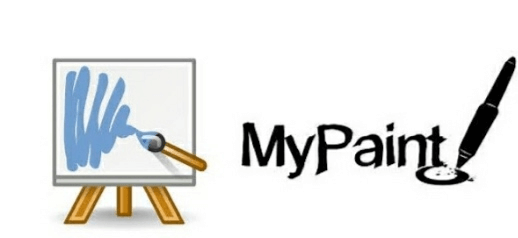 MyPaint is a cross-platform, free, and open-source raster graphics app that is created with a focus on digital painting rather than image manipulation or post-processing. The project began with a simple painting program with a brush editor and a canvas. Today, it is a full-feature painting tool for generating professional artwork, even competing with commercial apps like Corel Painter.
MyPaint is a clean, uncluttered interface with features including a customizable brush tool, distraction-free mode, Wacom graphics tablet support, brushstroke intensity, etc. MYPaint is available in our Linux distribution's official package repository and can be installed with a package manager.
MyPaint is a raster graphics editor for digital painting that is free and open-source. It's compatible with Windows, macOS, and Unix-like systems.
Features of MyPaint
The following are the features of MyPaint:
Simple interface
Python 3 support
Symmetry modes
Integrated bug reporting
Pressure-sensitive graphics tablet support
Dynamic brush library, standalone for integration into third-party applications
Gamut masking color wheel
Supports graphics tablets made my Wacom, and similar device
Layer management
"Unlimited" canvas not requiring predetermination of image size
A custom procedural brush engine in MyPain has been tailored for usage with pressure-sensitive graphics tablets. The engine was separated into the separately maintained libmypaint library in later MyPaint versions to make it easier to integrate into other applications.
4. Drawpile
Drawpile is a multimedia app which is developed by Calle Laakkonen. With the help of this app, various users can draw on a single canvas simultaneously. Although the brush selection is limited, it is very customizable. In order to generate a range of effects, users can alter the size, opacity, spacing, hardness, and pressure of the brushes. The built-in server in Drawpile allows for local collaboration. Users can also govern their sessions with Drawpile's management tools. They have the ability to silence, ban, or limit the functionality of users. If users want extra privacy, they can password-protect their sessions. Drawpile is a small graphics design application that allows us to share our drawing skills.
Features of Drawpile
The following are the features of Drawpile:
Brushes and Layers
In drawpile, we can paint with a pixel pen, watercolor brush, or soft brush. Presets and quick access tabs can be used to arrange brushes. Make an ad hoc eraser with a specific eraser tool or nay brush. Both brushes and layers support several color blending modes.
Free/Libre Software
Dwarpile's development can be followed on GitHub. Help is always welcome, and we don't have to be a coder to help! There are several ways to help.

Reporting bugs
Translating Drawpile to our language
Commenting on design discussions

If we know C++, help with application development is extremely welcome, especially anything related to Windows and Mac compatibility.

Recording and Animation
Drawpile's recording feature allows us to record an entire drawing session. The recording can be played again and exported into video later, or it can be saved as a backup. Drawpile also has minimal support for making brief animations with layers acting as frames. Specific animation capabilities such as onionskin layer mode and a flipbook preview are available.
Collaboration and User Management
We can host drawing sessions locally using the built-in server or a dedicated server. Use the list server to find public sessions, or use the private room code to join a friend.
Drawpile offers a range of session management features, including:


Lock individual layers or allow per-user access
Kick and ban troublemakers
The Server supports password-protected usernames
Lock or mute individual users
Restrict certain application features like image uploads text, box creation, and layer management
Password protect sessions and set user count limits
Session templates always offer available sessions for dedicated servers
Revert session to an earlier state in case of vandalism
Pros of Drawpile
Simple interface
It Comes with a wide variety of management tools
Support pressure sensitivity
Low system requirements
Cons of Drawpile
May experience connection issues
Limited drawing tools
6. GPaint
GPaint (GNU Paint) is a simple painting application for the GNOME Desktop Environment that is free and open source. It's commonly referred to as Windows Paint for Linux, similar to how GIMP is regarded as open-source Photoshop.
GPaint has drawing tools like freehand, polygons, ovals, text, and image processing options similar to xpaint, colour palettes, gnome-print compatibility, and a simple UI.
GPaint is available in our Linux distribution's official package repository and can be installed with a package manager.
Features of GPaint
The following are the features of GPaint:
Ovals, polygon, freehand, and text are some of the drawing tools available, including fill and shadow for polygons and closed freehand shapes.
Gnome-print provides the preliminary print capability.
Tool and colour palette are included in the modern, easy-to-use user interface.
No facility to crop images
No ability to make rectangular selections
All the image processing features present in xpaint
Cut and paste by selecting irregular regions or polygons
Multiple-image editing in a single instance of the program
7. Tux Paint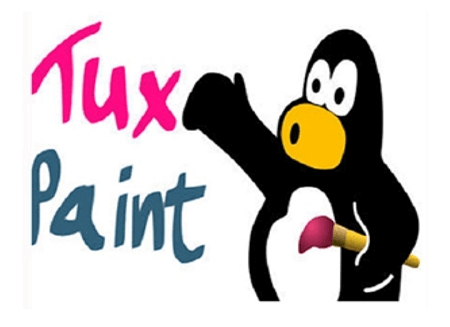 TuxPaint is a cross-platform, award-winning, free, and open-source raster graphics drawing application aimed mostly at children aged 3 to 12. As a computer literacy drawing activity, it is utilized in various schools throughout the world to educate youngsters on how to draw and paint.
Its user interface is child-friendly, with a range of tools and "magic" buttons to encourage youngsters to be more creative. For example, text, blur, flip, mirror, lines, etc. TuxPaint is available in our Linux distribution's official package repository and may be installed using the package manager.
A blank canvas and a variety of drawing tools are provided to encourage creativity. Tux Paint has a "stamp" function that allows us to add pre-drawn or photographic artwork to our pictures, as well as a set of "magic tools" that include filter effects (including blur, waves, and tint) and interesting drawing tools (such as bubbles, grass, and train tracks).
Tux Paint comes with a set of "starter" images that are both colouring-book style and photo-realistic, and a big collection of stamps that can be downloaded separately.
Features of Tux Paint
Tux Paint is unique among graphics editing software (such as GIMP or Photoshop) in that it was created with children as young as three years old in mind. The user interface is designed to be simple and intuitive, with icons, aural feedback, and textual hints to describe how the software works.
Children will like the vividly coloured UI sound effects and cartoons mascot (Tux, the Linux Kernel's mascot).
The normal interface of Tux Paint is divided into five sections:
The Toolbox contains a number of fundamental tools as well as application controls (undo, save, new, print)
Canvas, where the images are drawn and edited
The color pallet, where we can pick our own colors (when applicable to the current tool)
Information area, where instructions, tips, and encouragement are provided
Selector, providing several selectable objects (such as brushes, fonts, or sub-tools, depending on the current tool).
A simple slideshow feature allows us to display previously saved photographs as a rudimentary flip-book animation or a slide presentation.
History of Tux Paint
Tux Paint was built for the Linux operating system since there was no acceptable drawing program for small children on the Linux operating system at the time.
It is written in the C programming language and leverages a variety of free and open-source helper libraries, including the Simple DirectMedia Layer (SDL). It's been released for Microsoft Windows, Apple macOS, Haiku, and Android.
Selected milestone releases:
2002.06.16 (June 16, 2002): – Initial release (stamps, eraser, lines, brushes), two days after coding started
2002.06.30 (June 30, 2002): – First Magic tools added (blocks, blur, negative)
2002.07.31 (July 31, 2002): – Localization support added
0.9.11 (June 17, 2003): – Right-to-left support, UTF-8 support in Text tool
0.9.14 (October 12, 2004): – Tux Paint Config. Configuration tool released, Starter image support
0.9.16 (October 21, 2006): – Slideshow feature, animated and directional brushes
0.9.17 (July 1, 2007) :- Arbitrary screen size and orientation support, SVG support, input method support
0.9.18 (November 21, 2007): – Magic Tools turned into plug-ins, Pango text rendering
0.9.25 (December 20, 2020): – Support for exporting individual drawings and slideshows
8. Kolour Paint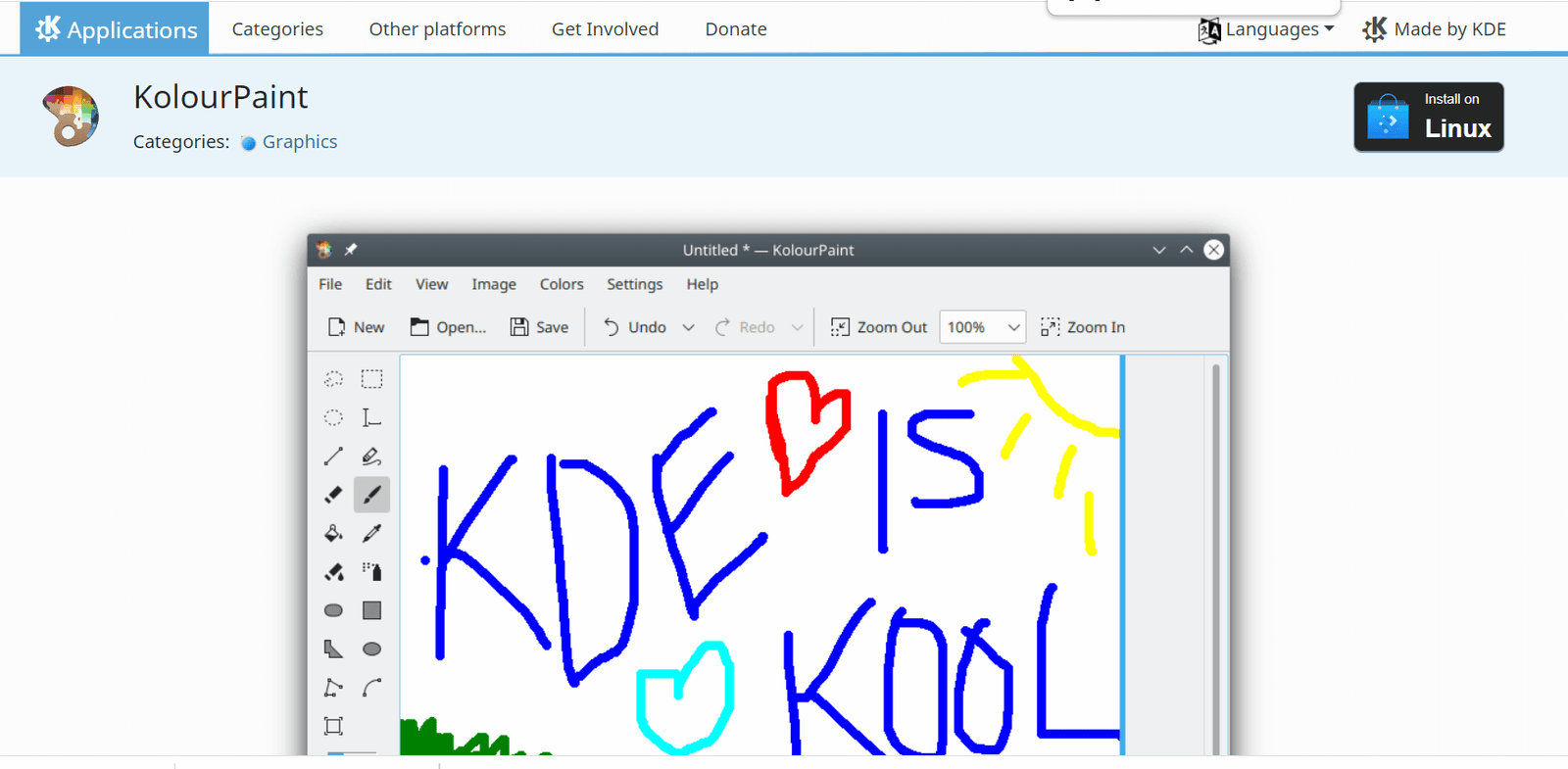 Kolour Paint is a KDE raster graphics editor that is free and open-source. It's comparable to Microsoft Paint before the version that came with Windows 7, but it adds features like transparency, color balancing, and image rotation.
KolourPaint is a basic painting application for creating raster pictures quickly and it can be used for easy image editing quickly. It can be used for easy image editing and touch-ups.
It attempts to be intuitive to use and provide a degree of appropriate functionality for the typical user. KolourPaint is intended for use in a variety of settings, including:
Painting: drawing diagrams and "finger painting"
Image Manipulation: editing screenshots and photos; applying effects
Icon Editing: drawing clipart and logo with transparency
KolourPaint replaced Kpaint as the basic simple painting application in Desktop Environment 3.3. As part of the KDE on Windows initiative, KolourPaint has been ported to Microsoft Windows. KolourPaint is also available for macOS.
Features of Kolour Paint
The following are the features of Kolour Paint:
Colour picker
Selections
Curves, lines and text
Rotations, monochrome, and other advanced effects
Support for drawing several shapes such as lines, rectangles, rounded rectangles, polygons, and ovals.
9. Inkscape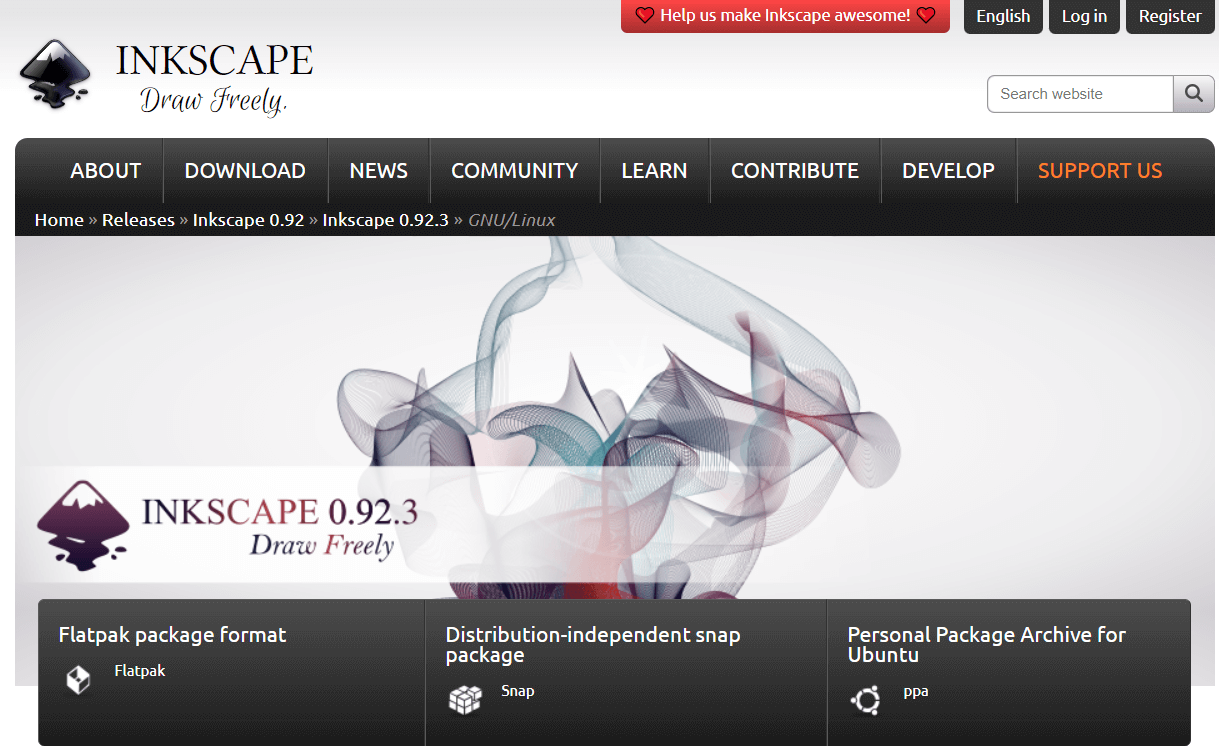 On GNU/LINUX, Windows, and Mac, Inkscape is a free and open-source professional drawing application for artists that allows them to create and manipulate Scalable Vector Graphics (SVG).
It has a beautiful theamable, configuration User Interface, a powerful text tool, comprehensive file format compatibility, versatile drawing tools, node editing, bezier and spiro curves, and many other capabilities. Inkscape features a wealth of online tutorials and learning materials, and a vast online community from whom we may learn when we need assistance or collaboration.
Inkscape can draw simple vector shapes (such as rectangles, stars, polygons, ellipses, spirals, and 3D boxes) and text.
Solid colors, patterns, radial or linear colour gradients, and their borders may be stroked, both with adjustable transparency and can be used to fill these objects. Embedding and optional tracing of raster graphics are also supported, allowing the editor to create vector graphics from images and another raster source.
Transformations like moving, rotating, scaling, and skewing can be used to manipulate created shapes further.
History
Inkscape began as a fork of the Sodipodi project in 2003. Sodipodi, which has been in development since 1999, is based on Raph Levien's Ghill (Gnome Illustration Application).
One of the keys focuses of the Inkscape project was to ensure interface uniformity and usability. Inkscape FAQ interprets the word Inkscape as a compound of links and scape.
Four former Sodipodi developers (Ted Gould, Nathan Hurst, MenTaLguY, and Bryce Harrington) led the fork, citing differences over project objectives, openness the third-party contributions, and technical disagreements. They said that Inkscape's development would be focused on fully implementing the SVG standard, but Sodipodi's development would be focused on creating a general-purpose vector graphics editor, potentially at the expense of SVG.
Following the fork, Inkscape's developers switched to C++, adopted the GTK (previously GIMP Toolkit) toolkit C++ bindings (gtkmm), updated the user interface, and introduced a number of additional capabilities.
Although inadequate, Inkscape's implementation of the SVG standard has improved over time.
Inkscape has been a member of the Google Summer of Code program since 2005.
SourceForge hosted Inkscape's source code repository until the end of November 2007. It was then moved to Launchpad and it was migrated to GitLab in June 2017.
Features of Inkscape
The following are the features of Inkscape:
Object Creation

Text tool (multi-line text, full on-canvas editing)
Clones ("live" linked copies of objects), including a tool to create patterns and arrangements of clones
Embedded bitmaps (with a command to create and embed bitmaps of selected objects)
Shape tools: rectangles (may have rounded corners), stars/polygons (can be rounded and/or randomized), ellipses (includes circles, segments, arcs), spirals.
Drawing: pencil tool (freehand drawing with simple paths), calligraphy tool (freehand drawing using filled paths representing calligraphic strokes), pen tool (creating Bezier curves and straight lines).

Fill and Stroke

Color picker tool
Copy/paste style
Color selector (RGB, HSL, CMYK, color wheel, CMS)
Pattern fills (bitmap/vectors)
Dashed strokes with various predefined dash patterns
Path markers (ending, middle, and starting marks such as arrowheads)
A gradient editor capable of multi-stop gradients

Object Manipulation

Z-order operations (raising and lowering)
Grouping objects ("select in the group" without ungrouping, or "enter the group" making it a temporary layer)
Alignment and distribution commands
Transformations (moving, rotating, skewing, scaling), both interactively and by specifying exact numeric values
Layers (lock and hide individual layers, rearrange them, etc. layer can form a hierarchical tree)

Rendering

Fully anti-aliased display
Objects are rendered "as we drag" during interactive transformations
Alpha transparency support for display and PNG export

File Formats

Command-line options for export and conversions
Perfectly compliant SVG format file generation and editing
Live watching and editing the document tree in the XML editor
PNG, OpenDocument Drawing, DXF, sk1, PDF, EPS, and PostScript export formats and more

Text Support

Text in shape (fill shape following stroke)
Multi-line text
Kerning, letterspacing, linespacing adjustments
Uses any installed outline fonts, including right-to-left scripts
Text on the path (both text and path remain editable)

Operations on Paths

Boolean operations
Bitmap tracing (both color and monochrome paths)
Converting to path (for text objects or shapes), including converting stroke to path
Path in setting and out-setting, including dynamic and lined offset objects
Node editing: moving nodes and Bezier handles, node alignment and distribution, etc.
Path simplification, with variable threshold
10. LazPaint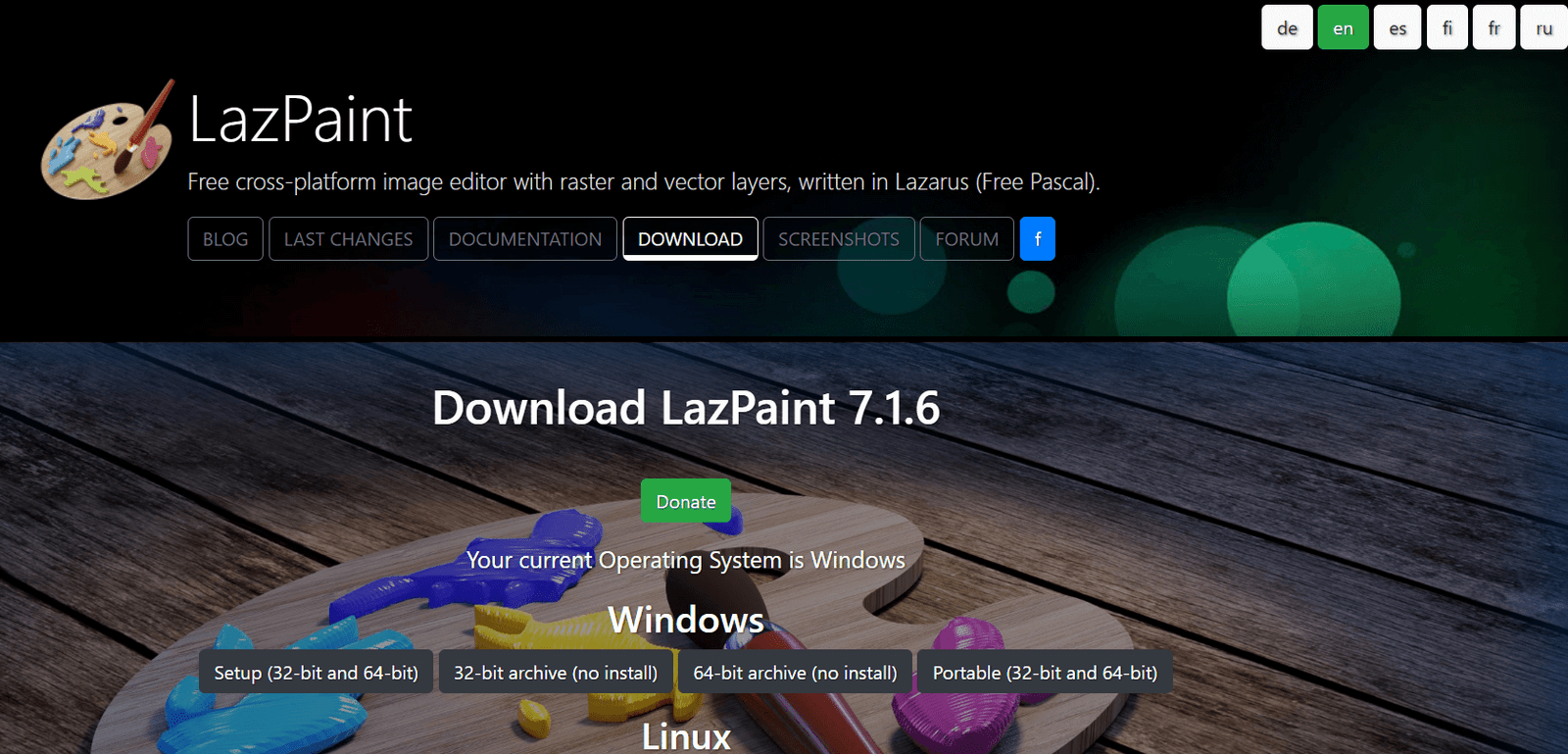 LazPaint is a cross-platform lightweight picture editor that uses Lazarus to produce raster and vectorial layers. The software tries to be easier to use than GIMP, is a Paint.NET alternative and is similar to Paintbrush.
Antialiasing and gamma correction are used in the rendering process. It can read/write common image formats and use the OpenRaster format to communicate with other layered editors.
It also imports Paint.NET files (with layer structure) and Photoshop files (as flattened images). It can also import Wavefront (.obj) files, which are 3D objects. Complex Selection functions, different filters, and texture rendering are all available.
Features of LazPaint
The following are the features of LazPaint:
All major file formats support (including layered Bitmaps and 3D files)
Ability to re-size Canvas
Selection Tools, Crop to Selection, Invert Selection, Selection Pen
Filters
Grayscale effect
Rotate and Flip images
Deforming tool (perspective)
Rotate and Flip images
Layers effects
Grayscale effect
Ability to enable/disable the toolbar in or attach them to the Dock
Ability to remove transparency and flatten the image
Layer support with important management options
Motion Blur, Radial Blur, Pixelate tool, and Custom Blur
Image resampling with several quality settings
Advanced Drawing tools
Convert images to Negatives
Export to Krita supported
Supports script functionality
11. Skencil
Skencil (previously Sketch) is a free vector graphics editor that is distributed under the GNU Lesser General Public License. Sketch 0.5.0, the first public version, was released on October 31, 1998.
Skencil is nearly entirely written in Python, a very high-level, object-oriented, interpreted language, with the rest written in C for speed," according to the company's website.
Skencil was first released in 2005 with version 0.6.17, and a preview 1.0 alpha was issued in 2010 by the SK1 project team. It is available in Linux versions on the i386, DEC Alpha, m68k, PowerPC, SPARC architectures, and FreeBSD, Solaris, IRIX64 6, 4, and AIX.
Future plans had included porting the user interface from TK to GTK+, multiple document interface, and multi-font, fully integrated multiline text. The project has been at a standstill since 2010.
SK1 project written in WxWidgets became Skencil successor, improved by color management (including CMYK colorspace support), tabbed multiple document interface, Pango-based text engine, Cairo-based renderer, and importers for CorelDRAW (CDR, CCX, CMX) and many more graphics file formats.
Uses of Skencil
The following are the uses of Skencil:
We can use shape tools to create different types of art, and we can use typography to create a different kind of transformations in text.
We also utilize it to export and import various file formats in order to make our job in this software easier.
Skencil is widely used in several graphics-related fields, and because it is a vector graphics editor, we utilise it for a variety of vector art and editing tasks.
Features of Skencil
The following are the features of Skencil:
The first features of Skencil are a tool for drawing geometrical shapes, such as a rectangle that can be converted into a rounded corners rectangle for a different type of illustration work, circles, ellipses, and pie circles by using the same tool for a curve or circular requirement in illustration. We can draw different anchor point curves, which are Bezier curves, and manipulate them according to work requirements with this software.
The second key aspect of this software is that it can create ESP files, which we can use to make our work easier with various features. With an upgradable version of Skencil, we can also export and import numerous file formats. Because of the interoperability with many file formats, it improves the efficiency of our vector graphics editing.
12. GIMP

GIMP is a cross-platform, free, open-source image editing software for producing and altering digital art. GIMP can be used to produce graphic designs, illustrations, drawings, and paintings. While it is typically promoted as a Photoshop replacement with the undertone of simply altering photographs, it can also be used to make graphic designs, illustrations, drawings, and paintings.
Apart from the user-friendly interface, GIMP offers tools for non-destructive picture retouching, original artwork creations, working with graphical design elements, mockups, and UI components, and extending its capabilities using plugins and scripts created by the community.
Features of GIMP
The following are the features of GIMP:
Graphic design elements
Digital retouching
Hardware support
Scribus
Photo enhancement
Customizable interface
File format
Original artwork
Inkscape
Swatchbooker
---