Best messaging app for Android
Text messaging is one of the most popular and efficient ways to communicate with people in the world. Nowadays, most of the people like to text for their communication. There are various messaging apps available for Android devices. Some of the popular messaging apps are WhatsApp, Instagram, Telegram, SnapChat, etc. The pre-installed messaging app on the phone may not contain well features. You may find better alternative SMS apps for Android at Google Play Store. Some of them are given below.
List of some best messaging apps for Android
---
Android Messages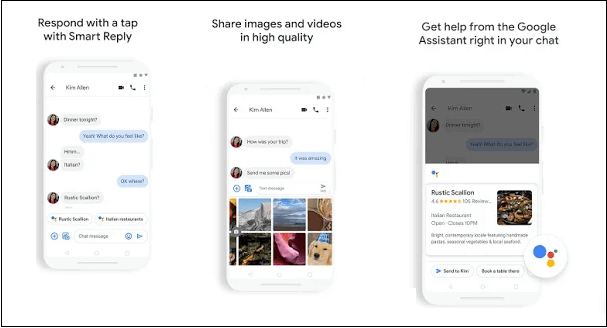 Android Messages is one of the top choices among the users to communicate via message. It is a free texting application powered by Google. This SMS app comes in pre-installed on Pixel devices and many other phones. The app is easy to use and contains light theming options, decent search function, and some backup features. Its user interface is excellent due to Material Design. The app comes in the web version also for texting on your computer. Google is planning something big for it, including RCS support.
Download the Android Messages from Google Play Store.
---
WhatsApp Messenger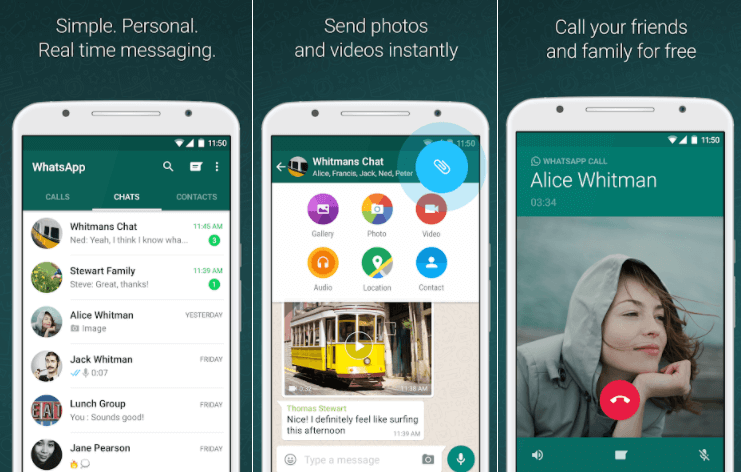 WhatsApp Messenger is a cross-platform free messaging app from Facebook. It requires an internet connection (4G/3G/2G or Wi-Fi network) to allow sending and receiving the message, calls, sending photos, videos, documents, and voice messages to your contacts. It also lets you to make group chats of up to 256 contacts. You can make a video conference to several people simultaneously. It also includes end-to-end encryption features that secure all your messages and calls sent via this application.
Feature of WhatsApp Messenger
Free to use: WhatsApp needs an only internet connection to make the message and call to your contacts people.
No International Charges: No any extra cost for sending messages and making WhatsApp audio and video calls anywhere in the world. Feel free to chat with your friends worldwide.
Multimedia: Allows sending and receiving photos, videos, documents, and voice messages.
Share your live location: You can even share your live location through chat.
Download WhatsApp Messenger for Android.
---
SMS Organizer
SMS Organizer messaging app is a trust of Microsoft, which is a powerful and feature-rich messaging app. The app is free of cost and simple to use. It automatically organizes all your inbox messages, smart reminders and monitors your expenses. All these features happen securely without disclosing your data anywhere. It contains all essential features which are necessary for one modern messaging app.
Features of SMS Organizer
Live train schedules.
Offers from your SMS.
Passbook of all your expenses.
Automatic reminders.
Auto-backup keeps you safe.
Etc.
Download SMS Organizer for Android.
---
Chomp SMS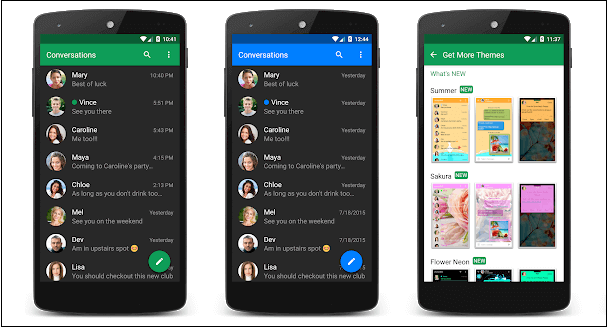 Chomp SMS is one of the old and best third-party messaging apps for Android devices. The app updates itself and releases to stay fresh. It offers lots of features such as SMS sending, MMS, SMS blocking, emojis, instant reply in the notifications, and allows group messaging. It also supports Pushbullet and Android Wear OS. Chomp SMS app is free to download, but some features are available in-app purchases.
Download the Chomp SMS from Google Play Store.
---
Textra SMS
Textra SMS is a top-rated and trustworthy messaging app on this list. It contains varieties of features for hardcore users, including various theme colors, dark mode, delayed sending, floating notifications, slide to delete, quick replies, SMS blocking, group messaging, and lots more. The app also supports Android Wear OS, Mighty Text, and Pushbullet. It is free; however, you may go for in-app purchases for some advanced features.
Download the Textra SMS from Google Play Store.
---
Yaata SMS
YAATA SMS allows you to customize all your single aspect of your messaging experience without occupying lots of space. It includes features like standard SMS/MMS, scheduled messaging, group chat, Archiving, etc. YAATA's premium version gives some advanced features such as auto-responses, allows backup of your conversation, and blacklisting. The app is easy to use, and has a nice user interface due to Material Design.
Download the Yaata SMS from Google Play Store.
---
Handcent Next SMS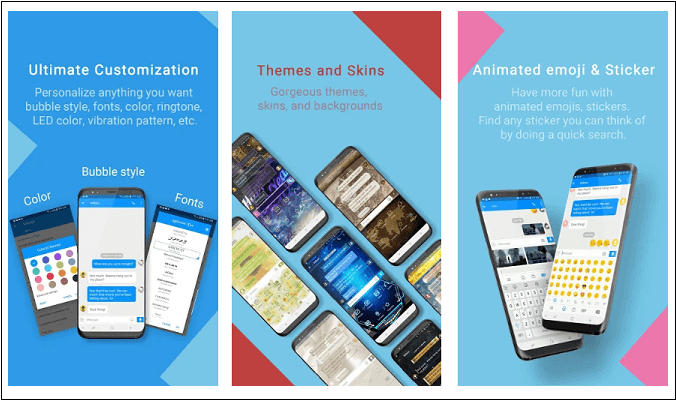 Handcent is a really nice and popular third-party texting app for the Android device. The app contains lots of features and settings in it. Some of them are SMS backup, emojis, a privacy box to store your private conversations, eCards, desktop notification, and many more. It is continuously updating itself with new features. One of its exciting features is Handcent Anyware that allows you to send text messages from your computer and tablet if you want.
Download the Handcent Next app from Google Play Store.
---
Pulse SMS
Pulse SMS is a unique texting app that works on every platform, including PC. It allows sending SMS from your smartphone, tablet, PC, and other devices. You can use your phone number to send a message from your PC or tablet by paying $0.99 per month or $10.99 for lifetime. Pulse SMS includes features like blacklisting phone number, message backup, dual-sim device support, etc. The app added a password-protection private conversations box if you need to protect your identity and source your messages.
Download the Pulse SMS from Google Play Store.
---
Facebook Messenger
Facebook has millions of uses, and your loved ones are also using it so that you are not switching to something better. It uses lots of your device storage space, RAM, and battery. The app contains a built-in SMS which is integrated with internet messaging. If you are not a Facebook user, then it is not probably what you are looking for.
Download the Facebook Messenger from Google Play Store.
---
QKSMS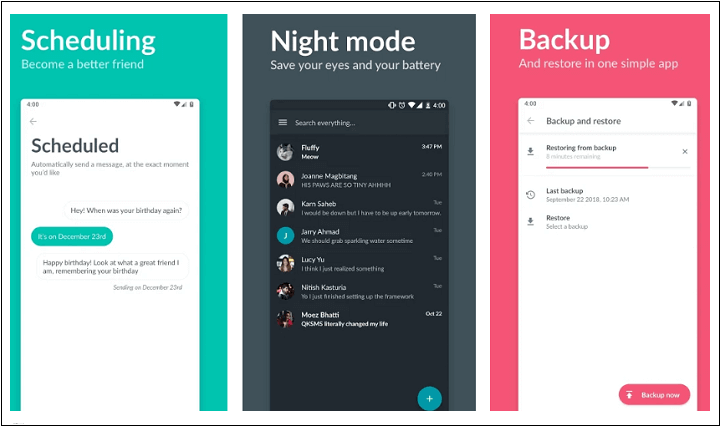 QKSMS is one of the simplest, lightweight, and best messaging apps for Android devices. The app is open-source, free, and works very fast. It provides numerous of features, including Android Wear support, blacklist, customized color themes, etc. This app also supports Dual-SIM and Multi-SIM smartphone. The app allows sharing of stickers, photos, and group chat. It quickly restores and backup your messages.
Download the QKSMS messaging app from Google Play Store.
---
Signal Private Messenger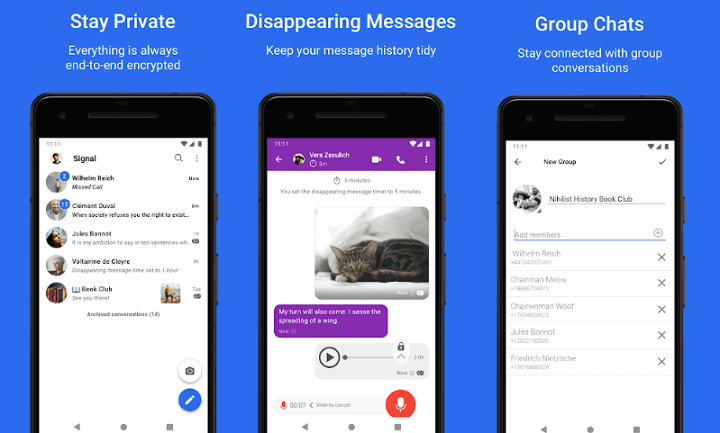 Single Private Messenger is designed for more secure standard messaging. It is similar to Facebook Messenger, Hangouts, WhatsApp, and others. The difference is that it provides end-to-end encryption, which is essential for security. It works based on a phone number. If your contact doesn't have the same app on their phone, then it only sends a text message. Its user interface looks attractive due to Material Design. It also provides the facility to make audio and video calls.
Download the Single Private Messenger from Google Play Store.
---
Mood Messenger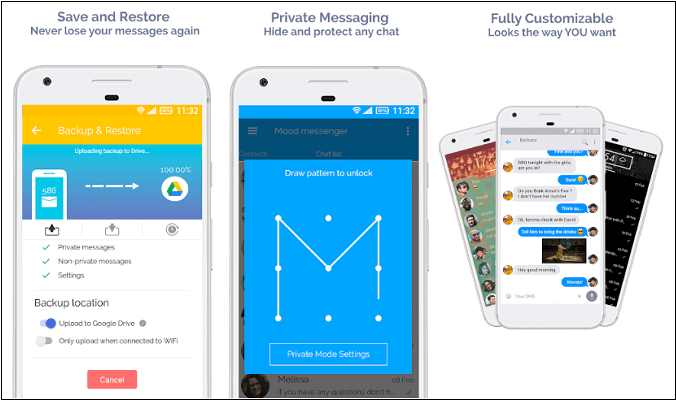 Mood Messenger is the latest messaging app for Android devices on this list. It provides all the necessary features like texting, MMS, emoji, theming, blacklisting for spam messages, dark mode, and lots more. The app allows backup and restoring your SMS, SMS encryption, and a private locker to keep people away from your messages and more. It is free; however, you can also go for its premium version.
Download the Mood Messenger app from Google Play Store.
---