Convert Excel to PDF
PDF format has more advantages over Excel sheets. PDF retains the formatting of your tables. If a user wants to share their Excel sheet with those who don't have Microsoft applications, then they can save it as PDF. PDFs are simpler to distribute and more efficient and can be accessed with any operating system on any computer system.
Convert MS Excel to PDF using Adobe Acrobat DC
First of all, open your Excel sheet in the MS Office Excel application.
In the MS Excel, choose the Acrobat tab in the top menu.
Click Create PDF to convert your excel sheet into PDF file.
Define the sheets in PDF and click on Convert to PDF. Give the name of your PDF and save it.
Finally, your Excel will be converted into PDF.
Convert MS Excel to PDF using Online Tools
Open your web browser and search to convert Excel to PDF online.
There are so many options available online such as smallpdf, pdf2go, sodapdf, pdfcandy, PDFConverter, ilovePDF, etc.
Choose any of them, let's say you choose ilovePDF, open it.
Choose the option "Select PDF file" then pick the Excel file which you like to convert into PDF.
Your selected PDF will be uploaded. Now click on Convert to PDF
This will convert your Excel sheet to PDF. Finally, select Download PDF to download your converted PDF file.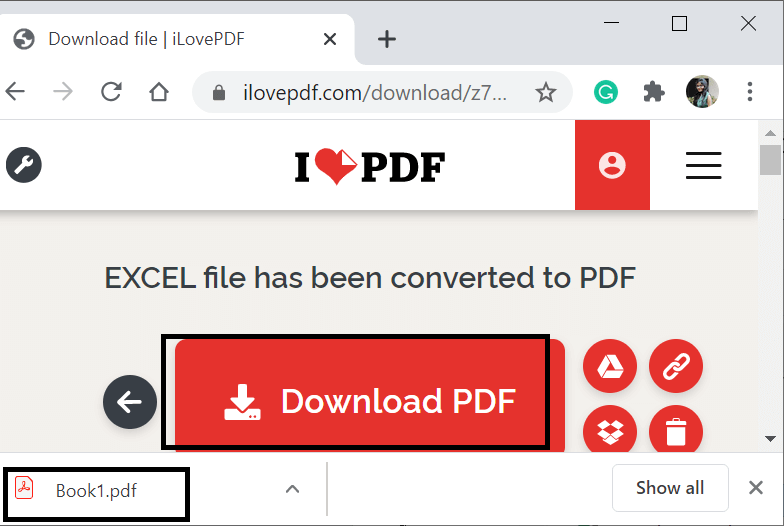 Your converted PDF file will be downloaded.
Convert Excel to PDF using MS Excel
Open your MS Excel and open your Excel file.
Go to the File menu and select Export-> Create PDF / XPS. Then select 'Create PDF / XPS'.
Define the name of the file and then click on the Publish
This converts the file to PDF. You can open it in any pdf reader.
---